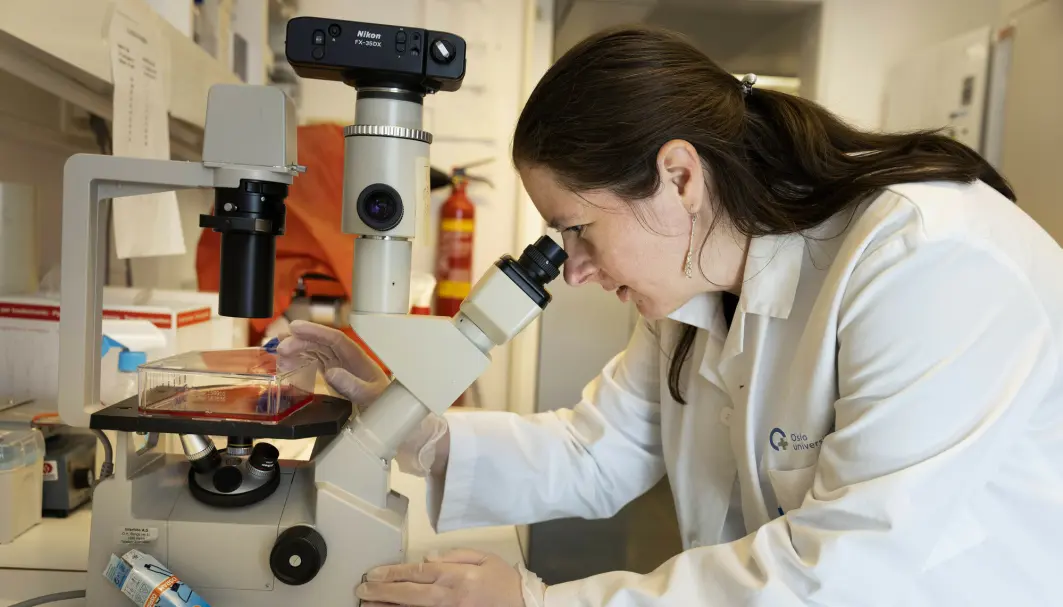 New vaccine to tackle both the flu and Covid in one shot
Norwegian researchers are developing a classic seasonal vaccine against the flu and Covid, which they claim will give much better protection than what current vaccines have to offer.
"If the new vaccine works as well as I think it will, it will be really good", says Gunnveig Grødeland to the University of Oslo-magazine Apollon.
Grødeland is a well-known vaccine researcher in Norway. She heads the research group Influenza and Adaptive Immunity at the Department of Immunology at the University of Oslo, where combining the flu and Covid vaccines is one of the projects.
Grødeland has been working on a universal flu vaccine for years. When the coronavirus showed up, she and colleague Bjarne Bogen ordered genetic sequences of the virus and joined the efforts to create a vaccine against Covid-19 – albeit never with the aim of winning the race, but rather to create the best possible vaccine.
Since then, a new idea developed: "Many become ill with the flu. Today's flu vaccines do not always work well. With the spread of the Coronavirus in today's society, this will also become a virus that returns, season after season. So it makes sense to make one vaccine, which deals with both diseases, in one dose", Grødeland says to Apollon.
Layers of protection
And then to the creating a better vaccine-part.
"The new vaccine will have more layers of protection than what you find in those available today", the vaccine researcher says.
Both the flu virus and the Coronavirus have RNA as their genetic material. This means they change somewhat from year to year. The flu virus more so, but the coronavirus will also always be changing.
The vaccines against the flu use a protein called Hemagglutinin, while the Covid vaccines use the by now famous Spike protein.
Unfortunately, these are the proteins that change the most, Apollon writes. Which means that the vaccines won't work over time.
And this is why Grødeland and her team have chosen to focus on other more stable parts of the viruses. By containing several bits of the viruses, the vaccine is to create a double reaction from the immune system, so the body creates both t-cells and antibodies.
Universal, and specific
Is this a move away from the universal vaccines she has been working on then?
"We have not stopped working on universal vaccines", Grødeland writes in an email to sciencenorway.no.
"This new vaccine will be able to create immune responses that will give relevant and good protection against nearly all variants of the coronavirus and the flu virus", she writes.
However, the vaccine may not give protection from infection against all the virus types. That may require regular boosters.
"The aim then is several layers of protective immune responses, where the top layer against infection and mild disease is updated regularly and specifically targeted against the viruses currently in circulation. But then in addition achieve several layers of underlying immune responses that protect against any variant causing serious illness", Grødeland writes.
A tried and tested protein vaccine
Grødeland has done research on DNA vaccines for years. The Covid vaccines from Moderna and Pfizer have made us all familiar with mRNA technology, which is a very new way of making vaccines. The new combined flu and covid vaccine however, is to use what is called a classic vaccine technology - it will be a protein vaccine.
The production time of the vaccine will be around 4 months. While this sort of vaccine is normally cultivated in bacteria, Grødeland will insert genes into cell cultures from mammals. This is a standard operation done several times a week in their laboratories, she assures.
Compared to the DNA vaccines she has mostly worked on, Grødeland believes that the protein vaccine might be a better alternative for the at-risk groups that will need regular boosters, and those who are hesitant or sceptic to vaccines.
"When I say that a protein vaccine will be a better alternative than a DNA vaccine, it is because I believe people will be less sceptical of this vaccine", Grødeland specifies in the email to sciencenorway.no.
"There is a theoretical potential for a DNA vaccine to be integrated into the genes of the recipient of such a vaccine – although this has not been observed in any of the many clinical studies that have been done with DNA vaccines. With a protein vaccine this is not theoretically possible", she states.
"Besides this, it really doesn't matter what vaccine technology you use", Grødeland writes.
Time and money
Currently, the researchers are choosing which adjuvant to add to the vaccine. Adjuvants are substances that increase or modulate immune responses in people receiving a vaccine.
Once an optimal mix of components is arrived at, the vaccine will be tested in mice, then in ferrets, and finally in humans.
Depending on what funding is available, this process will take time. Grødeland estimates in Apollon that if they can get a billion NOK (just under 114 million dollars), it can be done in four years.
But raising this kind of money, or even something close to it, isn't really realistic, Grødeland writes to sciencenorway.no. A more likely scenario is that it will take quite a bit longer than those four years.
Getting funding for the development of vaccines in Norway hasn't been easy, even during the pandemic, according to Grødeland.
"It seems like clinical observations of immune responses after vaccination with vaccine candidates from other countries have been prioritized in stead", she writes.
"Vaccine development is demanding in many ways, but we soldier on", she assures.
Another Norwegian vaccine against Covid has already reached the clinical trial stage. Nykode Therapeutics gave their first jab of a T-cell vaccine to a patient in early January.