The last person who touched this three-bladed arrowhead was a Viking
"We have never found an arrowhead like this before", the glacial archaeologists from Secrets of the Ice in Norway recently reported on their Facebook-page.
"Oh, look at this little beauty", the team of archaeologists enthusiastically exclaim in their Facebook-update, which includes a video of the three-bladed arrowhead.
"The last person who touched it was a Viking," the post reads.
The team of glacial archaeologists from Innlandet county's Secrets of the Ice and the Museum of Cultural History in Oslo are currently doing their annual field work up in the Norwegian mountains, where melting ice keeps on revealing lost items from our past.
The unique arrowhead is from a new site in the Jotunheimen Mountains, where the team were just doing an initial exploratory survey. Finds like this Viking Age arrowhead means they will most certainly be returning.
Was it made for hunting or war?
The arrowhead is made of iron. Its shape indicates that it is typical for the Viking Age, Lars Pilø writes in an email to sciencenorway.no.
"This type of arrowhead is known, but it is rare," he writes.
Four such arrowheads were found in a burial mound in Sparbu in Trøndelag, and one such arrowhead has also appeard in Leirtjønnkollen in Oppdal – another glacial archaeological site.
"We haven't tested this, obviously, but it is not unlikely that this sort of arrowhead would have had greater penetration than the arrowheads we normally find. It looks more like a war arrowhead than one made for hunting," he writes – adding that this of course is pure speculation.
Several of the people who have commented on Facebook suggest the same. Three blades would increase blood loss and stop a wound from potentially closing up. "Either way it's military/war related," one reader comments.
"Yes, that is what we are thinking as well. However, it was found in a reindeer hunting site. Perhaps they just grabbed the arrows they had when they went out hunting," Secrets of the Ice respond.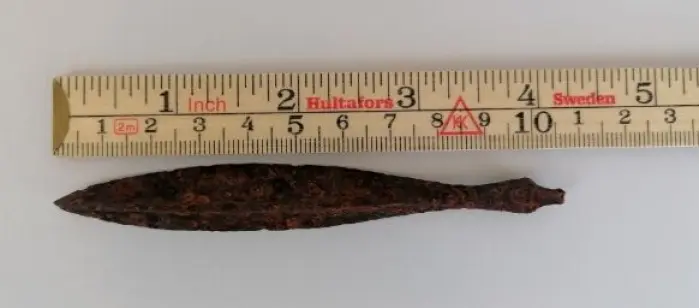 Broader than your usual combat arrow
Vegard Vike is the Head Engineer of Archaeological Conservation at the Museum of cultural history in Oslo. He is an expert in among other things weapons of the Viking Age.
Vike comments that the arrow is incredibly well preserved.
"Three-bladed arrowheads from the Viking Age are not so common in Norway, they are more commonly found in Sweden," he writes in an email to sciencenorway.no.
These are however usually slimmer, more like arrowheads made for combat. Some of these combat arrowheads from Sweden and Denmark are decorated and fastened with noble metals.
"The one which is found here I would think is rather made for hunting, as it is so broad," Vike concludes, and explains:
"The reason for why dedicated combat arrows are slim and do not have broad blades is that they needed to penetrate chain mails. More broad-bladed arrows are on the other hand perfect for hunting as they create larger wounds, which means that the animal bleeds out faster. They would however be stopped by a chain mail."
------