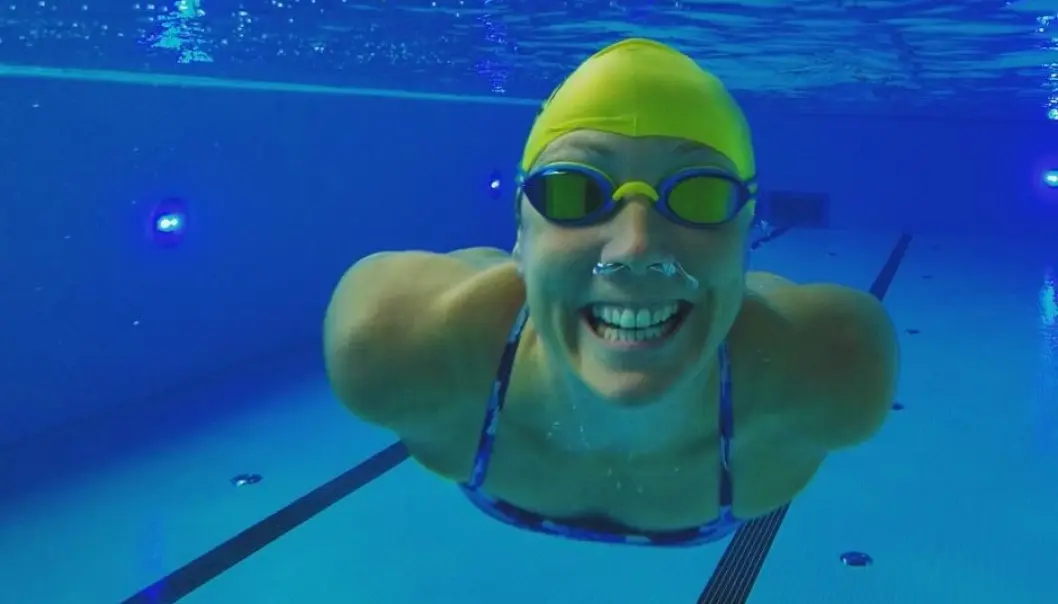 Pregnancy can boost a sports career
A new study indicates that having a baby can be advantageous for a sportswoman. Triathlon competitor Kari Flottorp Lingsom asserts that she became even more fit after giving birth to her child.
Such improvements are explained largely by physiological changes that occur during pregnancy. Pregnancy raises capacity for oxygen intake and the amount of blood which the heart pumps through the body.
"You don't seem to get into poorer condition from a pregnancy. Actually you get slightly better," says the rector and professor at the Norwegian School of Sport Sciences, Kari Bø, to the Norwegian newspaper Dagens Næringsliv (DN).
She has led the work on a four-part study of guidelines and publications regarding pregnancy and exercise for the International Olympic Committee (IOC). The first part was recently published in the British Journal of Sports Medicine.
Took the bronze in Norwegian triathlon
Kari Flottorp Lingsom (36), a triathlon [swimming, cycling and running] competitor who previously had been an elite-class swimmer, concurs with the findings in the study. She continued to train actively during her pregnancy and swam in her last senior class championship during her 14th week of pregnancy. She gave birth to a son, who is now nearly seven years old.
"Training with children, born or unborn, has not hindered me in my field of sports. My body responded really well to training, during and after my pregnancy," says Lingsom to ScienceNordic's Norwegian partner forskning.no.
After the birth of her son Magnus, she won three individual bronze medals in Norwegian championships, in Olympic distance and long-distance races. She has participated in the European and the World Championships in her age group and finished fourth in the Norseman X-treme race in 2015.
Circulatory system
"Developments in the circulatory system during pregnancy provide the salutary effect. Women gain a capacity that they don't otherwise have," says Professor Kari Bø at the Norwegian School of Sport Sciences to DN.
This can explain how female biathlon [combines cross-country skiing with target shooting] competitors such as Liv Grete Skjelbreid and Marie Dorin Habert reached the apex of their careers right after giving birth.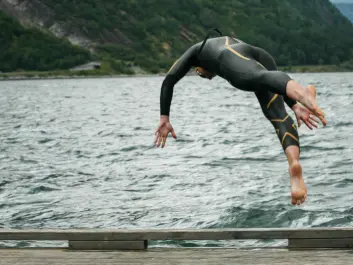 Skjelbreid won four World Championship biathlon golds after having her first child. Habert won her fourth gold at the World Championship match at Oslo's Holmenkollen this year. Her triumphs too, came after she became a mother.
Increased oxygen intake
Both recreational and highly trained elite athletes get a 50 percent increase in blood volume during their pregnancies.
In addition, the stroke volume of the heart – the amount of blood pumped out to the body with each beat – increases by 10 percent.
Researchers also say the best trained competitors in endurance sports also gain a five-to-ten percent increase in oxygen intake six months after giving birth.
Training while pregnant
The objective of the study of publications was to get a better overview of how physical exercise and training affects pregnant women, during their pregnancies and after delivery of their babies. The researchers had an eye on recreational as well as elite, professional sportswomen.
The basis of this research is preliminarily narrow and more studies of larger numbers of women are needed to draw clear conclusions. But Bø thinks the meta-study of publications provides some significant indications.
Must be motivated
Professor Kari Bø thinks the study so far indicates that there are no physiological hurdles in the way of top athletes making comebacks after giving birth.
"A woman gains a capacity she wouldn't otherwise have," explains Bø.
The improved effect of the circulatory system comes after week five of a pregnancy, enabling the woman to cope with more weight and tissue. This is a natural development so that the female body as well as the baby both get enough oxygen and sustenance. It's a little like walking around with a weighted vest, explains Professor Jan Helgerud at the Norwegian University of Science and Technology (NTNU)'s Faculty of Medicine.
However, for this to play out in competitive sports the woman must be motivated to keep up her training.
Training just as much when pregnant
Kari Flottorp Lingsom confirms that she has absolutely become more fit after her pregnancy.
"The pregnancy did not limit my training. Of course I adjusted it to my daily condition, but I do that anyway," she says.
Kari started running when she was six months pregnant because she felt that swimming with a large abdomen was uncomfortable.
She thinks getting in good shape was an advantage during her pregnancy as well as when giving birth.
"I was back in the training room ten days after the birth. But I waited six weeks before I started swimming," she says. She didn't start running again until her infant was four months old.
Kari chose the triathlon as a mum
When her son was born, training hours in the swimming pool didn't correspond well with breast-feeding sessions, so triathlon was the solution. Lingsom participated in her first triathlon when her son was 18 months old.
"That way I could still train a lot without being stuck to scheduled training times," she explains.
She also thinks that children can raise motivation and priorities for mothers who are used to lots of training and dedication to a sport:
"Whenever I got a chance to do any training I had to make the time count. I became extremely focused," she tells us.
Limited by less sleep
Lingsom got a real boost after becoming a mother.
"But unfortunately the effect was counteracted somewhat by a lack of sleep, with a baby in the house. You cannot train more than your body can recover, and this is hard without getting enough sleep," she admits.
Another advantage was a drop in the pressure of expectations.
"No matter how well or badly I did, I still had a boy at home who was glad to see his mum. That let off some of the pressure," she says.
------------------------------------------------
Read the Norwegian version of this article at forskning.no
Translated by: Glenn Ostling
Scientific links
Related content