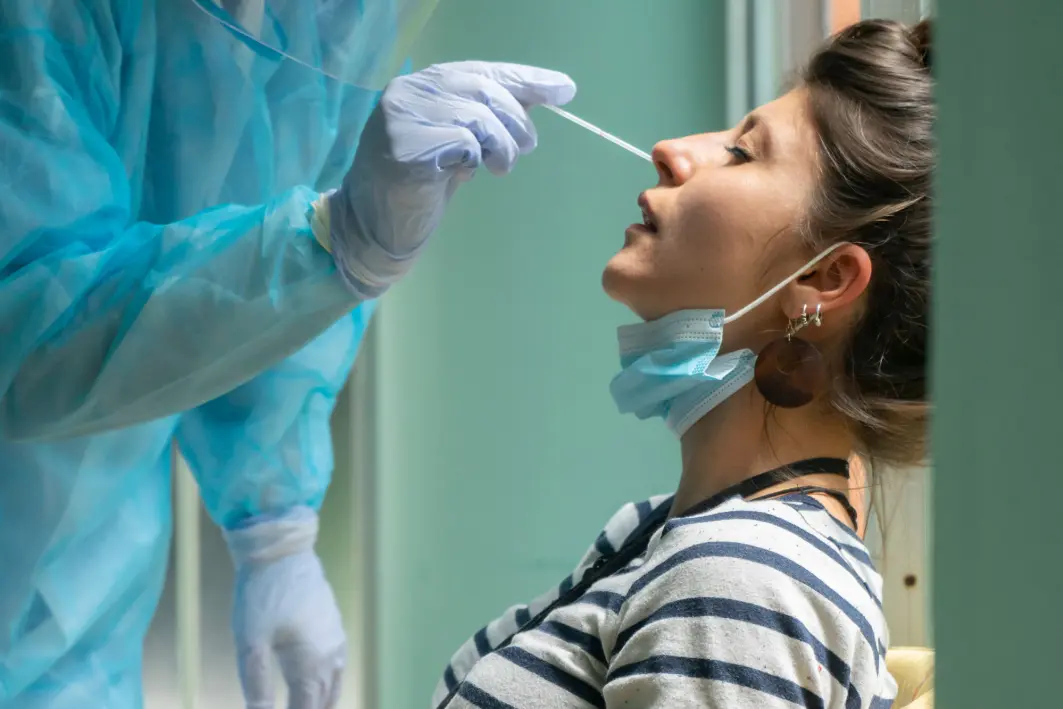 Norwegian study: More than half of young people with mild Covid-19 infections experienced Long Covid
Six months after the infection, more than 50 per cent of young adults aged 16-30 still had symptoms such as fatigue, shortness of breath and trouble concentrating.
Long-term complications after Covid-19 infections have been found to be common in hospitalized patients. But what about those who only experienced mild disease and stayed at home to ride it out?
Researchers at Haukeland University Hospital in Bergen, Norway, have followed 312 Covid-19 patients for an entire year. 247 of them home-isolated, while 65 were hospitalized.
The results of their study were recently published in an article in Nature Medicine.
At six months, 61 per cent of all patients had persistent symptoms, the researchers found.
Among those who home-isolated, 52 per cent still experienced various symptoms after half a year.
"A surprisingly high share of those aged 16-30 experience symptoms six months after the infection, even if they were not ill enough to be hospitalized," Bjørn Blomberg, first author of the study and chief physician at Haukeland, says to the newspaper Aftenposten (link in Norwegian).
He is worried about the implications if the results of this study also turn out to be true for the rest of the world.
"A lof of people have died from Covid-19, but it's important to remember that more than 200 million people have had it and survived," he says.
"So if there really is such a high occurrence of long Covid, then this is a massive global problem. We're potentially talking about 100 million people struggling with these ailments, " says Blomberg.
Mild infection, lasting symptoms
The most common symptom still experienced after six months was loss of taste and smell. 28 per cent of the young adults with mild infections still suffered from this.
21 per cent of them struggled with fatigue, and 13 per cent still experienced dyspnea – shortness of breath.
13 per cent had impaired concentration, and 11 per cent also suffered from problems with their memory.
"Our findings that young, home-isolated adults with mild COVID-19 are at risk of long-lasting dyspnea and cognitive symptoms highlight the importance of infection control measures, such as vaccination," the researchers conclude in the article.
High levels of antibodies may give a clue
Why do these young and healthy adults experience long-term ailments after their mild Covid-infections? The researchers don't know, but they have some theories.
"It looks as though a powerful immune response to the infection is somehow connected to the occurrence of Long Covid. Those who have higher levels of antibodies immediately after an acute infection, are at higher risk of experiencing long-lasting symptoms," Blomberg says to Aftenposten.
Even among the relatively healthy patients, the researchers find a connection here – the higher the levels of antibodies, the higher the risk of long-lasting complications after Covid.
Blomberg says that they still cannot establish that this is the cause.
"We have found a correlation, but we can't say that this is the cause. It seems to have something to do with the disease itself. A possible connection between immune reactions and long-lasting symptoms is something we will investigate further," he says.
Had regular consultations with patients
The findings from the Norwegian study somewhat contradict previous findings. In a Danish study published in The Lancet, researchers concluded that there were few complications in people who had Covid-19 without being hospitalized. Other studies have found that those who have serious Covid infections are more likely to experience long-lasting symptoms.
The study from Haukeland on the other hand finds that those who had mild infections are at high risk of long Covid.
According to Blomberg, few studies have so far looked at those with mild symptoms – they have rather focused on people who have been hospitalized and those who have had serious Covid complications.
The Haukeland study includes 82 per cent of all those who tested positive for Covid-19 in Bergen during the first wave of the pandemic in Norway, meaning from the end of February until April 2020.
Blomberg says that few other studies have the same level of overview of their patients as the Haukeland study.
"Others have studied this by looking at patient registries and prescription registries, or they have recruited people through media or through apps. This makes it difficult to know for sure how many have actually experienced ailments, and the total population of people who have been ill," Blomberg says to Aftenposten.
"One of the strengths of our study is that we have a good overview of nearly all those who have been ill, and we have followed them throughout this personally with regular consultations," he says.
Reference:
Blomberg at al, Long COVID in a prospective cohort of home-isolated patients, Nature Medicine, 2021