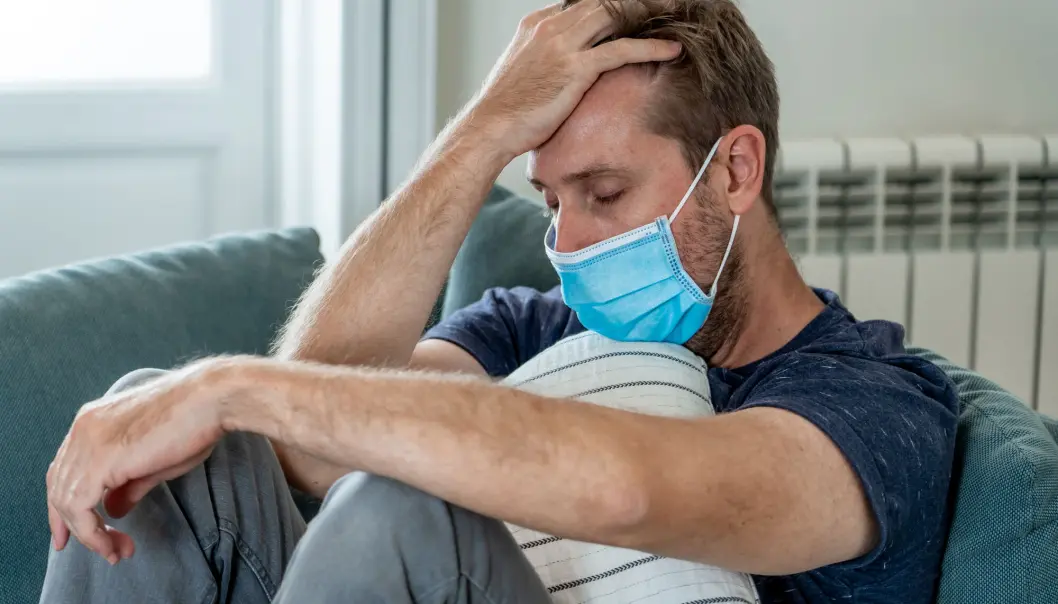 New study on Long Covid: Brain fog, poor memory and shortness of breath one year after infection
Norwegian study of unvaccinated Covid patients finds two clusters of symptoms that persist after one year. Long Covid is perhaps not one syndrome, the researchers suggest.
One cluster of symptoms are connected to the brain. They include brain fog, poor memory, dizziness, heart palpitations and fatigue.
The other cluster has to do with the respiratory system. The symptoms are shortness-of-breath and cough.
In a preprint published on medRxiv, the researchers write that as their results suggest that different people experience clusters of symptoms, they "question whether it is meaningful to describe long COVID as one syndrome".
"Our findings suggest that this is a about a number of different ailments that most likely cannot be seen as one syndrome, as they manifest quite differently within different people", researcher Lill Trogstad says in a press release from the Norwegian Institute of Public Health.
She stresses that the findings must be confirmed by other studies in order to know how representative they are.
Long Covid among unvaccinated
Throughout the pandemic, 150 000 participants in the Norwegian Mother, Father and Child Cohort Study have been sent questionnaires every other week. Most of them are in the ages 30-65, and around 70 000 of them are included in this study. In March last year, they were asked questions about 22 different symptoms that may occur after a Covid infection – but that may also be common in the general, uninfected population.
The symptoms where based on a list from the American CDC.
Answers from those who had been through Covid, were compared to those who had not been infected.
As the vaccination programme in Norway started shortly before the data were collected, vaccinated participants were not included in this particular study. These results thus pertain to unvaccinated persons who have been through Covid.
More than 50 per cent had symptoms after one year
"The prevalence of a variety of symptoms was high 12 months after having been infected with Covid-19, compared to symptoms in people who had not undergone this disease", the Norwegian Institute of Public Health write in the press release.
Among those who had not been infected with Covid, 21 per cent reported the experience of at least one new symptom during the last 12 months.
Among those who had been infected with Covid, 56 per cent reported one or more symptoms.
Just under 30 per cent of them reported 3-5 or more symptoms one year after the infection.
17,4 per cent of those infected reported fatigue, compared to 3,8 per cent of the non-infected.
18,2 per cent of the infected reported reduced memory 12 months after the infection, while this was true for 3,6 per cent of the non-infected.
The researchers also found that the symptoms were more prevalent in women than men, and that they were more prevalent among those who had been very ill compared to those who had barely been ill.
Depression due to experiencing severe illness?
Other studies have found a high prevalence of depression after severe infections with the coronavirus.
Anxiety and depression, however, did not seem to be connected to having been infected by the virus itself, the researchers write in the press release.
The risk of experiencing these symptoms increased with the level of seriousness of the disease and could therefore be a consequence of having experienced serious illness and perhaps also hospitalization, they suggest.
Altered smell and taste due to local infection?
Among those who were infected during the first wave of the pandemic in Norway in the spring of 2020, 1 out of 6 reported that their sense of smell and taste was still different one year after infection.
"Interestingly, long-term changes in taste and smell did not necessarily correspond to the presence of other symptoms", the researchers write in the press release.
As the correlation between altered smell and taste and cognitive symptoms in this particular study is low, this may suggest that the main mechanism behind the symptom is a local infection in the so-called olfactory epithelial cells – the cells that allow us to detect smell – rather than as a result of an infection in the brain.