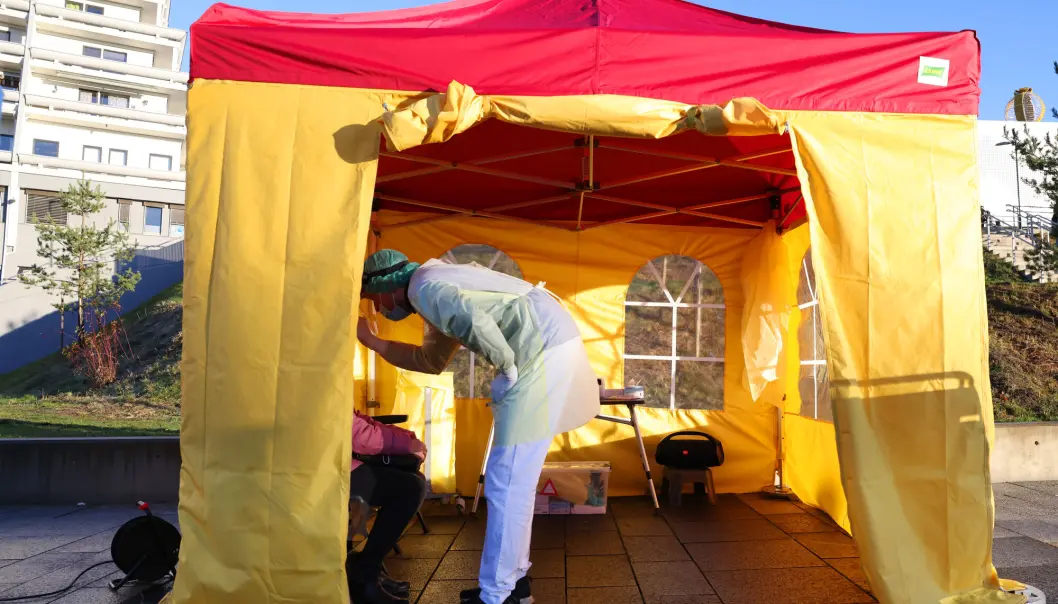 Nine reasons why immigrants in Norway were hit harder by Covid-19
Among the reasons listed in a new report are language barriers as well as delayed isolation, tracing and quarantining.
Some groups of immigrants have been infected and hospitalized at a higher rate than ethnic Norwegians during the pandemic.
During some periods, more than half of the hospitalized patients in Oslo had an immigrant background.
Researchers now believe they know more about why some immigrant communities have been more exposed during the pandemic. Their report was commissioned by the Ministry of Labour.
Travelling and language barriers
The reasons for why immigrants have been more exposed are complex, according to the researchers from the National Institute of Public Health. Several issues have led to the very skewed outcome. They write that the increased levels of infections are due to:
Travelling. Immigrants have travelled more and stayed abroad longer.
Delayed testing, isolation, tracing and quarantining due to weaker knowledge of language and health issues, as well as weaker digital competencies and weak routines for interpreters within the health services.
Weaker practice of isolation and quarantining due to language barriers and levels of education and knowledge.
Weaker compliance due to delayed information about advice and how precisely this advise is perceived and understood.
Immigrants prefer other media than ethnic Norwegians.
Immigrants live in more central areas where there have been higher levels of infections.
Income, education levels and workplace has had a moderate effect.
Smaller living spaces and family size has had a moderate effect.
Genetic differences that give some increased vulnerability cannot be excluded as a reason, but the research on this is still very uncertain.
More travels abroad
The above list is not weighted according to importance.
"We don't know how important these explanations are in and of themselves in order to explain the increased infection rates and development of disease. Some of these things can be further examined and perhaps also quantified. But other issues are not possible to measure with numbers," Thor Indseth says to sciencenorway.no. He is the editor of the new report.
The researchers are however quite certain that extensive travelling to home countries has played quite a big part.
"We only have data on travelling for a very short period, and this coincided with very high infection rates in for instance Pakistan. So the data that we have cannot be used to generalize about the entire period that we have looked at", Indseth says.
Weak system for interpretation
Language barriers are also believed to have played a significant part. It most likely caused a delay in the implementation of the strategy of testing, isolating, tracing and quarantining in immigrant communities.
Poor language skills and weaknesses in the system for booking interpreters are to blame.
"Health services are supposed to book interpreters when necessary. But whether this has worked as it should has varied greatly from place to place," Indseth explains.
Some boroughs and municipalities have contracts with interpreters in place and can book them quickly on any weekday. Other places have not had good systems in place.
"A lot of institutions have lacked routines on this and have struggled to get interpreters quickly enough, for instance during the weekends," says Indseth.
The quality of the interpretation services also varies.
Weaker digital and health knowledge in some immigrant communities has also contributed to the delay in getting the system of testing up and running.
Unclear division between health and integration offices
In some cases, necessary information was made available far too late, or not at all. The researchers believe this is due to an unclear division of work between offices that work with health and those that work on integration.
"People who work in the health services don't necessarily know the immigrant communities. And those who work on integration don't know the health services," Indseth explains.
In some municipalities contact between these two groups has not been established early enough, while in other places previous collaborations made the work easier.
"In some places they have managed to create dialogues with people who have influence in these communities, like imams for instance, and have spread information about testing through these people. This has been very useful," Indseth says.
A different point of reference
The researchers also site "different point of reference" as a reason.
"What you have learned growing up and at school affects the way you think and the basic knowledge you rely on. The Norwegian school is quite uniform, which gives a large common point of reference for the Norwegian population. This is something that certain immigrants do not have, or have less of," Indseth explains.
A part of this point is also differential use of the media.
If you don't speak Norwegian well, then it is obviously difficult to catch the news in Norwegian newspapers, radio, or TV.
"This is true about traditional media like TV, but it's also about what you follow on social media. During a pandemic, a lot of people quite naturally spend a lot of time reading about and following the development in their home countries where they have family and relatives," Indseth says.
This will also shape people's understanding of the pandemic.
The data behind the report:
A large interdisciplinary team of researchers from the Norwegian Institute of Public Health (NIPH) and the Institute for Social Research have carried out the studies that form the basis for the report.
The main source of knowledge is analysis of data from registries that cover the entire population in Norway. To find out more of what lies behind the numbers, qualitative in-depth interviews were done with immigrants, contact tracers and employees in 15 larger municipalities and boroughs in Oslo.
A total of 140 people were interviewed.
The researchers have also done experimental studies and used mathematical modelling.
(Source: Thor Indseth)
Moderately increased risk leads to high impact
The researchers believe that many immigrants have followed the advice from authorities in limiting their contact with other people and sticking to family. Paradoxically, this may have made them more exposed to the virus, the researchers write.
"Our close family is often people who share the same background as ourselves. And because the infections grow at an exponential rate, a moderate increased risk can cause quite a high impact within a group," Indseth says.
It is thus enough to just be slightly more at risk for this to cause a larger exposure and overrepresentation.
The researchers will continue to study this topic and are now taking a look at the effect of living with grandparents.
Information must be translated
Indseth believes it is important that the authorities communicate frankly about what causes some groups to become more exposed to infections and disease during a pandemic.
Weak skills in the Norwegian language and a weak affiliation to Norwegian work life and society makes people vulnerable during a pandemic.
Authorities need to consider preparedness when they create politics for integration. The public sector is also in need of more knowledge about the various immigrant communities.
Indseth points to mobile test stations as a measure that has shown good effect.
Communication from the authorities needs to be simple, adapted and targeted. Both in terms of language and choice of channel for communication. Offering quality interpretation- and translation services is imperative, according to the researchers.
What about Vitamin D deficiency?
"It is well known that immigrants from non-western countries have higher levels of vitamin D deficiency", says Medical Doctor and Specialist in internal medicine Fedon Lindberg to sciencenorway.no.
He believes the researchers behind the new report should have looked in to vitamin D deficiency as a cause for the differences.
Researchers have previously found higher levels of vitamin D deficiency among those who have died from Covid-19 compared to the population at large. People with dark skin have a higher risk of vitamin D deficiency.
Researchers at the Karolinska Institute in Sweden did a meta-analysis (link in Norwegian) on 43 studies with a total of 49 000 participants. The results were published in March this year. The researchers concluded that vitamin D protects against respiratory infections.
"The protective effect is around 10 per cent, but in some groups of people the protective effect is as high as 40 per cent", medical doctor and researcher Peter Bergman from Karolinska said to TV4.
The study did not specifically look at whether vitamin D protects against Covid-19, but the researchers believe this to be likely.
"In this study we left vitamin D out because the research in this field has been very divergent", says Thor Indseth to sciencenorway.no.
He says this may turn out to be a legitimate criticism if it turns out that vitamin D is an important part of the explanation for differences in infection rates.
Researchers at Oslo University Hospital have done a randomized, controlled and triple blinded intervention study to see if cod liver oil has protected Norwegians against Covid-19. The results from the study are expected to be ready to be published in early in 2022.
Translated by: Ida Irene Bergstrøm
Reference:
T. Indseth (ed.): Koronapandemien og innvandrerbefolkningene, vurderinger og erfaringer. Rapport, Folkehelseinstituttet, 6. desember 2021. (The Corona pandemic and the immigrant population – assessments and experiences. Report from the Norwegian Institute of Public Health, Desember 6 2021 – only available in Norwegian)
———
Read the Norwegian version of this article on forskning.no