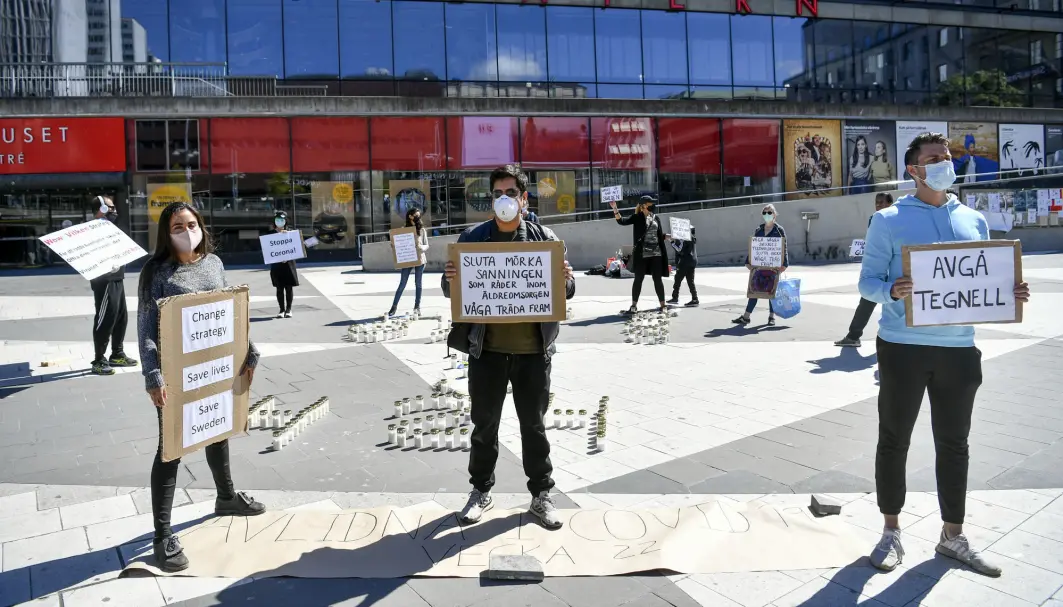 Why did things go so wrong in Sweden?
Sweden wanted to show the world a more humane way through a global pandemic. For some, this has become a tragic example of how wrong things can go in a society. But opinions are divided.
Sciencenorway.no has spoken with Åsa Linderborg, a well-known Swedish pundit, Frode Forland, Specialist Director for Infectious Diseases and Global Health at the Norwegian Institute of Public Health (NIPH) and the man who didn't want to end up as "Norway's Tegnell", and Fredrik Elgh, Anders Tegnell's former supervisor. Elgh has been at the forefront of Swedish researchers who have criticized Tegnell's approach. We've also attended a lecture with Ole Petter Ottersen, the Norwegian rector at the Karolinska Institute, the institution in Sweden that hands out the Nobel Prize in Physiology or Medicine.
Together, these experts described a Swedish public that has long supported the idea that Sweden should go its own way during the pandemic. A way where experts made decisions and the politicians backed off, where people went without face masks, and bottles of hand sanitizer were few and far between. They also describe a situation where people who warned of the dangers of the approach were branded as traitors. Now, the extent of the tragedy has become increasingly clear.
"Most of us think it was the right approach. But most people probably also think that it's awful that so many had to die," says Åsa Linderborg.
The land without face masks
Just before Christmas, sciencenorway.no's two journalists were in Sweden, in Gothenburg and in Trollhättan — a large city and a small town.
At this time, the second coronavirus wave was well on its way and infection rates in Sweden had skyrocketed. Both journalists wore face masks. People looked at them a little strangely. A number of Swedes kept extra distance for safety's sake.
Ole Petter Ottersen has experienced the same thing on his travels between Oslo and Stockholm. Ottersen, the rector of Karolinska Institutet, which alone accounts for 40 per cent of all medical research in Sweden, has travelled from a Norway, where face masks and disinfectants are everywhere, to a quite different Sweden.
At Norrland University Hospital in Umeå, the Swedish virus researcher Fredrik Elgh says that much of last year he was the only one who wore a face mask outside the operating room. Face masks recently became mandatory for the first time in the hospital.
Equal death toll in Norway and Sweden?
As Specialist Director for Infectious Diseases and Global Health at the Norwegian Institute of Public Health (NIPH), Frode Forland knows the Swedish state epidemiologist Anders Tegnell and his predecessor Johan Giesecke well. During the pandemic, Forland was responsible for much of the coordination between NIPH and the Public Health Agency of Sweden.
When Giesecke said that he thought that as early as May last year that flock immunity could be achieved against the new virus in parts of Sweden, Forland didn't mince words. In an interview with the Swedish newspaper Svenska Dagbladet, Forland called this strategy "dangerous". He pointed out that there was much we didn't know about the coronavirus.
"We'll wait a year to discuss the death toll in different countries. I think they will be the same then," Giesecke responded after the somewhat heated debate had calmed down.
At the end of February 2021, here's the situation: In Sweden, more than 12,500 people have died from the coronavirus. In Norway, just over 600 people have died.
Strong leaders in times of crisis
In an interview with the Norwegian national newspaper Dagbladet in October, Forland said he thought it was interesting how countries want strong leaders in times of crisis.
In Sweden, the strong leader was Anders Tegnell.
Forland says he is happy that he didn't have to play the same role in Norway, even though Swedish media often referred to him as "Norway's Tegnell".
Instead, more well-known faces — health experts and health politicians — shared the responsibility for governing Norway through the crisis.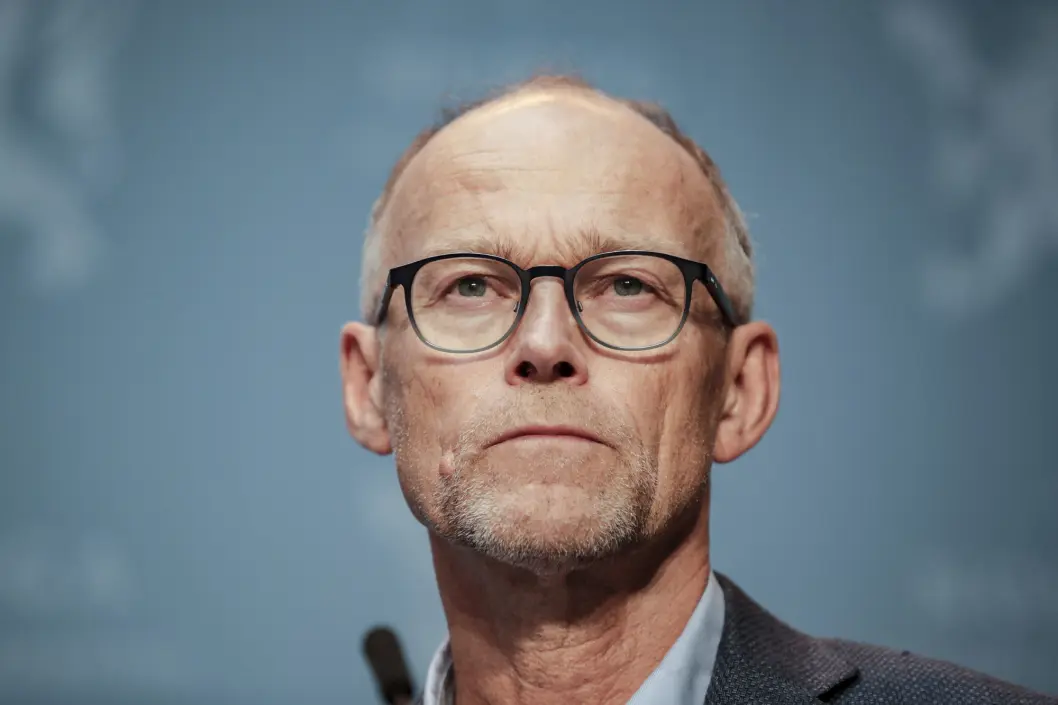 Disagreeing with Tegnell considered disloyal
Forland got hate messages and threats from Swedes following his debate with Giesecke and Tegnell.
"I have been interviewed by a number of Swedish media and everyone asks questions that support Sweden's strategy. It seems like one has to support one's own government and strategy. But Sweden is going against the whole world," Forland told Aftenposten, another national Norwegian newspaper, in May.
When sciencenorway.no talked to Forland recently, he confirmed the threats he got from Sweden. They have come by email, phone and via Facebook.
He believes, and has always believed, that the reason why Sweden was hit so hard by the coronavirus is that they waited too long before they took strict infection control measures.
"I also saw that in the beginning there was no debate in Sweden about the strategy," he said to sciencenorway.no.
"It was perceived as disloyal not to be loyal, even by the media. I experienced that the media in Sweden were looking to find arguments that supported the Swedish strategy. They asked me questions that would confirm that the Swedes were right and we in Norway were wrong," he said.
The effects of the first coronavirus measures that we enacted in Norway were actually much stronger than we had expected. Frode Forland
"It seemed as if everyone in Sweden believed this. At some point, however, there came a breaking point," he said.
Everyone was uncertain at first
The leading health authorities in Sweden, Norway, Finland and Denmark have met with each other roughly every other week during the coronavirus pandemic.
Forland can now talk about the great uncertainty among the experts during the first meetings last spring — also among Swedish health leaders. Everyone was in the same situation, where they didn't know what was the right thing to do.
Health leaders in the Nordic countries had a completely open discussion about this, Forland said.
"The effects of the first coronavirus measures that we enacted in Norway were actually much stronger than we had expected," he said.
But Sweden — with Tegnell and Giesecke at the helm — chose to go a completely different path than Norway, Finland and Denmark.
Johan Giesecke came from his job as head of research at the European Infection Control Agency and advisor to the World Health Organization.
Anders Tegnell had an extensive and demanding work background, including time at MSF working with very deadly epidemics in Africa. In 2007, he was honoured by induction to the Royal Swedish Academy of Military Sciences. Here he gave a speech about the impact of pandemics on society, which he summed up like this: "Isolation is not a method that would work in today's society."
More room for debate in Norway
Several of the individuals interviewed by sciencenorway.no pointed to this: That Sweden, to a much greater extent than Norway and other countries, left almost all responsibility for dealing with the coronavirus crisis to one or a few individuals.
Politicians in Sweden stepped back from taking responsibility.
So did the normally critical media and journalists.
The virologist Fredrik Elgh in Umeå and the group of critical researchers he collaborated with — eventually known as "The 22" — were told that they were traitors. You can read more about this lower down in the article.
"My experience has been that the debate in Norway has been more open to criticism and discussion. There has been much more room in Norway than in Sweden to disagree over measures," said Forland.
Forland has not received any threats in Norway.
"There has been some disagreement within the National Institute of Public Health and the Norwegian Directorate of Health and the Ministry of Health and Care Services under Bent Høie. I think this is a strength of the Norwegian model," he said.
Now is the time for reflection
It's worth mentioning that Johan Giesecke has apologized to Forland.
He has also received emails from Swedes who support him, because he has dared to speak out against Anders Tegnell.
Forland still has good meetings with his Swedish colleagues every 14 days. He emphasizes that he's not in an international competition regarding who has been the best in handling the pandemic.
At the same time, Forland believes that now is the time to talk openly about what happened in Sweden and Norway. It's time for reflection.
"We have now come so far that we have the opportunity to see an end to this, due to the vaccine. Because of this, it's clear that the death toll speaks for itself," he said.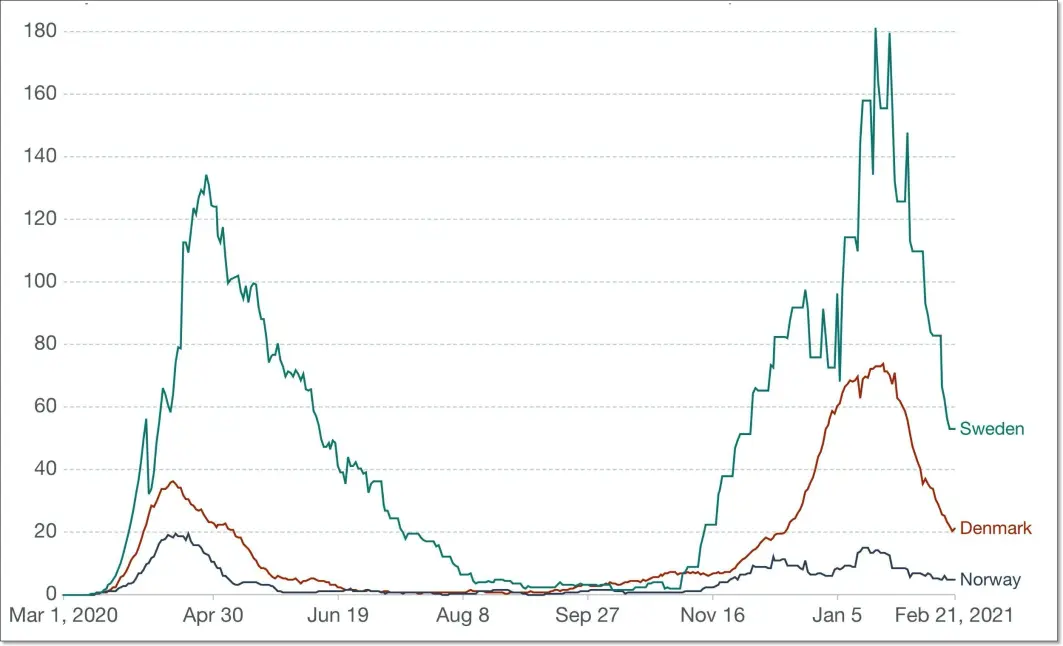 Politicians in Norway took the main responsibility
Something good happened in Norway on March 12 last year, Forland said.
This was when the Norwegian government took on the main responsibility for dealing with the coronavirus pandemic.
"This meant that we were able to stop the first outbreak quickly. All sectors of society saw the seriousness of the situation," he said.
Norway's infection levels headed downwards in just three weeks. In Sweden, infections continued to rise. As the Swedes gradually adopted measures that were more similar to what was being done in Norway, infection rates there also reversed, and dropped to the same level as in Norway.
But when infections started to rise again in November last year, infections rose much faster in Sweden.
Today, Sweden has had more than 12,500 coronavirus deaths.
Medical experts are not political experts
Forland believes it was wrong for the political authorities in Sweden to leave so much of the pandemic management to the Public Health Agency.
The measures that were implemented in Norway affected a lot of people. But they were political issues. Lost jobs, closed schools, kindergartens and businesses, foreign policy and travel — all this went far beyond the Norwegian Institute of Public Health's expertise.
Forland still believes that Norwegian politicians have gone too far a couple of times. At the beginning of the pandemic, there was a disagreement between professionals and politicians about what was called the holiday home ban.
Today, he believes that Bent Høie and national politicians should stay away from detailed decisions about how many people can visit a nursing home. This is something the NIPH and the municipalities themselves can offer advice to people about.
"Right now there's been too much detailed advice and too much for both people and politicians to keep track of," Forland said.
Many died in Swedish nursing homes
Another success factor in Norway has been municipal infection control.
Sweden had major problems in nursing homes with infection and many deaths. Some people thought this was because of Swedish privatization of elderly care, but Forland disagrees.
"The many private nursing homes in Sweden hardly made any difference. Many more elderly people died in Sweden in total. This was a reflection of the general level of infection in society at large," Forland said.
Forland pointed out that Swedish counties are responsible for infection control, not the municipalities, as is the case in Norway. The Swedes have not been able to make this work, because it is the Swedish municipalities that are responsible for elderly care.
At some point, the Swedes should probably be polite enough to take some self-criticism. Frode Forland
Swedes should take self-criticism
It has long been a prevailing opinion among the decisionmakers in Sweden that the two countries would eventually come out of the pandemic in the same place.
Frode Forland thinks that the Norwegian Prime Minister Erna Solberg, Bent Høie and he himself have been modest when they have answered that there is no way to really answer this.
"But at some point, the Swedes should probably be polite enough to take some self-criticism," Forland said to sciencenorway.no.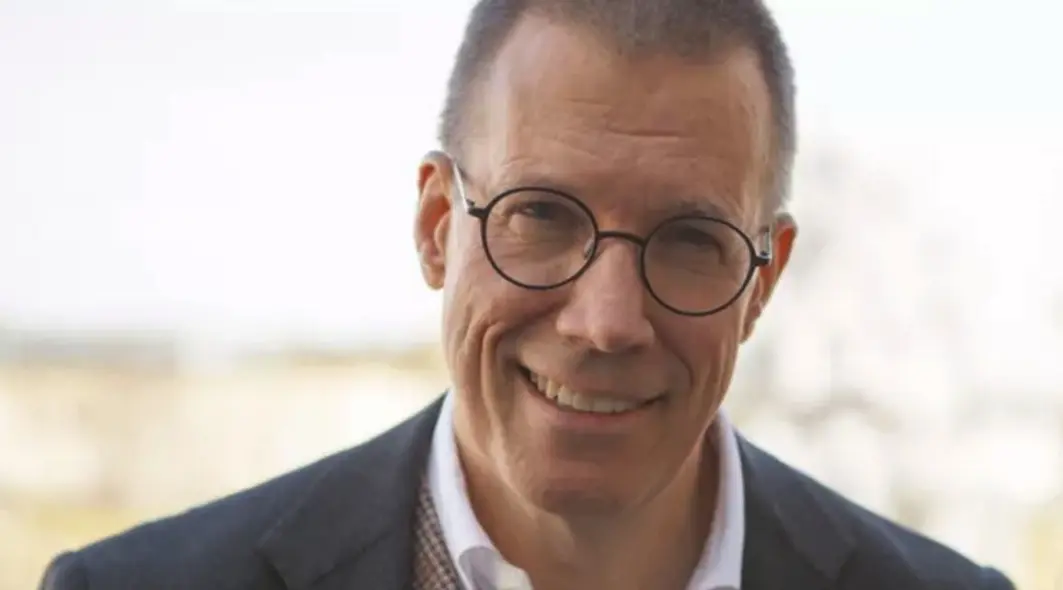 Tegnell decided
Fredrik Elgh is a researcher and clinician in virology at Umeå University and Norrland University Hospital. And he is one of "The "22", the research group that has criticized Sweden's handling of the coronavirus.
Elgh participated in his time in building up virological research in Sweden. He was also Anders Tegnell's boss.
In recent months, the virus researcher has thus been a lone wearer of face masks among health colleagues in his hometown of Umeå.
When sciencenorway.no asked Fredrik Elgh what really happened in Sweden, he seemed quite convinced that the Public Health Agency of Sweden almost immediately decided on a specific approach to handling the coronavirus.
And he is pretty sure that Tegnell made the decision.
"Sweden should let the infection run through the population. This would allow a form of immunity to be achieved as soon as possible. That was the plan. If you read emails that were sent between leading people at the health agencies at that time and listen to what was said quite openly, this confirms it," Elgh said to sciencenorway.no.
Norway shut down much of society. Sweden didn't.
"We who were researchers and who criticized the authorities for this approach were accused of just looking for more money for our research," he said.
The gender card was also played against the critical Swedish researchers. They were a bunch of "guys" who sat and "second-guessed" people. That is, male researchers who typically thought they knew better than others what to do.
The political opposition said nothing
"By the first week of March last year, the tone was already set for much of the further professional discussion about the coronavirus in Sweden," Elgh said. "Here, Sweden differed from Norway, Denmark and Finland."
Norway had a public health institute, a health directorate and a health ministry with people who formed an opinion about what would be the correct coronavirus policy. This meant that several opinions were brought to the authorities.
"But in Sweden we didn't do this," Elgh said. "Here the party line was that the Public Health Agency decided and the politicians would comply with what they said."
The political opposition in Sweden was also content with doing what the Public Health Agency said, Elgh said.
He himself has been politically active in the Swedish opposition party Centern. He says he has spent hours trying to explain to politicians that they must find their own expertise on the coronavirus, not just listen to Tegnell. But the only respond he got was that in a crisis situation, everyone in Sweden should listen to the authorities' experts.
But why did this happen in Sweden?
If anyone in the world is known for thinking about safety and health, it is the Swedes.
"In Sweden, we almost put on our seat belts before we dare to get into the car," Elgh said. "This is a country where people are hardly allowed to smoke outdoors anymore. We think about safety and health almost all the time. That is why it seems inconceivable that we should think so little about health and safety during a pandemic."
Elgh believes that the explanation for why Sweden chose such a completely different strategy than other countries was something more personal.
"This is not about the Swedish system or Swedish society," he said.
It is Tegnell and Giesecke who have got us where we are today. Fredrik Elgh
"It's about the people who decide. First and foremost, it is about state epidemiologist Anders Tegnell and to a large extent it is also about the previous state epidemiologist Johan Giesecke. He is still saying that the same number of people will die of coronavirus in Norway as in Sweden, and that we just have to wait and see," he said. "So it is Tegnell and Giesecke who have got us here where we are today. That is my personal opinion."
sciencenorway.no has contacted Tegnell and Giesecke to get their reaction to Elgh's claims. Tegnell's press secretary points out that it is Director General Johan Carlson of the Public Health Agency who is responsible for the authorities' handling of the pandemic. Giesecke did not respond.
The climate for debate in Sweden
Elgh himself has remarked on Sweden's harsh climate for debate during the coronavirus crisis.
"Everything from research journalists to lead writers and influencers have helped to turn us who were critical into idiots. We were unscientific nothings," he said.
Elgh himself believes that a significant reason why things have gone as they have in Sweden is that the Swedish media have not been very critical of the authorities' approach.
"All criticism was considered treason. I have also experienced people shouting this at me on the phone," he said.
"We only said that Sweden should take the coronavirus more seriously than the public health authorities were doing at the time. That's how we became the nation's number one enemy."
Elgh has been invited to be on the radio and TV now and then. But his views have often been cut to a few short comments, after which he was roundly criticized by government spokesmen. They have never wanted to debate him in live broadcasts, Elgh said.
The tide turns
People who have been critical of Sweden's handling of the coronavirus have received threats and been harassed. Some are said to have received death threats.
But the Swedish coronavirus debate may be about to turn. Now the Swedish health authorities are being subjected to harassment and threats.
"That Sweden has failed is now starting to become clear to more people here as well. But now that government officials are also exposed to threats and harassment, the index finger is pointed at us researchers who have been critical of the government," Elgh said. "Now we hear that we have contributed to this problem."
Fredrik Elgh is active on Facebook all the time with posts on his page about the coronavirus situation in Sweden. For almost a year, he has been receiving emails and telephone calls telling him what an idiot he is. He doesn't read the comment fields on social media.
"Now that the wind is starting to blow the other way, there are also several positive comments. But there is still a lot of unpleasant stuff," he said.
A clear sign that something is now changing in Sweden is the proportion of Swedes who wear face masks, Elgh said. He sees a clear difference between a few weeks back and now.
"On Tuesday this week, we also received an order at Norrland University Hospital to wear a face mask," he said.
Elgh believes that the mutated virus variants may have been the wake-up call that has now got Prime Minister Stefan Løfven and other Swedish politicians more in line with conventional thinking.
The Swedish national feeling
When sciencenorway.no asks Elgh why it went the way it did, he answers as follows:
"I don't know how you feel in Norway. But here in Sweden there is a feeling of national pride. No one should question this national pride," he said. "I think that there are many Swedes who are now a little ashamed of what has happened."
"This may be one of the reasons why the climate for debate has become so hateful. People know deep down that this was completely wrong. But then many still feel that they must defend Swedish policy. It's too tough to admit that it went wrong."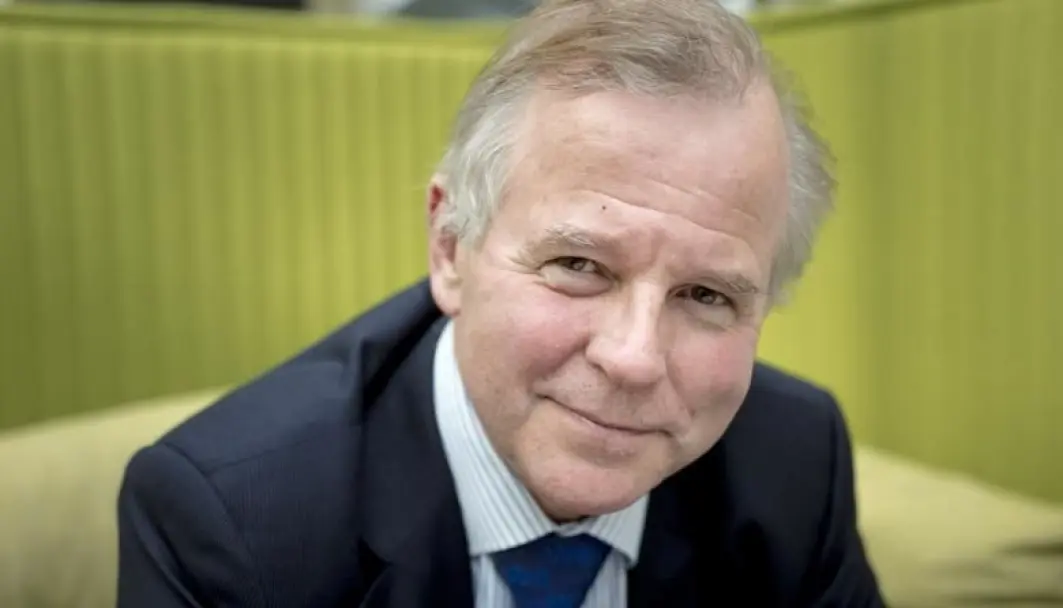 A tragedy
Ole Petter Ottersen was rector of the University of Oslo from 2009 to 2017, after which he was appointed rector of the Karolinska Institutet in Stockholm, the institution that is known for awarding the Nobel Prize in Physiology or Medicine.
The Norwegian rector at one of the world's most famous medical research institutions has been able to act as an observer of Norway's and Sweden's coronavirus policies. Last week, he participated in a public debate on Sweden's coronavirus handling, under the auspices of the Norwegian Academy of Sciences and Letters in Oslo. You can see the debate (in Norwegian) here.
"It's a tragedy that so many have died in Sweden. There is also a huge difference between Norway and Sweden. As academics, we must be empathetic, but at the same time we now have a unique opportunity to see exactly what significance non-medical interventions have had on this pandemic," Ottersen began by saying.
Ottersen was clear that the researchers knew too little to be able to give politicians good advice on what they should do during a pandemic.
"We were not well enough prepared. We lacked research in key areas," he said.
Fundamentally difficult role
Ottersen also points out a significant difference between universities in Sweden and Norway.
In Norway, universities are largely independent institutions. The rectors are chosen by employees and students, or they are hired by an elected board.
Sweden is organized is completely differently. Swedish university rectors are employed as government officials.
"We implement government policy. I just have to say that the challenges of being a head of government and rector during a pandemic have been fundamentally difficult," he said.
I just have to say that the challenges of being a government official and a rector during a pandemic have been fundamentally difficult.
Ole Petter Ottersen
Ottersen says that Karolinska Institutet has had to live with the pandemic 24/7 over the past year.
Much has surprised him.
Why was the dialogue between Karolinska Institutet and the Swedish authorities not closer? Why did Sweden not start large-scale testing earlier? Why did Sweden start using face masks so late?
"There was a period when I travelled from Oslo to Stockholm, so it was like traveling from one world to another," Ottersen said at the Norwegian Academy of Sciences and Letters presentation.
A culture of exclusion
Ottersen has also been the subject of what he calls a hateful Swedish coronavirus debate. He used the term exclusion culture.
"The tone has led to researchers actually withdrawing from the debate. There is even one of our researchers who says that he no longer wants to do research on COVID-19, because he has been subjected to personal attacks," Ottersen said.
There is a lot to think about after this pandemic, Ottersen said: Is Swedish democracy challenged by the tone of the Swedish coronavirus debate? What is the university's responsibility during a crisis? Does the university provide enough support for vulnerable researchers?
At the same time, Ottersen emphasized to his audience at the Academy of Sciences and Letters that we must be humble.
"This virus did not come with a manual that told us how to address it. We shouldn't come to conclusions until we know more about what the research can tell us about the major causal relationships," he said.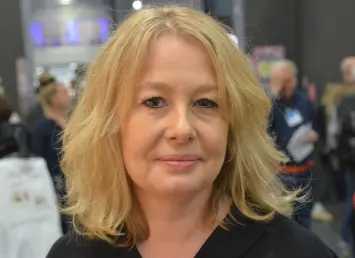 A democratic problem
Åsa Linderborg is a Swedish historian, author and journalist who in Norway has become known through the Norwegian Broadcasting Corporation's TV programme Norsken, svensken og dansken (The Norwegian, The Swede and the Dane). She has been a clear voice in discussions about Sweden's history and the climate in Sweden for debate.
When sciencenorway.no asked her why the debate around the coronavirus has now become so heated in Sweden, she said:
"Sweden went its own way. We have to discuss this, sooner or later. Then, of course, there will be conflict," she said.
She herself will not say whether Sweden has made the right or wrong decision.
"I don't have enough expertise to feel comfortable to comment on that," she said.
"But it's clear that it is a democratic problem if you don't dare to speak your opinion. It's also clear that it is a democratic problem if you don't dare to communicate your research results or continue with your studies because you encounter so much resistance. This can't be underestimated," she said.
With a background as a researcher, Linderborg is well aware that researchers disagree. That must be the case. Research is meant to push boundaries.
Our whole existence is at stake
But is this also about the climate for debate in Sweden more generally, and that the country has a harsh culture surrounding debate?
"Sweden is very polarized. First, everyone goes in the same direction and there are very few critical voices, except for the right-wing populists, who always have another option. But all the media and most of the politicians stick together," she said.
She points out that this was the case during the #MeToo situation, the refugee crisis and most recently the pandemic.
"There is a very strong trust in the authorities at first, from the right to the left. But then it falls apart after a while. And then it will be very hard," Linderborg said.
She says people in Sweden think their entire existence is at stake if they don't all agree, partly because Swedes always seem to think that something disastrous is always about to happen.
"There's this catastrophic way of thinking in Sweden that I find a little difficult to understand," Lindeborg said.
Wrong to say that Sweden has not done anything
At the same time, Åsa Linderborg wants to correct the international perception that Sweden has done nothing to stop the spread of the coronavirus:
"This is not true. We have had restrictions, limited the number of people who can be together and more," she said.
Most of us think it was the right approach. But most people probably also think that it's awful that so many had to die. Åsa Linderborg.
Linderborg also believes that most Swedes are very happy with the pragmatic line that Anders Tegnell spearheaded.
"We're happy that we have been able to travel where we want, go to a restaurant and go to the hairdresser. Most of us think that it has been the right approach. But most people probably also think that it's awful that so many had to die," she said.
An extreme country
But Sweden is an extreme country, Linderborg said.
"We are extreme when it comes to immigration. We are extreme during the pandemic. Nowhere else in the world has #Me Too had such an impact as in Sweden. We are extreme when it comes to feminism," she remarked.
Linderborg believes that Sweden has an idea that the Swedish people are moderate, "but we are not".
"We are the OECD country where class differences are growing fastest, where privatization has gone fastest. We are competing with Chile in privatizing elderly care, which may be one of the reasons why so many have died," she said.
Sweden is a country where people experiment a great deal in a number of areas, she said.
"At the same time, we in Sweden have a perception that we are morally superior. I can understand that the outside world gets a little annoyed with Sweden," she said.