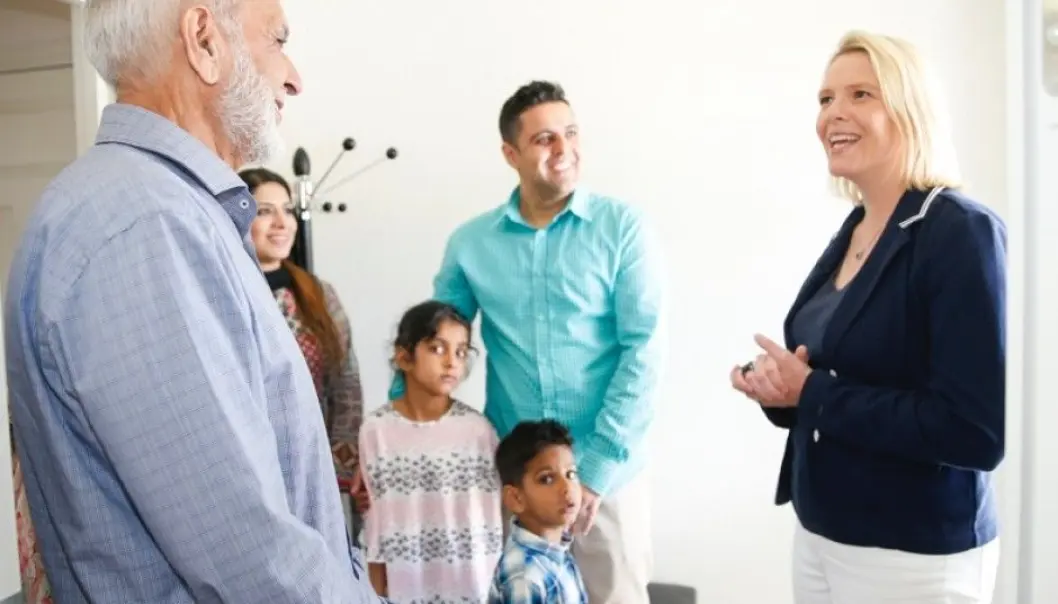 Most immigrants trust the system
Immigrants have more confidence in Norway's political system than the general populace does – with a few exceptions.
Compared to other Europeans, Norwegians generally have plenty of confidence in their political institutions.
But immigrants in Norway actually are slightly more confident than your average Norwegian is regarding the country's politicians.
Researchers at Statistics Norway (SSB) comment that this surprises them in their report "Survey on Living Conditions among Persons with an Immigrant Background 2016".
Whereas four percent of the entire population say they have complete confidence in the system, 15 percent of immigrants hold that high amount of trust.
This was evidenced in a weighed survey including immigrants from a dozen countries. The sample from the survey consists of immigrants aged 16 to 74 with at least two years of Norwegian residence.
Several of the questions in the study act as a yardstick of how well immigrants are integrated.
Poles on the one hand
Immigrants from Eritrea, Iraq, Somalia and Afghanistan generally have the most confidence in the political system.
Poles have the least confidence.
The SSB researchers presume that most of those who were asked about confidence in the political system have at least a rudimentary understanding of what this entails in Norway and that most think of the national assembly (the Storting), the national government and elections.
Less trust in one another
Immigrants differ from the general population when it comes to confidence in their fellow man and woman.
When asked whether "most people can be trusted" the average immigrant is more sceptical than most people in Norway.
Immigrants from Sri Lanka tend to have the most confidence in others.
The researchers also found that immigrants who have resided in Norway for a long time have more confidence in others than those with shorter residence periods.
Confidence in the justice system and police
Immigrants in Norway trust the Norwegian justice system more than the average member of society does. People from Eritrea and Pakistan top the list in their confidence in the courts.
Yet most people trust law enforcers even more than they trust the justice system. Here too, immigrants have the most faith in Norway's cops. The share of those who claim to have full confidence in the police is 30 percent among immigrants but 11 percent among the general population.
Satisfied with work
In addition to the queries about attitudes and values, the survey included questions on housing conditions, health, personal economy and employment.
It showed that immigrants generally struggle more regarding employment than others in Norway. Few have managerial positions or much influence on their own working day. Fewer experience job security. Immigrants are also more likely to have jobs with a poor physical and ergonomic work environment.
Despite this, nine out of ten say they are satisfied with their jobs, according to the survey.
Norwegian courses
A clear connection was seen between how long immigrants have lived in Norway and whether they speak Norwegian at home. But there are exceptions.
Persons from Sri Lanka and Vietnam are most likely to speak Norwegian at home. Over 70 percent claim to do so.
Some have gone to school in Norway – or their children have. This has given them a good opportunity to learn the language.
Immigrants from Somalia appear to speak Norwegian at home just as much as ones from Turkey and Pakistan, despite on average having shorter residence periods. About 60 percent among these immigrant nationalities say they speak Norwegian at home.
The SSB researchers think this might be because many from Somalia have participated in a government sponsored introduction programme for newly arrived refugees, which includes instruction in the Norwegian language.
Poles without language courses
Persons from Poland differ from other immigrants in several ways. For instance, just 25 percent speak Norwegian at home.
Immigrants from Eritrea and Afghanistan tend to have the same median years residency as Poles. But 40 percent from these countries claim to speak Norwegian at home.
The researchers explain that immigrants from Poland have generally come to work and have not had the same opportunities for Norwegian language courses as Eritreans and Afghanis, who have mostly come as refugees.
-------------------------------------
Read the Norwegian version of this article at forskning.no
Translated by: Glenn Ostling
Scientific links
Related content