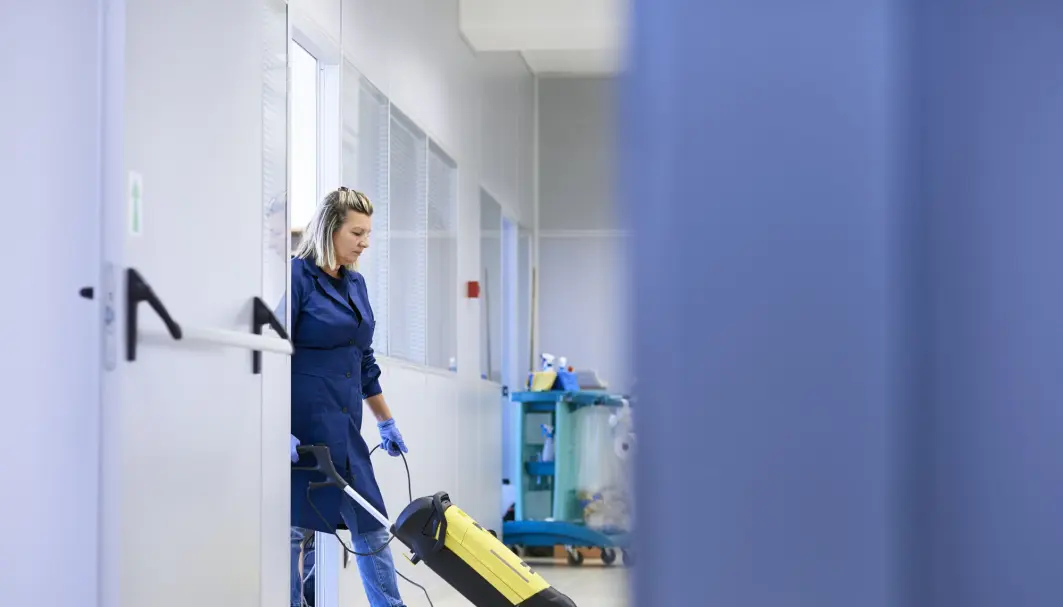 Polish people with PhDs work as cleaners and builders in Norway
Even if they eventually learn the language, some jobs are simply not available to Eastern Europeans in Norway, according to one researcher.
It's called downward professional mobility. Having a PhD, but cleaning toilets in Norway. Having a master's degree, but taking on work as a painter in Norway.
"Many of the Poles that come to Norway have master's degrees or PhDs from Poland," says Anna Przybyszewska in a press release from Nord University.
She has interviewed 30 polish workers in different Norwegians cities as part of her PhD. Before coming to Norway, some of them had worked as midwives, archaeologists, and historians.
"Some of them had ten years of work experience from Poland but were happy to take any job in order to be able to go to Norway," Przybyszewska says.
The women most often end up in the cleaning industry, while the men end up working at construction sites.
Cleaning and construction
Migrant workers from Poland were the largest group of immigrants from outside the Nordics to settle in Norway in 2019. This is according to figures from Statistics Norway.
In total, there were around 112 000 Poles in Norway in 2019, including family members and children.
A study among polish migrants in Oslo from 2010 found that 58 per cent of the women were working as cleaners. Only 1 per cent of them had previous experience from such work before arriving in Norway.
84 per cent of the men worked at construction sites. Just over half of them had previous experience from such work.
Not suitable for all jobs
"Many of those I spoke to wanted better jobs than the ones they got when they came to Norway," says Przybyszewska.
But even if they eventually learned the language, some jobs are simply not available to Eastern Europeans in Norway, according to Przybyszewska. Norwegian employers view migrants' skills in line with the country they come from, she says.
"They were seldom called for interviews, and they seldom received answers on their job applications," Przybyszewska says in the press release.
Eastern Europeans are for instance not viewed as suitable for customer service jobs, according to the researcher.
Most of the Poles that Przybyszewska interviewed stayed in the jobs they got when they arrived in Norway. Only two of them had jobs they were happy with and that they were qualified for before coming to Norway.
"Still, the Poles in Norway have accepted their situation", Przybyszewska says.
Work hard and settle for little
The coronavirus pandemic has revealed the large extent to which Europe and countries like Norway are dependent on migrant workers.
The topic has been fiercly debated in Norway in the past weeks, as the Government has ordered increasingly strict border controls while some industries claim that not getting their foreign workers on site threatens their entire existence.
"The pandemic has shaken the entire system", said Johan Fredrik Rye, a professor in NTNU's Department of Sociology and Political Science in an article in the NTNU-magazine Norwegian SciTechNews.
"The challenge is that migrant workers do the jobs that a country's own population no longer wants to do. These are jobs that are often poorly paid, poorly regulated, monotonous, dirty and sometimes dangerous," he says.
Although working life in Norway is among the most regulated in Europe, migrant workers are also here marginalized, invisible and to various degrees exploited.
According to Rye, migrant workers are expected to work hard – and settle for little.