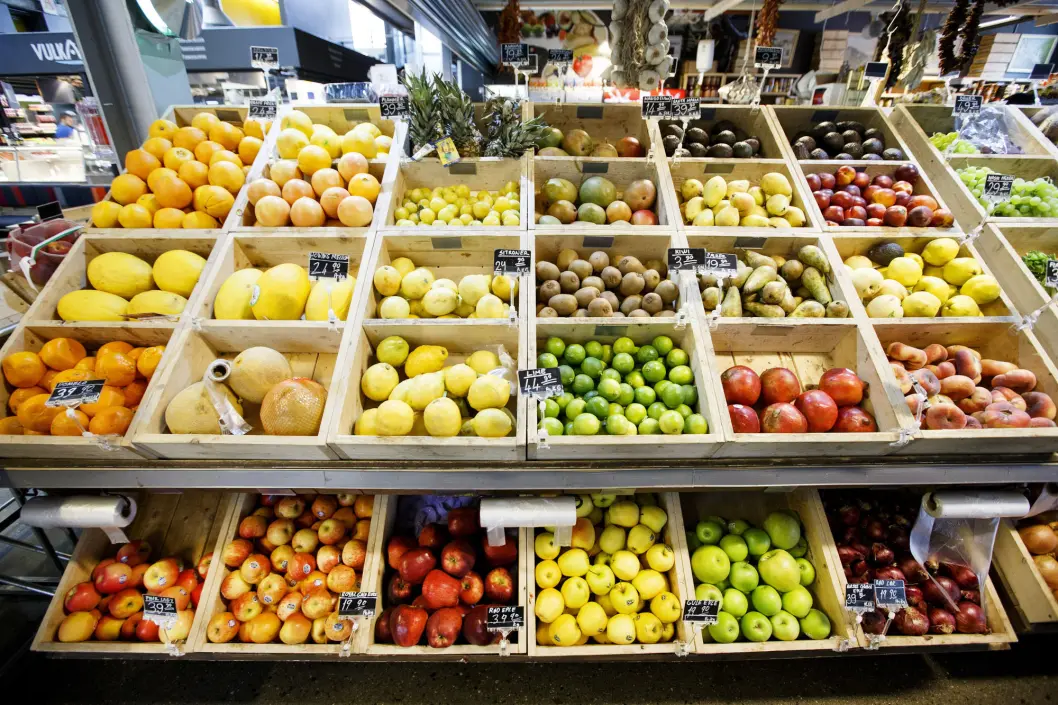 Larger selection of fruits and vegetables in stores boosted sales among the most unhealthy eaters
More varieties of fruits, berries and vegetables to choose from, as well as reduced prices, led people who usually don't buy greens to do so, according to research on Norwegian grocery store chain sales.
There are significant social differences in dietary habits among Norwegians, especially when it comes to eating fruits and vegetables. This difference may be one of the reasons why people with low incomes have poorer health than their more well-off counterparts.
Nearly six out of ten people with high levels of education eat vegetables daily, compared to just over four out of ten people with low levels of education. People with lower education levels also eat less fruits and berries.
At the same time, traditional information about what makes for a healthy diet is less likely to reach consumers who don't want to eat more fruit and vegetables.
Only two out of ten eat enough
"Only two out of ten people ate the amount of fruits and vegetables recommended by Norwegian health authorities," says food researcher Annechen Bahr Bugge, from the National Institute for Consumer Research (SIFO) at Oslo Metropolitan University. She conducted a study on this issue from 2011 to 2014.
Consumers gave very different reasons for not eating enough fruits and vegetables, she said, including poor availability where they shopped, poor quality, forgetting to eat them, or scepticism over production methods, such as pesticide residues or fertilizers.
Researchers consequently decided to test whether an increased selection and other changes in stores, such as sales campaigns, could tempt people who otherwise refused to eat fruit and vegetables.
Their results now show that targeted efforts in the stores can have a good effect.
Friendly nudges
The assignment was to look at whether behavioural economic measures, called "nudging" consumers, could help lessen Norway's social health inequalities.
Previous studies have shown that it's possible to influence people to make the right choices by appealing to the subconscious with friendly nudges in the right direction.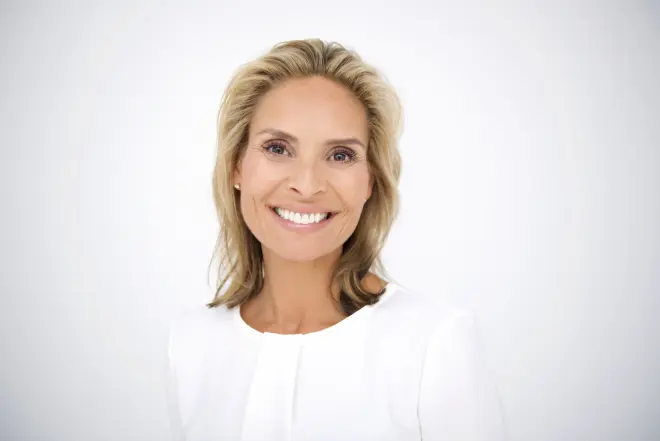 Samira Lekhal is chief attending physician for the section for children and adolescents at the Centre for Morbid Obesity, Vestfold Hospital. She studies how people can be influenced to make healthier choices at the grocery store.
"We wanted to find out if placement and financial instruments through pricing can help to offset social differences in diet," Lekhal said.
She looked at whether sales of fruit and vegetables increased following the introduction of promotional measures at four Norwegian grocery chains: KIWI, Meny, Joker and Spar stores.
Fruits and vegetables more visible
Meny first built a pilot store in 2011 and decided to rebuild all of its stores based on that experience. The new design gave fruits and vegetables the best location in the store.
The fruit and vegetable departments were moved as close as possible to the front door, so they would be the first thing a shopper sees when they enter the store. Fruits and vegetables also got more space, from 15 percent to 20 percent of the store's area.
Norgesgruppen, which owns KIWI, Joker and Spar grocery store chains, made similar changes.
The KIWI chain also introduced a 15 per cent price cut, for a number of periods. A bonus scheme for fruit and vegetables was also introduced.
The researchers were then given access to sales figures before and after changes were implemented in the Norgesgruppen stores.
More citrus, grapes and apples
Consumers were also given significantly more varieties of fruits, berries and vegetables to choose from. In total, the number of vegetable varieties increased by 30 per cent, and there were 20 per cent more types of fruit to choose from during the period.
The selection of berry products increased and became among the five best-selling products. One example was an offering of blueberries in plastic cups, introduced in 2017, which became very popular.
The biggest increase was in the sales of citrus fruits, such as clementines, limes, lemons and pomegranates. Norwegians bought 33 per cent more of these varieties this year than in 2015.
Grapes were second in sales, followed by apples and bananas.
Salad is offered in far more varieties than before, as are tomatoes and onions. This has also resulted in increased growth in sales.
KIWI increased sales by 34 percent
In total, sales of fruits and vegetables increased by 15 per cent in Norgesgruppen's stores from 2015 to 2019.
Vegetable sales increased the most, with a 20 per cent increase in volume. Fruit sales increased by 9 per cent.
KIWI stores had the largest increase, with a 34 per cent increased sales of fruit and vegetables during the period.
One factor to consider is that turnover can drop when prices are lowered. The researchers accounted for this by calculating the number of units customers bought for each product type.
For example, Norwegians bought more berries in recent years than before, although the stores made less profit on these sales.
Highly educated people buy twice as much green
Increasing your daily consumption of fruits and vegetables has the greatest effect for people who initially didn't eat much of these food groups. So did the changes reach the target audience?
The researchers compared sales growth among counties to find out.
Oppland, Hedmark and Østfold are the three counties with the lowest educational levels. Here, between 26 and 27 per cent of the population have higher educational levels.
Oslo, Akershus and Hordaland counties have the highest educational levels in the country. Here, on average, 40 per cent of the population have a higher education.
The researchers found clear differences.
Sales of fruits and vegetables were much higher in the best-educated counties, both in 2015 and in 2019.
In total, consumers in the best-educated counties bought two-and-a-half times as much fruit and vegetables in 2019 as in the counties where educational levels were the lowest.

Increased most in low-education counties
But the growth in sales of fruits and vegetables was nevertheless greatest in counties with the lowest levels of education.
While the increase in fruit and vegetable sales was 16 per cent in highly educated counties, the increase was as much as 254 per cent in the counties with the lowest education levels, measured in units sold. That means people bought more than three times more than before.
The researchers corrected for the number of inhabitants. In the counties with the most educated consumers, fruit and vegetable sales increased by 11 per cent. The increase was 14 per cent in the counties with the lowest proportion of highly educated individuals.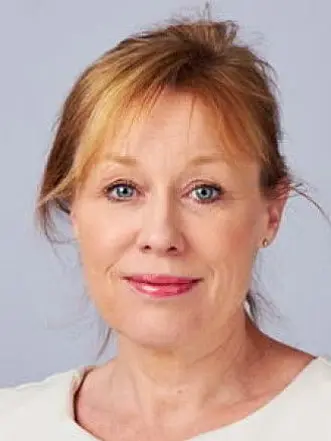 "These findings show that designing grocery stores can affect consumers who are less consciously choosing healthier alternatives," says Lekhal.
Have a lot going on
"Many people want to increase their consumption of vegetables, and 78 per cent say vegetables are something they are very fond of," says consumer researcher Annechen Bahr Bugge about the findings from her 2018 report.
Bugge says that even though vegetables now top the list of what consumers believe is healthy food in 2018/19, vegetable consumption has seen a downward trend over the past year (2 per cent). She says that consumption of fruit and berries has also declined 2 per cent, according to the Norwegian Directorate of Health.
Lekhal's study makes Bugge believe that a "friendly nudge" strategy has a lot going for it.
"It's important to make sure that consumers can make good food choices," she says.
Healthy diet is incredibly important
Health problems lead to lost years of life and reduced quality of life. An unhealthy diet, tobacco smoking and physical inactivity are major risk factors for both early death and reduced quality of life.
About the study:
Norgesgruppen initiated the study, which was designed by GreeNudge.

GreeNudge is an independent non-profit that works on community-based projects.

The factual basis for the study is objective sales figures and the analyses are independent.

Some of the analyses are also included in a business doctorate funded by the Research Council of Norway.
Many other risk factors, such as high blood pressure, high body mass index, high blood sugar and high total cholesterol are also closely related to an unhealthy diet.
Adults who have attended college or university have, overall, a better diet with respect to health than those with less education. Furthermore, what parents eat has a major impact on their children's diet and health.
References:
Analyse og evaluering av Norgesgruppens satsning for økt volum salg av frukt og grønnsaker i perioden 2015-2019. (Analysis and evaluation of Norgesgruppen's commitment to increased sales of fruits and vegetables from 2015-2019)
S. Lekhal et al.: Atferdsøkonomiske virkemidler i helsefremmende arbeid: hvordan kan utforming av restauranter og kantiner fremme sunnere valg? (Behavioural tools in health promotion: how can restaurant and canteen design promote healthier choices?) Norsk tidsskrift for ernæring, 18 March 2019.
K. Karevold et al.: Hvordan påvirke forbrukere til å ta sunnere valg? (How can consumers be influence to make healthier choices?) Norsk tidsskrift for ernæring, 30 June 2017.
———