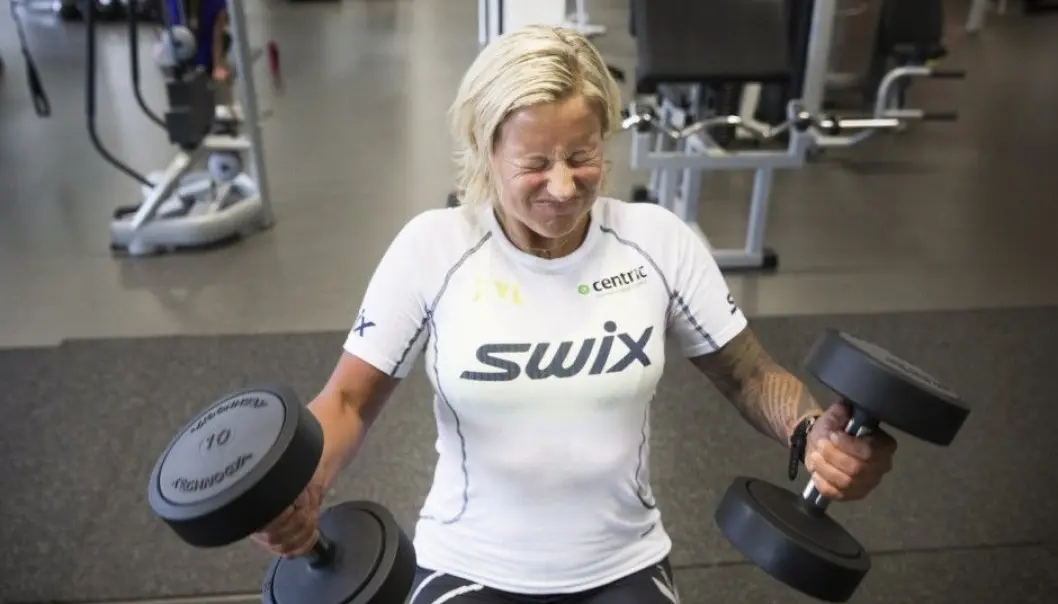 Why you shouldn't exercise too hard
A mounting number of patients are being admitted to hospitals with muscle injuries caused by overdoing a workout.
Newspapers have highlighted a rare condition encountered by fitness oriented Norwegians who have overdone their use of weights, weight machines or muscular resistance exercises in gyms, thus pressing their bodies to extremes.
"Pushing oneself much too hard is not good at all. I understand that now. Why on earth did I do 90 pull-ups when I normally am nowhere near that amount?" queried Karl Oscar Strøm (42) to Dagens Næringsliv (DN) in 2014.
He ended up in a hospital ER with muscle damage and sky-high blood values after his first workout using the fitness regimen Crossfit.
Strøm is one of an increasing number of people being hospitalised with the muscle injury syndrome rhabdomyolysis, a condition which can arise with extreme physical exercise. Two Norwegian hospitals show an increasing amount of admissions due to this condition.
Kidney failure
This extreme strain of the muscles can lead to renal (kidney) failure or irregular heartbeats. What happens is that muscle cells get injured and leak substances into the bloodstream which if concentrations are sufficient can be very harmful to vital organs, including the kidneys.
Common indications are swollen, painful muscles and brown or reddish urine.
Rhabdomyolysis can be caused by overdoing training with free weights or other strength-training equipment, where the exerciser must use muscles as brakes – like when slowly lowering the body with one's arms between each pull-up.
If the patient does not get to hospital soon enough the condition can even get life-threatening.
Strøm never thought it possible to suffer such a serious injury during a single work-out session. The experience was frightening.
"I have learned a lot and am now conscious about how easily you can go off the edge. For me it only took ten minutes," he said to DN.
Quadrupling of admittances
The relative rare condition received lots of media attention in 2014 when the Vibeke Skofterud, one of Norway's top female cross-county skiers, was diagnosed with it after a team workout session. Overnight, she reported, her arms swelled up to the size of thighs.
Concerned doctors then started informing the media about a substantial increase of cases amongst the general public too.
Doctors have now conducted a systematic charting of this medical problem at two Norwegian hospitals: Akershus University Hospital and Stavanger University Hospital.
The journal of the the Norwegian Medical Association, Tidsskrift for Den norske legeforening, has run two articles and a leader about the problem. The journal mentions a new slang term, a "rabdoøkt" [rhabdo session], which is in use about hard training in some bodybuilding and exercising circles.
However, rhabdomyolysis can be sustained in other ways, but in recent years in Norway, strength training in gyms is attributed to most of the rise in such cases at the two hospitals:
Akershus University Hospital: A quadrupling of cases from 2011 to 2014. In total there were 44 admittances of patients with the syndrome. There had been no cases in 2008 and 22 in 2014. Strength training was the cause eight times out of ten.
Stavanger University Hospital: An increase from eight cases in the years 2010-2013 to 25 patients in 2014-2015. Most of these were women and the median age was 28. All 22 had problems in their arms after training with weights.
Macho culture
Several admittances "coincided with increased media attention and a change in training culture," write the doctors from Stavanger.
They think more people go to doctors because they have read about the diagnosis in the media, but also because there really are more cases. And probably not all cases get reported.
The training regime Crossfit has been given some of the blame. At both hospitals some of the patients had worked out using this combination of strength training and fitness training.
Some gyms have restructured their Crossfit sessions after several participants were diagnosed with rhabdomyolysis. Yet there are still plenty of ways people can sustain this muscle injury on their own. People who are in poor shape run a higher risk if they suddenly start training too hard.
"It can be fatal to start over-exercising muscles that have not already trained some," comments Truls Raastad, a professor in muscle physiology at the Norwegian School of Sport Sciences, to the newspaper VG.
He thinks the reason for the mounting numbers of cases is primarily the severe muscle strain of training hard and intensely.
"I think the reason is that a 'macho culture' has cropped up in some of the training regimes that are currently popular. This is particularly in Crossfit, but we see it in so-called 'boot camps' and certain group training sessions offered by ordinary gyms."
Raastad said to VG that a way to prevent rhabdomyolysis is to start exercises cautiously and work up from gradually over time.
Demanding treatment
The danger of rhabdomyolysis also increases if the exerciser fails to hydrate enough and when it is hot where the workout occurs.
Hospitals will, among other things, give the patient intravenous fluids to ensure that the kidneys manage to flush out substances released by damaged muscle cells.
The patients who got rhabdomyolysis by overdoing things at the gym are not the ones most likely to harm their kidneys. At Akershus University Hospital seven percent of these patients who pushed themselves too hard in strength training ended up with kidney damage, while half those who got it in other ways suffered kidney damage.
Treatment for rhabdomyolysis is intensive and lengthy. It can also have side-effects such as over-hydration. The doctors behind the study at Norwegian hospitals call for more attention and knowledge about treatment and a standardised treatment for rhabdomyolysis triggered by overdoing it at the gym.

References (in Norwegian):
Christian Aalborg et al.: Økning i antall pasienter med treningsindusert rabdomyolyse? Tidsskrift for Den norske legeforening no. 18, 11 October 2016. DOI: 10.4045/tidsskr.15.1207
Hilde Fardal and Lasse G. Gøransson: Treningsutløst rabdomyolyse – en ny tendens? Tidsskrift for Den norske legeforening no. 18, 11 October 2016. DOI: 10.4045/tidsskr.16.0042
Kristian Kolstad and Marit Dahl Solbu: Treningsindusert rabdomyolyse. Editorial article. Tidsskrift for Den norske legeforening nr. 18, 11 October 2016. DOI: 10.4045/tidsskr.16.0797
--------------------------------------
Read the Norwegian version of this article at forskning.no
Translated by: Glenn Ostling
Related content