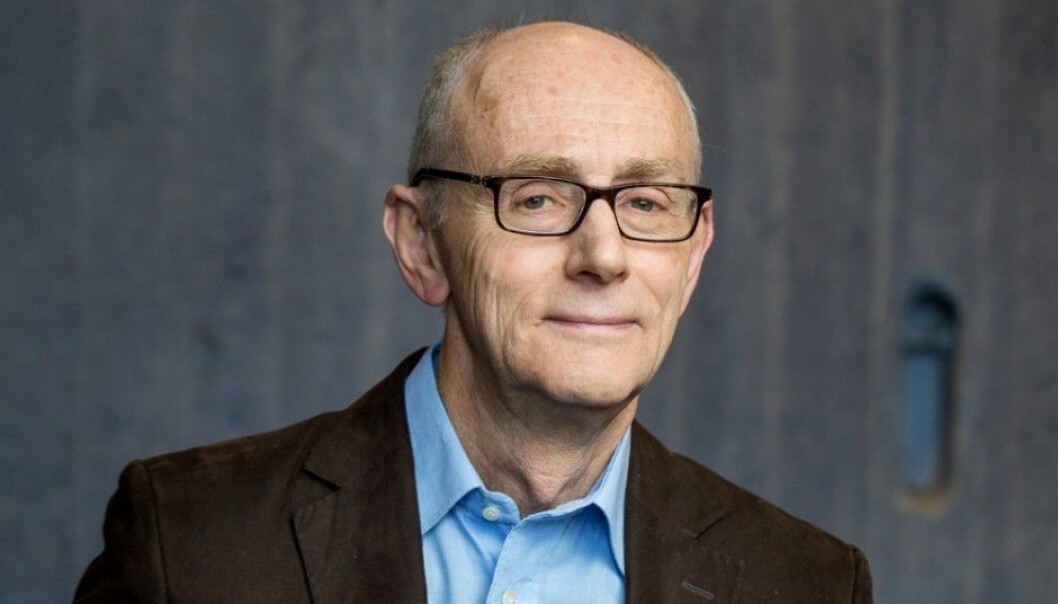 Too many feel muzzled at work
"The body of laws are so fuzzy that most employees simply don't dare speak out for fear of losing their jobs," says Jan Fridthjof Bern, a professor of law at the University of Bergen.
Over a quarter of Norwegian employees feel their bosses would be displeased or unhappy if they made critical remarks about working conditions.
This was revealed in a new report on freedom of speech that was released today.
Bound by contract
"Surprisingly many, 34 percent, say they have a signed agreement with their employer that limits their ability to discuss their place of work publicly," says Sissel Trygstad at the independent and multidisciplinary Norwegian research foundation Fafo.
She led the research for the section of the report that focused on freedom of speech at the workplace.
The researchers also asked survey participants about attitudes towards whistle-blowing and letting their employers know about potentially bad situations.
They found that 64 percent of the employees who witnessed, uncovered or observed problematic issues in the past 12 months had spoken out about them. About half of those who spoke out think their candour helped.
However, 15 percent encountered highly negative or negative reactions after speaking out.
Hidden statistics?
Birthe Eriksen wrote her doctoral thesis in law at the University of Bergen about this kind of whistle-blowing. She worked previously as a lawyer and held a post as a local politician, so she has witnessed the issue from various vantage points.
"As a lawyer, my immediate thought is that this study does not include all the people who are outcasts in the job market, the ones who are sick or disabled because they spoke out in criticism at their places of work," she said.
She fears that the statistics do not reflect the real situation.
"What we often see as jurists is that many get 'bought' out of their positions as a result of conflicts in the wake of pointing out blameworthy conditions at their place of work."
She thinks the handling of whistle-blowing requires legal savvy as well as expertise in organization psychology.
Freedom of speech as a 'problem'
Law Professor Jan Fridthjof Bernt at the University of Bergen is not surprised by the study's results.
"Freedom of speech is a serious issue in the Norwegian workplace," he says.
He says this is because the country lacks a well-structured system of safeguards for informants or whistle-blowers.
"The body of laws is so fuzzy that most employees don't dare speak out for fear of losing their jobs."
The section of the law that is the point of departure in Norway's comprehensive Working Environment Act says: "An employee has a right to report censurable conditions at the undertaking (place of business)". But the very next clause in the Act states: "The employee shall follow an appropriate procedure in connection with such notification".
"The addition of this proviso can easily muzzle the whistle-blower. Everyone knows that the employer will say that this should have been raised internally or attempts should have been made to broach it once again. We should have more in the law about the right to speak out," Bernt said.
Public sector worst
The Fafo study shows that public sector employees think freedom of speech in the workplace is weaker in the public sector than in the private sector.
Nevertheless, project leader Trygstad warns against bombastic conclusions in this regard.
"With respect to freedom of speech, we cannot say that conditions are any worse in the public than in the private sector. Perhaps criticizable issues in the public sector are of more interest than in private businesses," she said.
"Perhaps as a teacher you have a weightier message about critical issues than if, for example, you're a secretary at a dental office."
Bernt concurs.
"I believe the matter here is that people working in the public sector simply have more to reveal. There are constant stories about people who are suffering or about insufficient allocations," he said. "Many who work in this sector also have ethical tendencies. They take sides in favour of their clients — so they feel the need to speak out."
Eriksen thinks a possible disparity between private and public sectors could be attributed to something else. Private businesses are increasingly being forced to focus on corporate social responsibility, especially the large multinational firms. International legal developments are incessantly knocking on their doors.
How democratic?
Norwegians like to think of the Norwegian workplace as essentially democratic. Employee rights are strongly rooted in labour agreements and the Work Environment Act. In the new report, Norwegian management is also characterized as equality oriented, informal and socially responsible.
Trygstad says she has no reason to say that Norwegian employees have seen a decline in their freedom of speech in recent years.
"But the annual report of the Parliamentary Ombudsman for 2013 expresses concerns about developments in the public sector. And Statistic Norway's standard of living study also reveals that Norwegian employees consider it risky to speak out critically at work."
Glorifying Norwegian working life
Eriksen thinks it can be dangerous to idealize the Norwegian workplace.
"We have a well-developed system for democracy at the workplace compared to other countries. We are at risk of thinking that this system makes whistle-blowing mechanisms superfluous. The point is that whistle-blowing is the democratic safety mechanism that switches on when the ordinary mechanisms fail to pick up negative developments as intended."
As a lawyer she has seen several examples of how shop stewards or employee representatives who have assisted in whistle-blowing cases later encounter sanctions or are shut out.
"My worry is that neither the employer associations nor the unions have enough expertise about whistle-blowing mechanisms and processes," she says.
------------
Read the Norwegian version of this article at forskning.no
Translated by: Glenn Ostling
External links
Related content