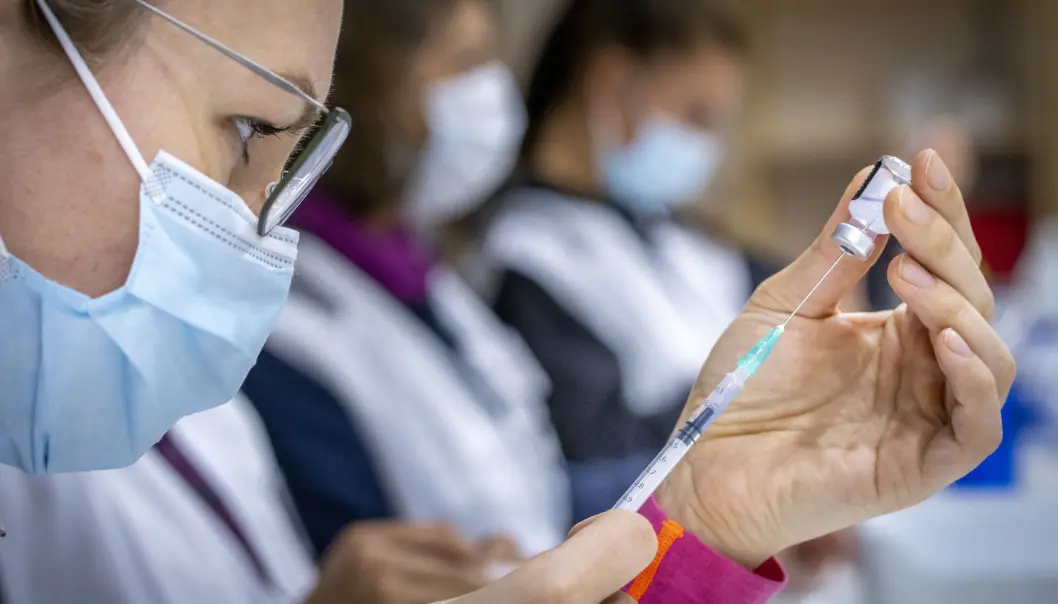 The AstraZeneca debate has not created anti-vaxxers in Norway
Eight out of ten Norwegians say they believe vaccines in general are safe.
88 per cent of Norwegians have high levels of trust in the work that researchers are doing in order to handle the corona crisis, according to a new survey done by Kantar for the Research Council of Norway. This includes what the experts say about vaccines.
Norway is one of few countries that are still pausing the use of the AztraZeneca vaccine after the appearance of very rare and serious side effects.
Population wise a small country of 5,3 million people, Norway was hit hard by this side effect. Four health care workers under the age of 55 are dead. Another two became critically ill. When seen in relation to the 130 000 who were given the vaccine in Norway, this gives a 1 in 20 000 prevalence – significantly higher than what has been found in the rest of Europe.
Even so, 82 per cent of Norwegians respond in the same survey that they believe vaccines in general are safe. This is slightly lower than the number measured in January, at 86 per cent.
Transparency and openness important to build trust
"These numbers tell us that transparency and openness when it comes to all the difficult and challenging questions regarding research on Covid and vaccines and the vaccine programme, is important in order to build and maintain trust in research and expert authorities", says Mari Sundli Tveit, Director of the Research Council of Norway, in a press release.
Five per cent of the survey participants say they won't get a Covid vaccine, while seven per cent are not sure. These are the same numbers as when last measured in January.
"It seems then that the debate around the AstraZeneca vaccine has not made more people say no to a Covid vaccine in general", the Research Council writes in their press release.
At the time of writing this article, just over 30 per cent of Norwegians have received at least one jab of a Covid-vaccine.
Foundation for a healthy debate
"This is an important vote of trust to Norwegian researchers", says Henrik Asheim, Minister of Higher Education, in the press release.
"During the pandemic we have had daily reminders of how important research is in order to solve big problems in society, such as developing a vaccine which slowly but surely can give us our lives back. Transparency and openness about all aspects of this work, also insecurities and problems, contributes to building trust. It can also contribute to laying the foundation for a debate about Covid and vaccines which is as healthy as possible", the minister says.
Norwegian expert commission on viral vector vaccines
Norway paused the use of the AstraZeneca vaccine on March 11, and has extended this pause twice.
While the Norwegian Institute of Publich Health recommended that the vaccine be removed from the vaccination programme, the Ministry of Health rather decided to appoint a commission which will delve into the matter of viral vector vaccines even deeper. Denmark has already removed the vaccine from their programme.
AstraZeneca uses a so-called viral vector in order to deliver the vaccine in the body, as does the Johnson & Johnson vaccine.
"If we say no to this now, it may have consequences for our possibilities to use Johnson & Johnson, which is based on the same technology", Minister of Health Bent Høie said at a press conference earlier this April.
"Then we risk not reaching our goal of vaccinating all Norwegians above the age of 18 before the summer – meaning we have to live longer with strict infection control measures and risks of new outbreaks," he said.
The commission, which includes experts from Norway and abroad, is to deliver their report on May 10.