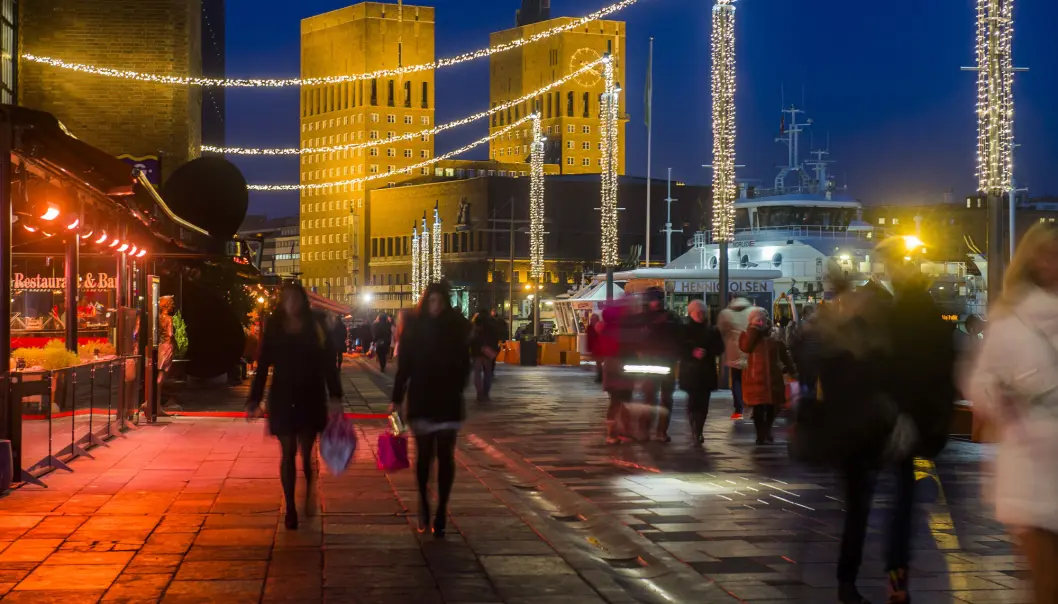 Oslo Christmas party outbreak: Most of the non-infected were vaccinated with Moderna
New study finds that a larger share of the non-infected at that infamous Christmas party were vaccinated with Moderna, compared to Pfizer. The data are not sufficient to conclude that one vaccine protects better against Omicron than others.
111 out of 117 participants at the Christmas party have been interviewed. 74 per cent of them were infected with the virus. 60 per cent are confirmed to have been infected with the Omicron variant, and one person is confirmed as infected with delta. Analysis of the remaining tests are ongoing.
One main finding from the study is that 98 per cent of those infected after the party were fully vaccinated.
"Our experience with this outbreak corroborates reports from other countries that the Omicron variant may be more transmissible and that vaccination may be less effective to prevent infection than for the Delta variant", researchers from the Norwegian Institute of Public Health write in an article published yesterday in Eurosurveillance.
Transmission was however exacerbated by the context and setting of the outbreak, the researchers write. The party was indoors, lasted for quite a while, it was crowded and necessary to talk loudly.
Differences in vaccines
The study has also looked at which vaccine the participants had been given.
In the group of 25 fully vaccinated people who were not infected, 7 out of 25 had received Pfizer, 12 out of 25 had received Moderna.
Among those infected who had received two vaccine doses, 41 out of 75 had received Pfizer, while 17 out of 75 had received Moderna.
"The Moderna vaccine in general results in higher levels of antibodies, and we know that antibodies are especially important in order to protect against infection", Sara Watle says to Norwegian national newspaper VG.
Watle is chief physician at the Norwegian Institute of Public Health, the NIPH, who have conducted the study in collaboration with Oslo municipality.
In a press release about the study however, the NIPH caution that "even though we observed some differences in which types of vaccine dominated among the infected and the non-infected, the data are not sufficient to conclude on whether or not certain types of vaccines protect better against the Omicron variant compared to others".
NIPH director wants Moderna booster
Watle stresses that both Pfizer and Moderna are good alternatives for a booster shot.
"What's important now is that as many as possible get their booster dose and accept the vaccine that they are offered. Both vaccines will increase your protection against being infected and serious illness caused by the coronavirus", she says to VG.
The director of the NIHP however, Camilla Stoltenberg, said to VG earlier this week that she would prefer Moderna for her booster shot.
"Both vaccines are good, but I would prefer Moderna for my booster shot if I could chose", Stoltenberg said.
Stoltenberg is fully vaccinated with two doses of Pfizer. Studies have shown that Moderna gives slightly better protection than Pfizer, possibly because the dose in Moderna is three times the size of Pfizer.
Norway's vaccination programme only includes the two mRNA vaccines Pfizer and Moderna. Johnson & Johnson can be taken on a volunteer basis. The AstraZeneca vaccine was excluded from use following the death of four previously healthy and young health care workers in March this year.
Covid certificates would not have prevented this
Most of the infected people reported mild symptoms, and nobody has so far been hospitalized.
70 per cent of the cases had symptoms like couch, runny or stuffy nose, fatigue and sore throat. 50 per cent reported that they had fevers.
Norway does not demand vaccination certificates in order to enter venues. The researchers however do not believe such a measure would have prevented the outbreak "given that nearly all participants had received at least one dose of the COVID-19 vaccine and the majority were fully vaccinated and tested by antigen test before the event".
This article was updated on December 17 at 14:21 to add " who had received two vaccine doses" to the sentence on which vaccine the infected participants at the party had received.