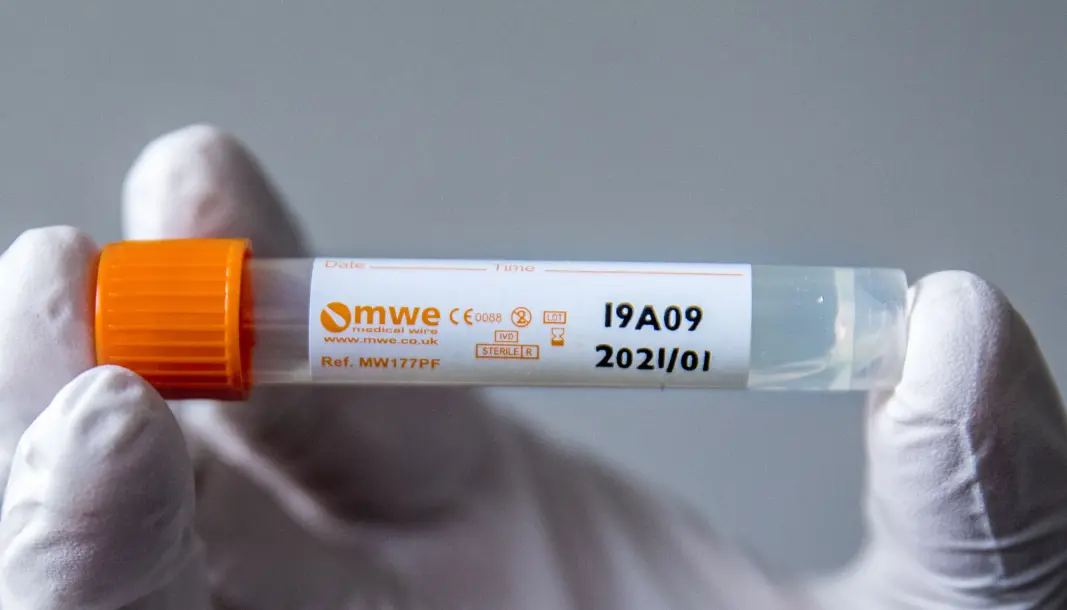 Very low mortality rate from coronavirus in Norway compared to other countries
The mortality rate in Norway from Covid-19 is about 0.45 per cent. This is extremely low compared to other countries where the virus is widespread. Why?
Italy's mortality rate from the coronavirus is almost 10 per cent.
Spain's mortality rate is almost 7 per cent, while in the United Kingdom, that number is 5 per cent.
In Norway's neighbouring countries, Denmark and Sweden, the mortality rate due to the coronavirus is 2 per cent and 1.6 per cent, respectively.
All these figures are from the EU's Centre for Disease Prevention and Control (ECDC) as of Wednesday 25 March.
Norway: Many infections, few deaths
To date, Norway is among the countries in the world with the largest proportion of recorded corona infections in its population.
But now, with around 3300 people who are confirmed to have been infected, and with only 14 deaths as of March 26, Norway's situation is very unusual compared to a number of other countries.
There are far fewer deaths among those with the disease.
Many, many tests
"I think the explanation may partly be related to the different levels of testing in different countries," says Didrik Vestrheim, a senior consultant at the Norwegian Institute of Public Health (NIPH).
"We have tested a lot of people in Norway, and so far we are one of the countries that has tested the highest percentage of our population," he said.
Thus, it's possible that some countries, such as Italy and Spain, have simply detected far fewer people infected by the virus.
If the numbers of people who are shown to be infected by testing is lower than the actual number of people who are infected, the mortality rate will be far higher among the people in whom the disease has been confirmed.
When the numbers of infected are lower, then the mortality rate among those you have confirmed will be higher.
In addition, the infection can spread more easily because fewer people in the population know that they have the virus.
The graphic below shows how Covid-19 mortality has developed over the past month. Note both South Korea and Norway. Both countries have tested many residents (see graphic below) and both countries have an even, low mortality rate among those who are infected. (Figures from ECDC and graphics from Our World in Data)
Same situation in South Korea
One possible explanation for the low mortality rate in Norway may be that the country is among those that have tested the largest proportion of their population for the coronavirus.
The same may be true for South Korea. Here too, the recorded mortality rate has been surprisingly low.
At the same time, South Korea has the largest percentage of recorded coronavirus infections in its population of all countries in Asia. Norway also has a relatively large proportion of residents who have tested positive for the disease.
Testing identifies the infected
In China, aggressive testing and extensive use of quarantines have probably played an important role as the Chinese now seem to have gained control of the coronavirus.
Testing lets authorities know who is infected.
This enables people who are infected and their loved ones to avoid spreading the disease.
73,000 tested in Norway
On Wednesday this week, more than 73,000 people had been tested for SARS CoV-2 in Norway. At the same time, just over 3100 cases had been detected.
So Norway may have identified more of the people who are infected with the coronavirus than other countries have done.
When other countries test a smaller proportion of their populations, they detect fewer cases of infection. That means the mortality rate among people known to be infected with the coronavirus will be higher — or much higher.
And the infection can spread more.
The graphic below shows the number of people tested per million inhabitants in 12 different countries. Norway and South Korea have tested the largest percentage of their inhabitants of all countries. (Figures and graphics from Our World in Data.)
Less resistant bacteria in Norway
One recent hypothesis on the very high mortality of the coronavirus in Italy and Spain is that these countries have had major problems with antibiotic resistant bacteria.
The coronavirus paves the way for people to develop severe pneumonia and blood poisoning (sepsis) that cannot be treated with antibiotics.
Dag Berild, a professor and doctor of infectious medicine at the University of Oslo believes that treating coronavirus patients will be easier in Norway, thanks to the fact that Norwegian hospitals have had far fewer problems with antibiotic resistant bacteria than most other countries.
"We can thus hope for fewer deaths in Norway than in Italy. We are better off here in that regard," says Berild.
Will it change?
"Another explanation may be related to at what point in the course of the disease that you test people. After all, it takes a while for the disease to develop. It also means that these numbers can change," Vestrheim from the Norwegian Institute of Public Health says.
He says it's not yet possible to know how mortality rates will change over time.
"We don't know yet, but we will get the answer eventually," he said.
Translated by: Nancy Bazilchuk
Sources:
Max Roser, Hannah Ritchie and Esteban Ortiz-Ospina: "Coronavirus Disease (COVID-19) - Statistics and Research", Our World in Data.
European Center for Disease Prevention and Control. Website.
Norwegian numbers from the Norwegian Institute of Public Health, VG and NRK.
———