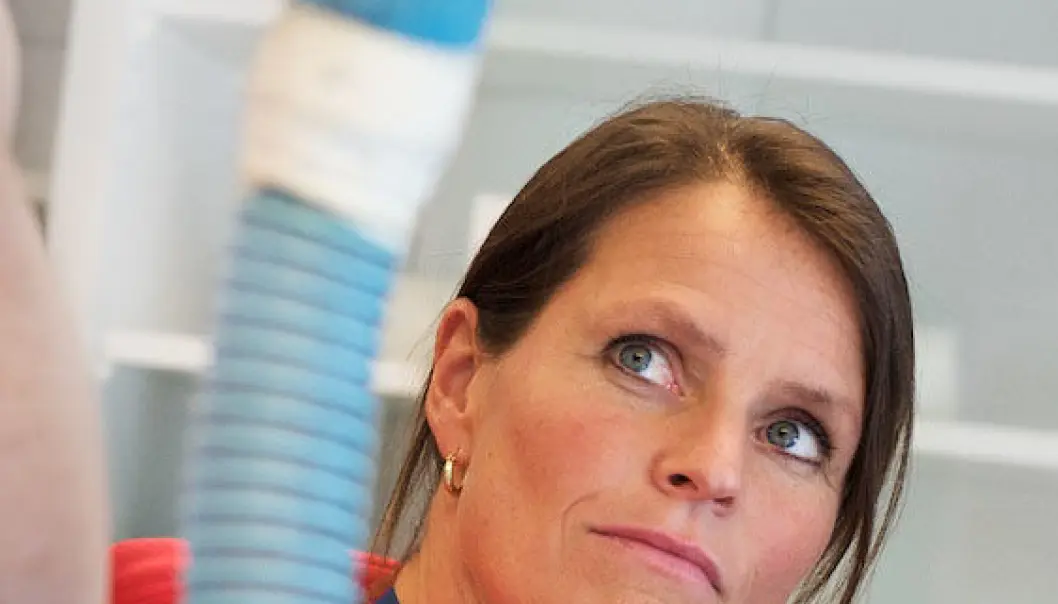 Training for life after cancer
A tough training regime helps cancer patients recover and revitalise.
Denne artikkelen er over ti år gammel og kan inneholde utdatert informasjon.
We know that a healthy lifestyle and physical exercise can reduce the risk of getting cancer – but research indicates that cancer patients also benefit from workouts.
Under the supervison of PhD-candidate Elisabeth Edvardsen at the Norwegian School of Sport Sciences (NIH), 30 patients who have gone through lung cancer surgery are taking part in an extensive training programme.
Their fitness level is measured prior to the operation, six weeks after the operation and a further six months later. The results are being compared to a non-training control group.
High-intensity exercises
The workouts include high-intensity aerobic exercises and strength training, using general training principles.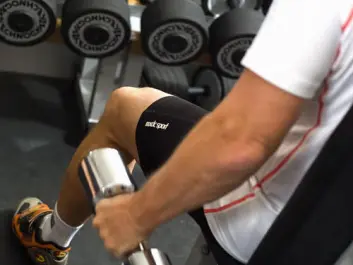 Despite many patients only having one lung and no experience of exercise, they have stuck with the programme – with the help of a personal trainer.
"The patients become very motivated. So far we've had a good turnout, and very few leaving," says Edvardsen.
Patients become more trusting
"The patients are handling the training really well. We weren't sure how it would work, as they've been through painful and extensive surgery – losing parts of a vital organ, with a reduced ability to breathe. But they really come alive during the programme. We can see how the training makes them trust their bodies and dare to push it further," she adds.
Results from the study are not ready yet - but if findings show that training can increase post-op patients' maximum oxygen intake, more patients are likely to become eligible for surgery.
Painful treatment for prostate cancer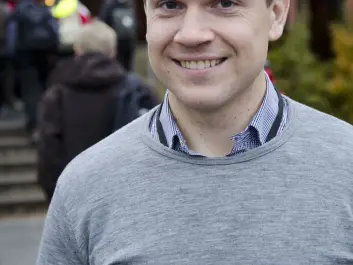 Tormod S. Nilsen, also a PhD-candidate at NHI, is working with patients suffering from prostate cancer. Although this type of cancer has a much higher survival rate than lung cancer, the side effects of treatment can be very painful.
"Since testosterone stimulates growth in cancer cells, about half of all men treated for prostate cancer are subjected to chemical castration – so-called androgen deprivation therapy, or ADT," he explains.
But this treatment comes at a price.
Reduced muscle mass
"When the body stops producing testosterone, it negatively affects muscle cell production, and patients' muscle mass is reduced. This can in turn lead to reduced body functionality and a lower quality of life," says Nilsen.
Along with NHI colleagues he is exploring the effect of intensive strength training on muscle cells.
Previous research findings from Canada and Australia have shown that strength training have a positive impact on patients with ADT treatment.
Working out three times a week
The study includes 60 men who have undergone ADT treatment, with 30 participants taking part in training and the remaining forming the non-training control group.
The training participants work out three times a week in 60-90 minute sessions.
"We let them use the same heavy weights as completely healthy people. After training they're obviously tired, but very satisfied," says Nilsen.
Improving the quality of life
The researchers use various tests to measure fitness and quality of life, and extract samples of thigh muscle to examine how the cells are affected from training without testosterone surges.
And so far the findings are positive.
"As patients' level of body functionality increases, their quality of life will also improve. Hopefully it could delay the need for care to a later stage of life – which would mean major economic and societal benefits," Nilsen points out.
-------------------------------
Read a Norwegian version of this article at forskning.no
External links
Related content