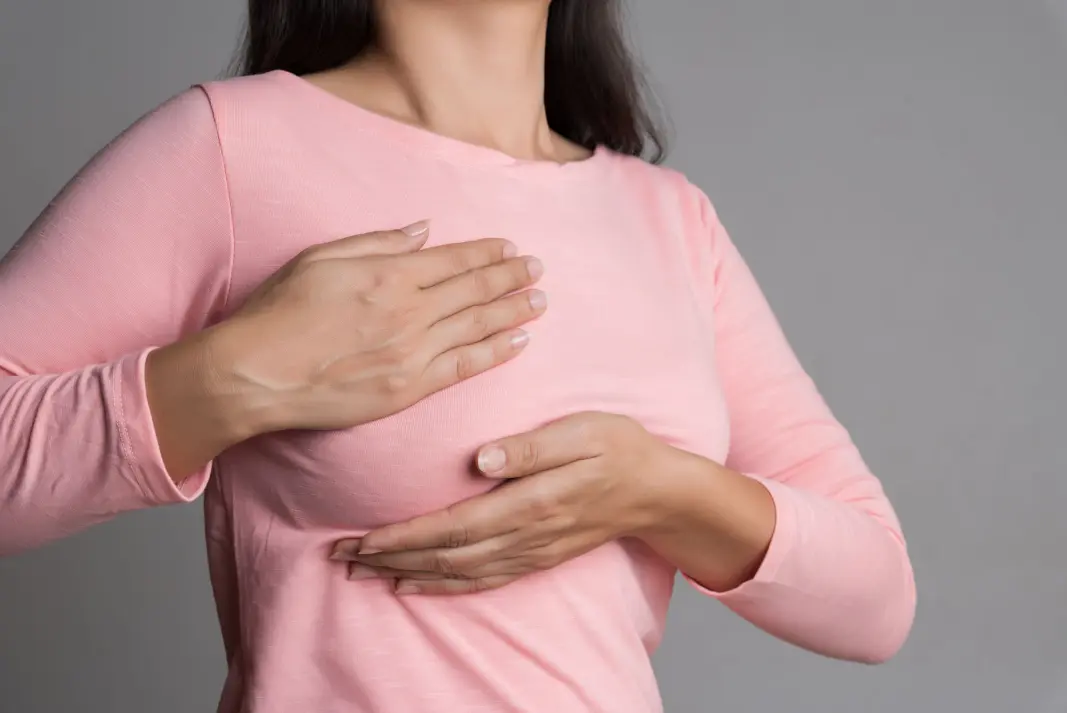 Breast cancer detected later in women with silicone breast implants
Mammography screenings are less likely to detect breast cancer in women with silicone implants than in other women. Those who are diagnosed with cancer have bigger tumours that also more often spread to the lymph nodes.
Breast cancer is the most common cancer among women in Norway and worldwide. In 2017, 3623 women received this diagnosis in Norway.
In recent decades, the number of women with cosmetic breast implants has increased in Norway.
Norwegian researchers wanted to find out if implants have any effect on the risk of having breast cancer detected.
They also wanted to investigate whether cancer develops differently in women with and without implants once they have been diagnosed. Now the results are clear.
Fewer cancer cases in women with implants
Researchers obtained information from the Cancer Registry of Norway for 785 706 women who had participated in the mammography program for two decades until 2016.
Of this number, 10 086 women, equivalent to 1.3 per cent, had cosmetic implants. The researchers divided the women into two groups, those with and without implants.
Breast cancer was detected 30 per cent less often in women who had implant surgery than in other women, adjusted for age.
The study has been published in Tidsskriftet for Den norske legeforening (Journal of the Norwegian Medical Association).
The study results are in line with previous studies. No studies have shown that women with implants are at increased risk of developing breast cancer – rather the contrary.
"But we have no evidence for believing that implants protect against breast cancer," says doctor Emma Caroline Bekkelund Sondén.
Sondén is one of the researchers behind the study.
More serious cancer
It seemed that women with implants who had been diagnosed with breast cancer had a more aggressive form of cancer. The tumours were somewhat larger than in women without implants.
The average diameter of tumours in women with breast cancer who had implants was 18.6 mm. In women without implants, the average diameter of the cancerous tumours was 17.7 mm.
Cancer also spread to the lymph nodes in the armpit more frequently in women with implants. This was the case for 43 per cent in this group, compared to 29 per cent for women without implants.
"Women with implants had more advanced cancer than women without implants when they were first diagnosed, meaning they had a statistically worse prognosis," says Sondén.
Sondén is a specialist in the Department of Pathology at Akershus University Hospital (Ahus).
"The reason may be that the implant makes it more difficult to carry out and interpret the mammograms," says Sondén.
She believes women who have implants or are considering such surgery should be informed about this.
Screening more effective for natural breasts
Breast cancer can be detected either through screening with a mammogram or when women experience symptoms and seek medical attention in between screenings. Both causes of diagnosis were included in the study.
Among women with implants, 174 received breast cancer diagnoses, corresponding to 1.7 per cent.
Among those without implants, 30 746 women had breast cancer. This corresponds to 4 per cent, more than twice the incidence of those with implants.
Screening detected 62 percent of breast cancer cases in this group.
Among the women with implants, only 46 per cent of breast cancer cases were detected by screening.
More self-detected cancer with implants
Women with implants were more often diagnosed with breast cancer because of symptoms arising between screenings, so-called interval cancer. Women over the age of 50 are summoned for screenings in the Norwegian mammography programme every two years.
Fully 54 per cent of cancer cases in women with implants were detected outside screening. Among women with natural breasts, 38 per cent of cancer cases were detected outside screening.
Interval cancer is known to have larger tumour diameters and be more aggressive than breast cancer detected by screening.
"Once a tumour reaches one centimetre in diameter, women can detect it themselves. This may explain why women with implants discover a greater proportion of cancer cases themselves," says Sondén.
The benefit of mammography is that the images can reveal smaller tumours, she explains. So it is important that all women, both with and without implants, go for screenings.
Difficult to interpret implant images
Detecting tumours using mammography requires good image quality and an overview of the entire breast.
Screening women with implants has some weaknesses. Because x-rays do not pass through the implant, it becomes more difficult to obtain an image of all the glandular tissue, making it harder to interpret the mammograms of women with implants.
This is especially true when the implant is placed in front of the breast muscle and underneath the glandular tissue. If the implant is placed behind the breast muscle, the image of the glandular tissue will be better.
The screening procedure is to take four images of each breast if the woman has implants, versus only two images of each breast without them.
"You have to move the implant and take pictures from multiple angles. Still, there's a risk of overlooking small tumours, especially close to the armpit," says Sondén.
Capsule formation poses problem
Capsule formation – when fibrous connective tissue forms around a foreign body – occurs in everyone who undergoes silicone implant-based surgery sooner or later, Sondén says.
This complication is individual and is graded on a scale from 1 to 4, where grades 1 and 2 do not produce symptoms. At grades 3 and 4, the woman notices that the breast is hard, but it is not dangerous.
"Especially with a lot of capsule formation, performing a mammogram that gives a full picture of the breast is extra challenging because the implant is difficult to move," says Sondén.
Getting additional exam
Each mammogram image is examined by two independent radiologists. If one of them thinks the findings are suspicious, the woman may be called in for additional exams.
The challenge lies in women without any suspicious findings being given a clean bill of health on the mammograms, even though in some cases they can hide cancer due to inadequate imagery, Sondén says.
She believes the study shows that women with implants should perhaps request additional exams like ultrasound or possibly MRI.
Ultrasound alone isn't sufficient, because it can't detect cancer precursors. MRI is a good but expensive screening method.
"Getting an extra exam is standard procedure in several other countries, but in Norway you have to order it yourself," she says.
The researchers counted both precursors to breast cancer and so-called infiltrating breast cancer as breast cancer. The infiltrating version can spread both into the lymphatic system and through the bloodstream.
Eight out of ten get mammograms
All Norewgian women aged 50-69 are encouraged to participate in the mammography programme every other year.
In all, 78 per cent of those summoned for the first time respond and come, according to Solveig Hofvind of the Cancer Registry, who heads the mammography program.
After the first time, participation falls somewhat.
Implants have to be registered in the Norwegian medical record. Between 2006 and 2016, women were also surveyed about breast prostheses.
This allowed the researchers to establish the two study groups, women with and without breast prostheses.
No breast implant register
At present, Norway has no national register of how many people have had cosmetic breast implants.
But according to a 2004 survey, eight per cent of Norwegian women between the ages of 22 and 55 have had cosmetic surgery.
Half of these, or four per cent, were breast surgeries.
Women with implants appear to be underrepresented in the new study, at only 1.3 per cent. This may be a weakness in the study.
"Many women who have implants may opt out of getting mammograms because they think it may damage the implant, but that isn't the case," says Sondén.
Higher mortality?
The researchers did not measure differences in mortality in this study.
"But it's clear that when cancer is detected at a later stage, the prognosis is often worse and the treatment tougher," says Sondén.
One possible explanation for breast cancer being detected less often in women with implants may also be that the risk factors for developing breast cancer are different in the two groups.
The women with breast prostheses had lower BMIs than those without. They were younger when they gave birth for the first time, and fewer used hormones.
Another study has pointed out that women received mammography screening before the implant was inserted, and that women with breast cancer in the family rarely choose to have an implant.
Translated by: Ingrid P. Nuse
Reference:
E. C. B. Sondén et al: Kosmetiske brystimplantater og brystkreft. (Cosmetic breast implants and breast cancer." Tidsskriftet Den norske legeforening, 24 February 2020. In Norwegian.
———