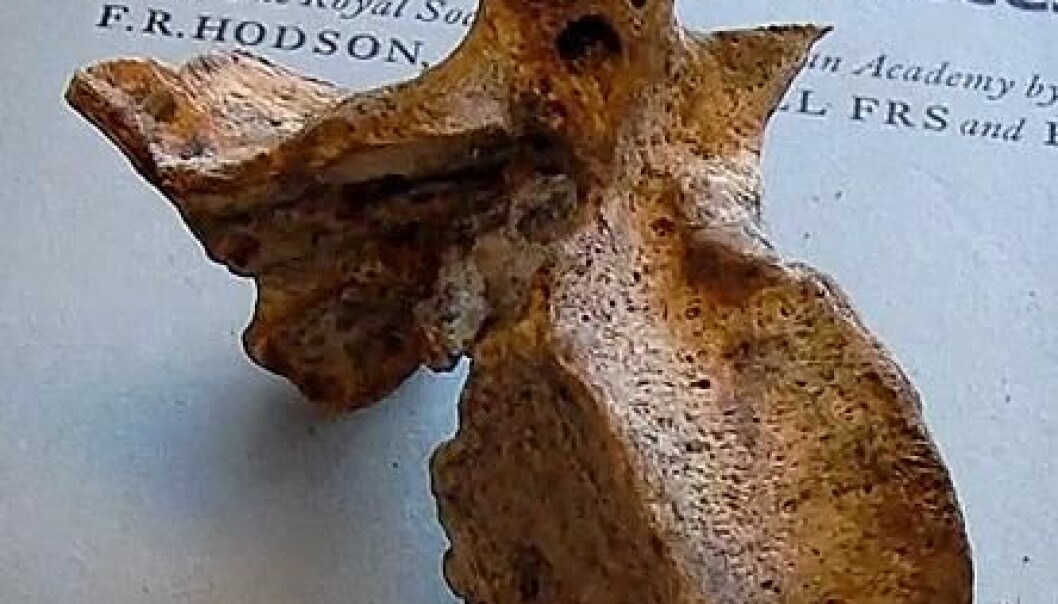 Enigmatic vertebra
A thousand-year-old human vertebra with a mysterious square puncture was found among 30 skeletons beneath a Norwegian cathedral. Scientists have no explanation for how the hole was made.
Sean Dexter Denham is an osteoarchaeologist, in other words an expert on skeletal remains, at the Museum of Archaeology in Stavanger and currently working on a large "jigsaw puzzle".
He's one of the people putting together over 30 skeletons that were uncovered beneath the Stavanger Cathedral in 1968. The cathedral is the city's oldest building, dating back to 1125.
The skeletons were initially sent to the Department of Anatomy at the University of Oslo's Institute of Basic Medicine after their discovery. Now back in town, they are being dated and are far as possible identified and reassembled.
We have asked Norwegian researchers from different museums and collections about what is their favourite object and why. Sean Dexter Denham chose a vertebra found among 30 skeletons that were buried beneath the Stavanger Cathedral.
The skeletons arrived from Oslo in a large crate, with all the bones jumbled up. It could take some time to get the pieces of this toilsome puzzle back together but the project has engendered local enthusiasm and the work gives researchers an exciting opportunity to put various theories and methods to the test.
Square, with perfectly straight edges
When Denham was queried about his favorite object at the museum he selected a vertebra among the skeletons found under the cathedral.
"As you can see there is a square hole on the anterior side. The vertebra is from fairly high up the spine so if this puncture was made while a person was alive, the pointed weapon or whatever must have passed between or under the ribs and then gone through half the torso."
There's no telling whether the person was alive when this occurred, but Denham explains that the hole at the very latest must have been made shortly after death. After a while a skeleton becomes brittle and damage like this would have broken the vertebra.
Another feature is that the edges of the hole are perfectly straight and Sean is certain that it wasn't made during the excavation.
"Now and then when we're digging we'll strike something and damage it or make dents or scratches, but that hasn't happened here."
Maybe from a nail?
Sean has also found traces of iron rust in the hole.
"This could indicate that it was made by a nail. Perhaps the bones got in the way of some work or maybe a nail went through the casket it originally was in, we really don't know."
He says he asks everyone who visits if they can offer any good explanations, but so far no one has arrived at a solution.
----------------------------------------
Translated by: Glenn Ostling
Related content