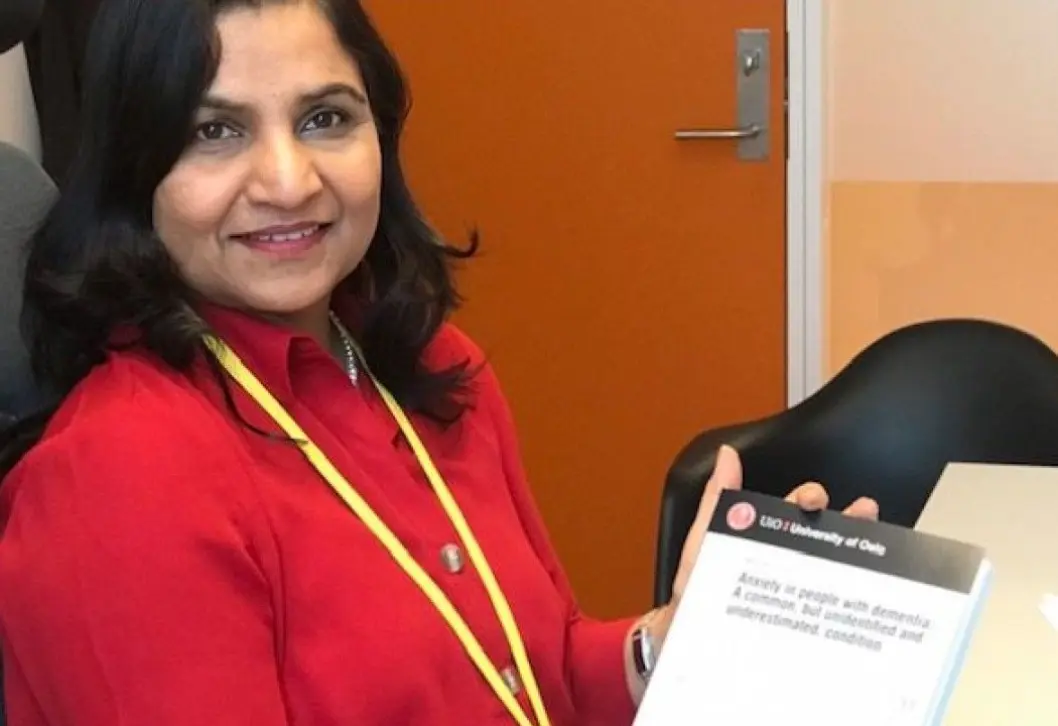 Anxiety is common among nursing home residents with dementia
One in three nursing home residents with dementia suffers from significant anxiety. It is so common that nursing home staff don't take it seriously, researcher Alka Rani Goyal says.
A woman with dementia enters the charge room at night and asks caregivers to spread a duvet over her. The caregivers help her. After a few minutes, however, the woman comes back and asks for help again.
This may happen again and again and again, until a nurse sits down and holds her hand. Only then does the woman calm down and fall asleep.
Many people who have worked at a nursing home may recognize themselves in this kind of situation. It's not uncommon for people with dementia to roam around a lot and to be very restless, both day and night.
"Being anxious is so common in people with dementia that nursing home staff don't take it seriously. Their agitation is seen as part of dementia," says Alka Rani Goyal.
Consequences for treatment
Goyal is a researcher at Oslo Metropolitan University (OsloMet) and has worked as a psychiatric nurse, particularly with people with dementia, for more than 20 years.
Staff at nursing homes were not aware that the troubled patients were actually struggling with anxiety, she says.
"Anxiety in people with dementia is overlooked, underestimated and not identified. We just didn't know. We also didn't have tools to assess anxiety in patients, like we have for depression," she says.
This has implications for how we treat people with dementia, Goyal believes.
"If we know that a person suffers from anxiety, we know that it will be important to make them feel secure and spend time with them. But if we think that they are wandering around because of dementia, and that dementia is something we can't treat, then we give up too easily," she says.
Has documented anxiety in patients
There also hasn't been much research on anxiety in people with dementia.
Goyal and fellow scientists have now done something about this.
When she began her doctoral work at the Research Centre for Age Related Functional Decline and Diseases at the Innlandet Hospital Trust, she first began translating an English tool, Rating Anxiety in Dementia (RAID), into Norwegian.
She then taught staff at the 17 nursing homes that participated in the study to use the tool.
Goyal and a research group have tested the tool on about 100 nursing home patients with dementia. The tool proved to be user friendly.
Employees at 17 nursing homes eventually helped her survey anxiety in people with dementia. Nearly 300 patients have been included in this survey, which was also followed up after one year.
Surprising results
The results surprised the researcher.
One in three nursing home residents with dementia had significant symptoms of anxiety.
The most common symptom of anxiety is being worried. But this was not so common among people with dementia, Goyal says.
The fact that there is a difference here between those with dementia and other anxiety patients causes the symptoms of those with dementia to be misunderstood and not diagnosed, she believes.
The symptoms of anxiety for those with dementia were primarily in the form of irritability, restlessness, tenseness and insomnia.
Many suffered from depression
One in four nursing home residents had depression, the study showed. Most of those with depression also struggled with anxiety. But about half of those who had anxiety also scored high on depression.
"Anxiety and depression have some common denominators. But many symptoms are not common. That makes it even more important that anxiety is recognized and not explained as a part of depression," Goyal said.
Those with both anxiety and depression had the worst improvement in symptoms after a year. They also had the worst quality of life, compared to those who only had anxiety or depression or neither of these problems.
Today, it has become commonplace to make a survey of pain in patients in Norwegian nursing homes. When the patient is restless and tense, the staff consequently thinks they are in pain.
Goyal believes that patients in nursing homes should be surveyed for pain, anxiety and depression.
Playing Ludo can also be medicine
These patients do not necessarily need to be treated with medication.
Treatment can be as simple as being with other patients and doing things the patient likes, such as going for a walk, Goyal says.
Many people will think that there's not enough time to do these things over the course of a busy workday.
"We never have enough time in a nursing home. But if the caregivers know that a patient is struggling with anxiety, they can structure their day by switching to a different type of care, so that the patient has somebody with them at all times. It's also demanding to have troubled patients wandering around all the time," she says.
Goyal describes a situation from her own time at a nursing home.
"We had a patient who had terrible anxiety. But if we played Ludo (a card game) with her and were present for her mentally, then she became very focused and forgot about her anxiety. She never got tired of playing Ludo. The staff consequently switched to playing with her. That enabled us to calm her down," she said.
But sometimes these measures don't go far enough, Goyal says.
"In that case, I think it is appropriate to survey how severe the patient's anxiety symptoms are and treat them with medication to relieve the symptoms. But medicine must be the last choice, not the first. The symptoms should be resurveyed to assess whether the treatment is working," she says.
Let people maintain a degree of dignity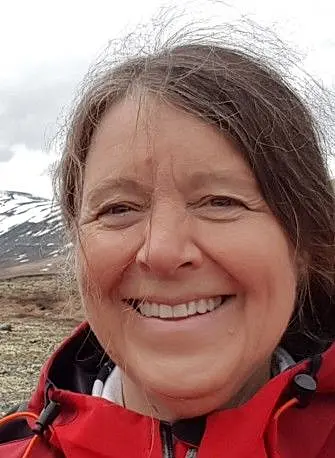 Sissel Hafredal Sjåstad has been a professional nurse at a nursing home for many years. She knows that many dementia patients also struggle with anxiety.
"There are some happy souls who disappear into the dementia world with smiles and laughter, but most of them are scared, subdued and in despair over everything they don't understand. It's natural to feel this way when you realize you are about to lose yourself," she says.
She believes that caregivers in small dementia departments generally know their patients well. They gradually learn more about the different kinds of dementia diseases and how to use environmental therapy, including activities, fresh air, music and conversation, reality orientation and not-reality orientation.
When it comes to medication, she believes that less is usually best.
"But in some cases patients need medicine so they can maintain a degree of dignity and so that we can find a way to communicate with them," says Sjåstad.
Many become tired and lethargic
The problem with the different kinds of drugs is that patients can become tired, and lethargic, and experience motor impairment and other side effects, Sjåstad says.
"If this survey can make it easier to distinguish between depression and anxiety, and at the same time ensure that both the good effects and side effects of medication are followed up on, then that's good. On the other hand, if it's just a form that is presented to nurses to be filled in, and then ends up in a folder and on the list of what the department does for dementia, it will only be harmful," she says.
All forms require engagement on the part of the person who uses them, Sjåstad says. If the result does not end in some treatment programme, it will become a new source of frustration instead.
———