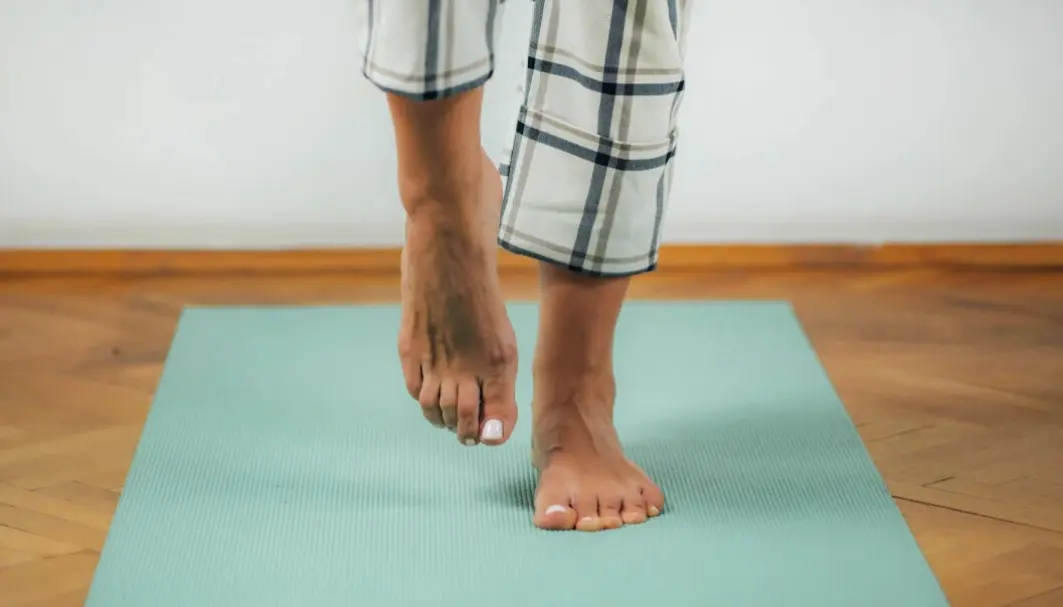 Are you a little older but can pass this balancing test? Then you have a good chance of living longer
"Good balance indicates that you have good health," explains professor Linda Hildegard Bergersen.
The test, described in a study published in the British Journal of Sports Medicine, is very simple.
You must stand on one leg for ten seconds. If you keep your balance, you pass. If not, you fail the test. The journal has described the findings in a press release.
According to the study, those who do not pass the test have almost double the risk of dying within the next ten years.
sciencenorway.no has asked Linda Hildegard Bergersen what she thinks about this. Bergersen is a professor of physiology at the University of Oslo and a researcher on aging.
"My immediate first thought is that it sounds reasonable," she says.
One in five failed
In the study, an international research team recruited 1,700 participants from a previous study conducted in 1994.
Participants were measured around the waist and their body fat percentage was recorded, amongst other things. The researchers also collected information about their health throughout life. Only people who had no trouble walking were included.
Then they were asked to stand on one leg for ten seconds. Participants were instructed to place their non-support foot on the back of the other calf, arms down along their sides, with their gaze fixed directly in front of them. They were given three tries each.
One in five failed the test. The probability of passing the test decreased with age. While 95 per cent between 51 and 55 passed, only half of those between 71 and 75 passed.
Seven per cent died within seven years
The participants were followed up after seven years. By then, seven per cent of them were dead. These included both those who passed and failed the test.
But of those who had died, a vast majority of them had not passed the test. 17.5 per cent of those who failed were dead after seven years. Only 4.5 per cent of those who passed the test had died.
Those who failed generally had poorer health. Many were overweight, had high blood pressure, heart problems, or high cholesterol.
Almost 40 per cent in this group had type 2 diabetes, versus 13 per cent in the other.
When gender, health and underlying causes were taken into account, the researchers concluded that those who failed the test had almost twice the risk of dying within ten years.
Indication of general health
"Good balance indicates that you have good health," Bergersen explains.
She says that the ten-second test can certainly be combined with other tests, but that it is a good indicator.
She adds that there may be things the participants in such studies do that may affect the results.
"Do they go for walks in rough terrain - or do they stand on surfboards? Do they train specifically on balance? I think they probably do," she says.
"We know from the HUNT studies in Trondheim that physical activity prolongs life."
The HUNT studies are Norway's largest collection of health information on a population.
"Get out"
We ask Bergersen what you should do if you take the test at home and discover that you are unable to keep your balance for the full ten seconds.
"I usually recommend people to go for walks in woods and fields. The terrain there is rugged, which can improve your balance,"
She encourages people to get away from the asphalt. But it's smart to start a little cautiously.
"If you have not walked in the mountains for a while, hikes in the mountains can be quite tough on your ankles. If you are used to walking on asphalt, it can be a big challenge to keep your balance," Bergersen says.
Going on a treadmill can also be a good alternative if you have bad balance, according to Bergersen.
"If you manage to run on a treadmill, it indicates that you have good balance," she adds.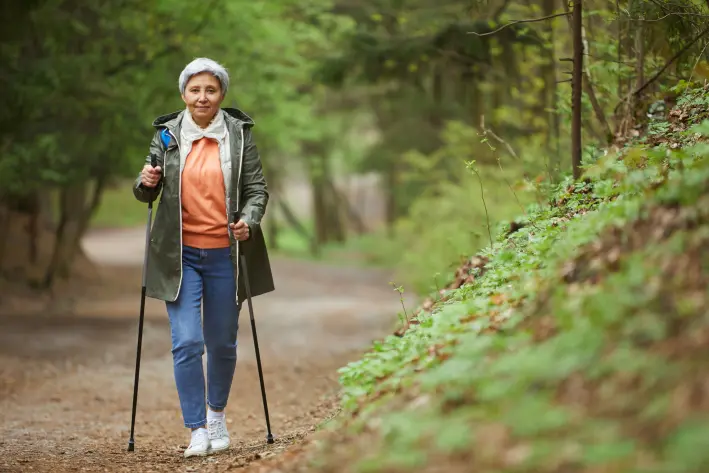 Variety is good
"We want people to walk with poles to get their heart rate up, but they shouldn't stop there. They should also actively work on their balance," Bergersen says.
It is a good idea to walk uphill, but a path full of roots and stones can also be good, she adds.
"And those who surfed or skateboarded in the 1970s and 1980s can take up their hobbies again," Bergersen says.
However, it can be a challenge if you haven't practiced for 40 years.
Requires maintenance
"Your balance disappears fairly quickly if you do not maintain it," says Bergersen.
She thinks more people should use a balance board. It is often used for rehabilitation, for example, to strengthen your knees.
"It could actually be used in everyday workouts. You should have one at home if you've passed 50, especially if you do not have access to forests or other uneven landscapes," Bergersen says.
She adds that the little you do each day is very important.
"Suddenly it is no longer difficult to stand on the balance board. And then you can find bigger challenges," she says.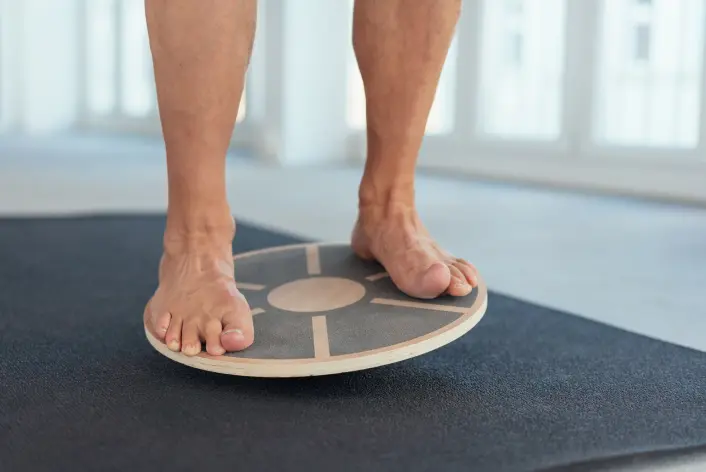 Improving your balance can be fun
Bergersen summarises as follows:
"Get out, it's free. If you can afford it, buy a balance board."
If you bring a partner or a friend with you, you can push each other off balance and try to regain it, she suggests.
———
Translated by Alette Bjordal Gjellesvik.
Read the Norwegian version of this article on forskning.no
Reference:
Araujo et al. Successful 10-second one-legged stance performance predicts survival in middle-aged and older individuals, British Journal of Sports Medicine, 2022. http://dx.doi.org/10.1136/bjsports-2021-105360