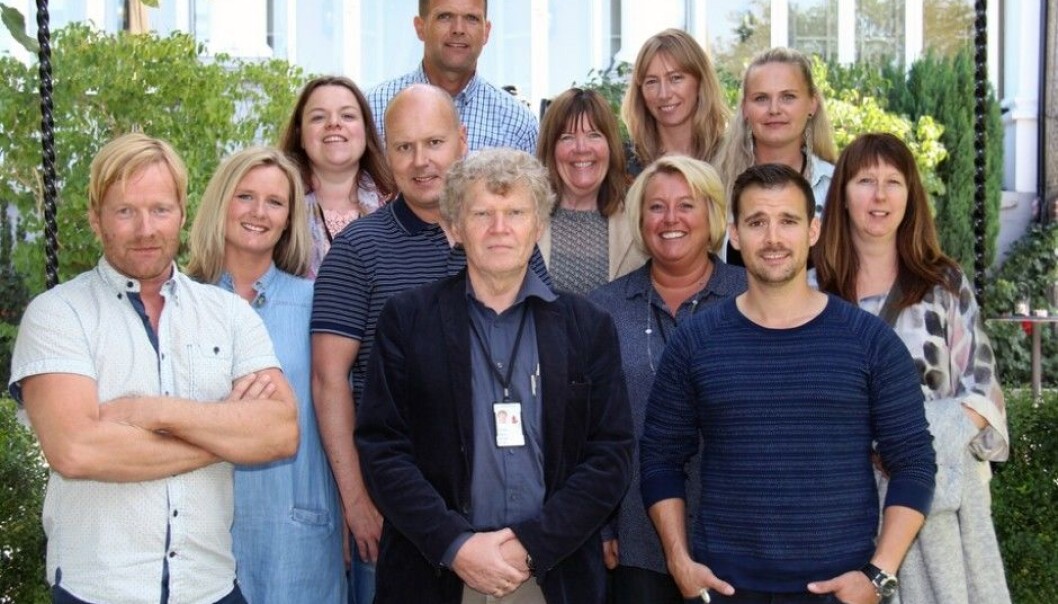 Fewer compulsory admittances when home visits are made
A new study shows that persons with serious mental health and substance abuse problems less frequently require involuntary treatment or compulsory hospitalisations when followed up by a multidisciplinary team of social workers.
The first so-called Assertive Community Treatment (ACT) team was established in Norway in 2007. Its goal was to improve social and health services for persons with serious mental disorders such as schizophrenia.
"These are patients who need help from several sectors of the health and social services but who haven't been sufficiently aided by the system," explains Hanne K. Clausen, who has recently completed her doctoral dissertation on the subject.
She has researched such multidisciplinary treatment teams and assessed how their patients have fared in 12 locations in Norway. So far, it seems the teams are indeed beneficial for their target group of patients.
In the local environs
Such teams consist of persons with various fields and competences who come home to the patient. The teams can consist of psychiatrists, psychologists, social educators, psychiatric nurses and specialists in treatment of drug and alcohol abuse.
"They make home visits, helping the patients with practical problems and evaluating their health conditions," explains Clausen, who works at the Akershus University Hospital, Ahus.
The model for such teams comes from the USA. There they were founded as replacements for mental hospitals, which to various degrees were being squeezed financially and shut down. In Norway the teams were assembled in connection with a legislative enactment titled "Coordination
Reform – proper treatment – at the right place at the right time."
A dozen places
The model was tested in urban as well as more rural locations. Clausen studied the first team that started in the city of Moss and teams in Oslo, Bergen, Trondheim, Tromsø and Kristiansand. She has also assessed teams covering smaller towns and rural communities.
The teams' common objective is to make patients safe and secure in their daily lives and boost the skills they need to plant roots in their local communities or neighbourhoods.
"The helpers try to get the patients or clients integrated in their local environment. They build confidence and accompany them when they shop for groceries, apply for rent support or other benefits and services from the Norwegian health, welfare and employment services, NAV. They also treat them professionally for their mental disorders and/or substance abuse," she says.
Instead of the patient seeking help at a bunch of different municipal offices and agencies, the teams coordinate such efforts or give the help that is needed.
"Seeking assistance from multiple offices can be a challenge even for those who are healthy," points out Clausen.
Reasonably satisfied
Clausen investigated how the patients judged their own quality of life at the time when they started getting ACT help.
"We had a special focus on how they felt they functioned socially and proficiently in their everyday lives," she says.
The patients were reasonably satisfied when the follow-ups commenced.
Shorter stays in hospitals and clinics
Clausen registered how frequently the patients were hospitalised or admitted to rehab centres the first two years prior to their involvement with ACT and compared that data with their histories in the past two years with ACT. Each patient was compared to him/herself, and no control group was used by Clausen and her fellow researchers.
The number of admittances before and after remained the same.
However, she also registered how many days the users were hospitalised or were inpatients in rehab before and after they started getting scheduled visits from the teams.
"The number of days hospitalised or committed was halved. This applied to voluntary as well as compulsory hospitalisations," says Clausen.
On average the patients were hospitalised or in rehab 120 days during the two years prior to getting help from the teams.
That amounts to two months a year.
After coming in touch with teams the figure dropped to 60 days for the past two years, or one month a year.
Hospitalised sooner?
The researchers think tighter follow-ups at home are the reason for the shorter hospitalisations. Also, the patients were admitted at earlier stages or were given better treatment when back in society. Thus, their illnesses were less severe and they could be released earlier.
Is getting these patients admitted for minimal periods for mental health problems the goal?
"Being released early can be seen in different lights. It is mostly positive if it means the patient is less sick when being admitted and thus can be released quicker," says Clausen.
But shorter hospitalisations or stays in institutions can also mean that these hospitals and rehab centres, etc. had confidence in the ACT teams so they released the patients sooner than they used to.
Shorter admittances for substance abuse
Many of the patients with mental disorders including schizophrenia have double diagnoses, meaning they also have drug and alcohol abuse problems. About six out of ten among the patients studied had double diagnoses of this kind.
"In our selected group this problem most commonly involved use of alcohol, cannabis and amphetamines," says Clausen.
It is quite common for substance abuse to be a risk factor for compulsory admittances to treatment.
"Those with drug and alcohol problems were in compulsory treatment fewer days on average after they received help from the ACT teams," says Clausen.
Some were hospitalised more
One category of patients stood out. Amongst these there was a slight increase from before their associations with community treatment teams. These were the persons who had not been hospitalised often previously. Their admittances to treatment decreased, however, during their second year of follow-ups from the teams.
"These might be persons who haven't previously been admitted even though they needed it. They can have had big problems that were overlooked by less intensive services," says Clausen.
She thinks this indicates the team succeeded in detecting their treatment needs that had previously gone unnoticed.
"They can catch problems earlier and get the patients admitted earlier."
This can make the patients more quickly ready to be discharged and return home.
Clausen thinks the experiences to date indicate that the ACT teams are helping this group of patients receive an appropriate number of inpatient days in institutions.
Clausen's studies were linked to her doctoral degree at the University of Oslo's Institute of Clinical Medicine. Her work is also included in the research-based national evaluations of this service. Clausen also works part-time at the Norwegian National Advisory Unit on Concurrent Substance Abuse and Mental Health Disorders (ROP).
Clausen says national health authorities have plans of channelling more government money into the establishment of these ACT teams.
-------------------------------------
Read the Norwegian version of this article at forskning.no
Translated by: Glenn Ostling
Scientific links
Related content