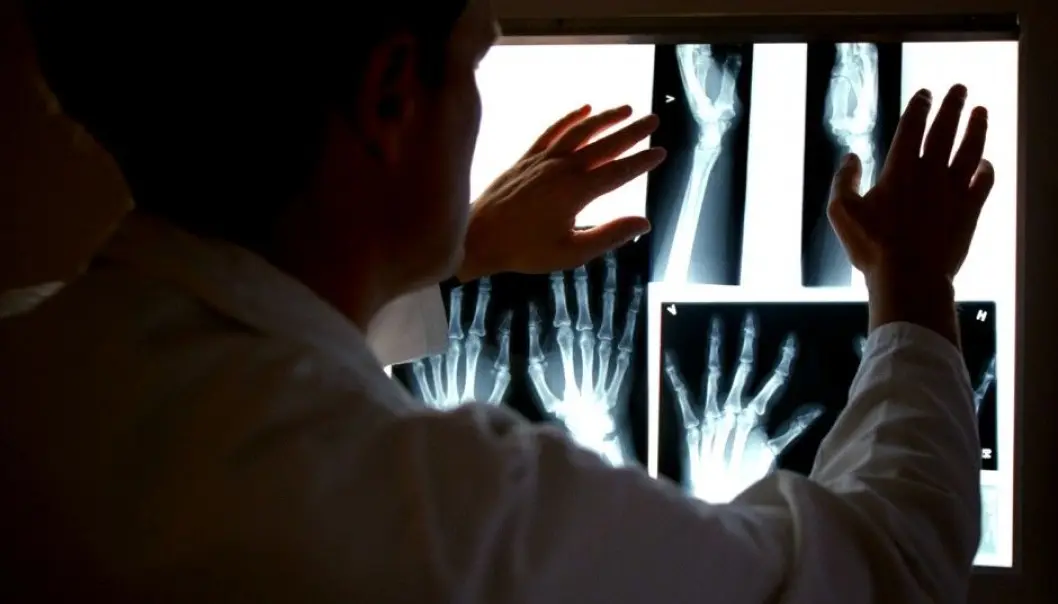 Promising remedy for rheumatism
Researcher and Doctor Anita Kåss has found a medication that could be used to treat rheumatoid arthritis. It supresses a sex hormone which appears to be involved in the disease. The new drug might also be relevant for the treatment of other autoimmune diseases.
Anita Kåss (age 37) is a researcher at Betanien Hospital in Skien, Norway. She has developed a medication against rheumatoid arthritis (RA) which suppresses a hormone that appears to be linked to the development of this inflammatory disease of the joints.
News broke this week that a license for the medication had been sold to a Japanese pharmaceutical firm for NOK 800 million [about $95 million]. Kåss did not confirm the sales figure when interviewed by ScienceNordic's Norwegian partner, forskning.no.
The medication can give quick improvements without serious side-effects, as opposed to current medications. This has attracted international attention. The study led by Kåss has been published by the journal Plos one.
Improvements during pregnancies
Kåss has been intrigued by autoimmune diseases since her days as a medical student in Liverpool.
"These diseases have a common denominator — they are related to hormonal changes. Female rheumatism patients improve during pregnancies and get worse after giving birth," says Kåss to forskning.no.
So giving birth can trigger the disease. Women also run a higher risk of RA after menopause.
A reduction in RA during pregnancies has been seen by the medical profession for 50 years. This awareness has not led to any effective hormonal remedies other than cortisone.
Many have researched the use of oestrogen and testosterone in RH treatment without achieving particularly uplifting results.
"I figured this must be linked to other hormonal factors," says Kåss.
Blocks sexual hormone
Kåss has studied a method of treatment that supresses the sexual hormone gonadotropin amongst patients with RA. This is a key regulator or sexual hormones.
Kåss and her colleagues are the first to study this association.
The medication she has researched attacks the cause of the problems rather than the symptoms. It works by supressing a brain hormone and blocking it from sending faulty signals.
Study showed quick improvements
She tried this treatment in a trial with 99 patients and the results showed the drug quickly leads to improvements in the joints.
"The reduction of the sexual hormone rapidly reduced several of the markers of disease activity among the rheumatoid arthritis patients," says Kåss.
Test results showed a favourable effect after just five days. Other medications take longer to work. This has caught the eye of the medical profession worldwide.
The study also showed no more side-effects than those reported among patients given a placebo. Lengthy studies in other patient groups have revealed few serious side effects.
Another study recently showed that periodontal infection can trigger RH.
Gonadotropin is a sex hormone
Gonadotropin is a hormone that stimulates production of oestrogen and testosterone and ensures normal growth, sexual development and reproductive functions.
The researchers are now looking into the role that gonadotropin could be playing in the development of an array of autoimmune diseases.
"We see that by supressing the hormone we can also supress symptoms," says Kåss.
A hypothesis is that the hormone also impacts the body's immune cells when they are unexplainably acting abnormally.
Could it work on MS and psoriasis?
News media this week have expressed that the medication also has an effect on psoriasis and MS (multiple sclerosis). Kåss emphasises that she has not tried the medicine on other patient groups.
But scientists know that the signals being supressed by the drug are also vital signals linked to other autoimmune diseases such as MS and psoriasis.
Future research will tell whether it can have an effect on these diseases as well.
Not cleared for the market
The goal is to run sufficient studies and trials of the drug to get it approved by the US Food and Drug Administration (FDA) and accepted for the market in the USA and Europe.
But patients afflicted by rheumatoid arthritis cannot expect this to happen soon.
"This will take several years, unfortunately," says Anita Kåss.
Kåss and the Betanien University Hospital in Skien will benefit from commissions on the sale of the prospective drug. This could yield enormous earnings, according to Varden, the local newspaper in Skien.
Kåss received research funding from among others, the Research Council of Norway, the Norwegian Women's Public Health Association and regional Norwegian public health authorities (Helse Sør-øst).
-------------------------------------
Read the Norwegian version of this article at forskning.no
Translated by: Glenn Ostling
Scientific links
Related content