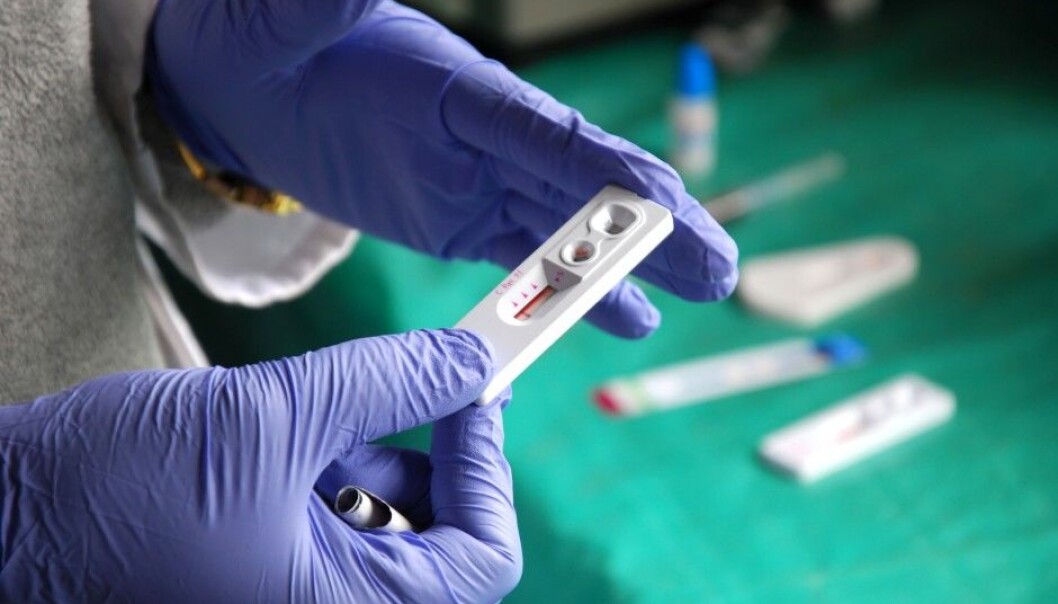 Half of new Norwegian HIV-patients are heterosexual
Half of Norwegian heterosexual men who become infected have had casual sex in Thailand. Women are most likely to become infected by their regular partner.
More than half of new HIV cases in Norway last year resulted from heterosexual contact, according to a newly published report from the Norwegian Institute of Public Health (NIPH).
Overall, 220 Norwegian men and women were diagnosed with HIV in 2016, only one less case than in the previous year. Heterosexual contact accounted for 120 of the new cases, and homosexual contact for 87 cases, or 40 per cent of the total.
At the same time, the number of reported heterosexual cases dropped by 18 compared with 2015. The number of gay HIV cases increased by 17 in the same time period.
Overall pattern consistent
The total number of people infected with HIV in Norway to date show a similar ratio to this year's numbers, with just under 2000 homosexual cases and nearly 3200 heterosexual cases.
Two children were infected by their mother, and no one was infected by blood products last year. Only eight individuals were infected through injection drug use.
Of the 120 heterosexual cases, 97 people were asylum seekers or migrants who were infected before they arrived in Norway.
Most at risk are gay men or heterosexual men travelling abroad.
Thailand a hotspot
The number of heterosexuals who become infected while living in Norway has remained relatively stable in recent years.
Individuals of foreign origin constitute a slight majority of the heterosexual cases.
Many Norwegian men who are infected had unprotected sex abroad. Infection in Thailand alone represents half of all heterosexual HIV transmission among Norwegian men. Of the 37 Norwegian gay men who were diagnosed with HIV last year, 27 became infected after sex in Asia.
Most men were about 50 years old when they were diagnosed.
One in three women
Barely three out of ten individuals infected last year were women. Of the 220 new cases, 63 were women and 157 were men.
Most of the women reported becoming infected by their regular partner who was also infected through heterosexual contact. Most women diagnosed with HIV last year were around 38 years old.
Just under 2000 of the 6000 people with HIV in Norway are women.
More gay men infected
Seventeen more gay men were diagnosed with HIV in 2016 than in 2015, compared with a sharp decline in 2015. This increase occurred among men who had sex with men outside Norway, usually in Europe. Most were about 33 years old when they were diagnosed. Eight out of ten said they were infected by a casual partner.
"This indicates that the infection pressure among this group has decreased within Norway," Øyvind Nilsen, senior adviser at NIPH, said in a statement.
Although almost half of the new HIV-positive cases among men who have sex with men have a migrant background, the number of annual new HIV cases in this group has declined in recent years, compared to the peak in 2009.
Fewer immigrants are infected
Both heterosexuals and gays are also grouped according to whether they were infected before they arrived in Norway or once they were living in Norway.
Fifty heterosexual men were infected while living in Norway, approximately the same as in 2015.
The number of HIV-positive heterosexuals who were infected before arriving in Norway declined from 86 in 2015 to 70 last year. Most of these individuals came from Africa.
Highest incidence in Oslo
Forty per cent of everyone diagnosed with HIV in Norway lived in Oslo when they were diagnosed. Akershus, Nord-Trøndelag, Hordaland and Buskerud counties have the next highest incidences of HIV relative to their population.
Newly arrived asylum seekers and migrants affect annual fluctuations the most, along with the counties' variable admissions policies.
Condoms and preventive medicine
To a large degree, HIV infection in Norway occurs in specific risk environments with unprotected sex and many partners, according to NIPH.
Getting an early start with HIV treatment and offering preventive HIV medications can help reduce susceptibility to infection in these environments.
Consistent condom use in high-risk situations is the most important preventive measure.
There is still no evidence that the decline of HIV among men who have sex with men is due to reduced risk behaviours. NIPH believes that with more people now able to do in-home HIV tests, they can more quickly start treatment that reduces the viral load.
Despite some side effects, the new HIV medicines effectively reduce the amount of virus in the blood, and may even completely eliminate them.
-------------------------------------
Read the Norwegian version of this article at forskning.no
Scientific links
Related content