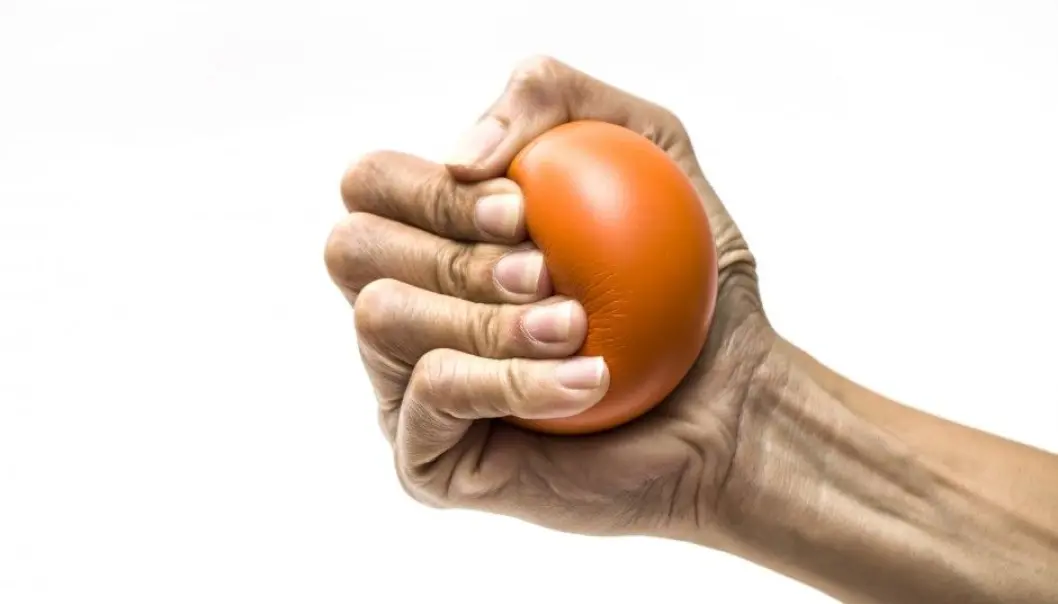 Grip strength can indicate your cause of death
Elderly people who still have a firm grip might have a lower risk of dying from cardiovascular disease, respiratory diseases, strokes and various accidents, according to a Norwegian study.
Cardiovascular diseases still top the list of causes of death in Norway, according to the Norwegian Cause of Death Registry for 2014.
A new Norwegian study now shows that the strength of Norwegians living in Norway, aged 50 to 80, in compressing a rubber ball can indicate risk of premature death from specific maladies such as cardiovascular disease.
Grip strength important for both genders
The research, which was based on the longitudinal population-based Tromsø Study, is one of the largest of its kind and one of the few studies that has covered a link between grip strength and specific causes of death.
A total of 6,850 participants aged 50 to 80 were involved.
In 1994 the grip strength of participants was quantified by getting participants to squeeze a ball with whichever hand they didn't normally write with. Then, 17 years later the correspondence between grip strength and cause of death was examined by registering how many survivors there were and getting information about those who had died from the Norwegian Cause of Death Registry for 1996 to 2003.
Norway has a nation-wide and updated health registry that provides significant amounts of useful information. The Cause of Death Registry contains detailed information about what Norwegians die of, sorted by international diagnostic codes, the International Classification of Diseases.
The researchers looked into deaths in general among the test persons and deaths from cardiovascular diseases, strokes, respiratory diseases, cancer and accidents.
The analyses showed that a weak grip strength as compared to a strong one gave a higher risk of early mortality in general, and in particular death from cardiovascular and respiratory diseases, strokes and accidents. There was no convincing link between grip strength and death from cancer.
Solid grip strength showed itself to be as important for women as for men. The researchers made adjustments for a number of factors which could affect the results, such as age, BMA, smoking, physical condition and blood pressure.
A sign of fitness
A strongpoint of the study is the sizeable number of participants it used and the fact that the researchers followed up these Norwegians for 17 years. Still, it is hard to rule out all hidden variables in such a study, even though they adjusted for a number of factors which could affect both grip strength and mortality.
Grip strength is often used as a tool which indicates general muscle strength in medical studies. But how strong your hands are also links to your physical condition, whether or not you are fit. So the researchers took into account physical fitness as well as number of other health factors, and the results cannot fully be explained by the participants' general health conditions.
Grip strength alone can thus relate to the participants' ages and not simply poor general health, write the researchers in the study.
In the new study, however, grip strength was only measured once. This means that prospective changes in this strength, beyond what normally occurs at a higher age, do not get registered. This could lead to an imbalance and less reliable results. That said, the researchers think their findings can contribute to better understanding of muscle strength as an important health factor.
References:
Strand, Bjørn H. et al.: The association of grip strength from midlife onwards with all-cause and cause-specific mortality over 17 years of follow-up in The Tromsø Study. Journal of Epidemiology and Community Health. 7 May 2016
--------------------------------------
Read the Norwegian version of this article at forskning.no
Translated by: Glenn Ostling
Related content