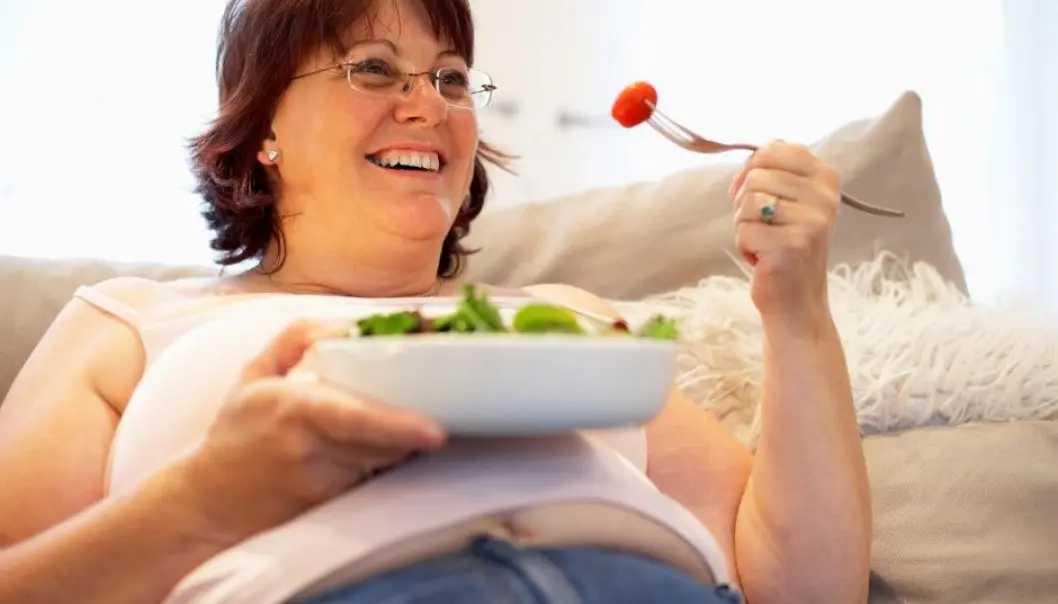 No place like home for dieting success
Obese people tend to lose the most weight when they are treated intensively in their daily environments.
Two to three percent of the Norwegian population are morbidly obese, and their ranks are swelling.
Espen Gjevestad, when working on a doctorate at Vestfold Hospital's Morbid Obesity Center, compared two methods for reducing the weight of such patients.
The study leaves no doubt that intensive care as an outpatient at home is more effective than moderate lifestyle intervention at a secondary care obesity centre.
Daily intensive lifestyle intervention, in which the patient is given help in changing nutritional, eating and exercising habits in their normal home environment, is the more effective method for achieving weight loss.
"Lifestyle changes should be made where lives are spent. There's no place like home," says Gjevestad.
He thinks the findings give a good indication of how treatment should be organised in the future.
Big differences
Gjevestad and his colleagues split 372 patients into two groups. One received moderate lifestyle intervention for ten consecutive weeks at a local clinic, with follow-ups three times during the next six months. Initially the second group received intensive lifestyle intervention three times a week for three months. Afterwards they were given monthly consultations for the next nine months.
The average weight loss in the group which received the moderate treatment was three kilos in the course of a year. The ones who were given intensive treatment shed an average of 13.3 kilos each. Not surprisingly, the members of the latter group also had better health related quality of life – they felt better.
"This shows that it's vital to offer an intensive treatment regime for morbidly obese patients," asserts Gjevestad.
Obesity also hardens arteries, a condition viewed as a beginning stage of cardiovascular disorders.
"Blood vessels become discernibly more flexible after seven weeks of intensive treatment – a change which was temporary. It appears as if greater intensity is needed in exercise to reduce the risk of cardiovascular diseases," says Gjevestad.
Different needs
In 2010, Dag Hofsø and Jørn Hjelmesæth at the Morbid Obesity Center in Tønsberg found that intensive lifestyle interventions can have nearly as beneficial an effect for obesity-related diseases as weight-loss surgery.
Espen Gjevestad thinks that such surgery is the best alternative for certain individuals.
"You have to give the correct treatment to each patient. Currently, about 3,000 patients receive such surgery annually in Norway. With today's capacity, it would take 30 years to operate every obese person in the country."
"This is a reason why it is crucial to find good, effective initiatives for the majority of morbidly obese patients. An out-patient approach in their home situations, which stress changes in diet and exercise, will be effective," says Gjevestad.
Mounting problem
You are morbidly obese if you have a body mass index (BMI) of at least 40, or a BMI of at least 35 with associated diseases such as diabetes or hypertension.
No need to feel like a freak, however. The problem is becoming increasingly common:
"We have not evolved for the energy intakes we now have. Even if we do more exercise human activity levels are lower than they used to be. It isn't enough to get a half hour of exercise per day. We need to activate ourselves in our daily lives to speed up our metabolic motors," says Gjevestad.
It's a global problem. WHO estimates that the cases of obesity doubled from 1980 to 2008 and it plagues the developing countries as well as industrialised nations.
----------------------------------------------
Read the Norwegian version of this article at forskning.no
Translated by: Glenn Ostling
Scientific links
Related content