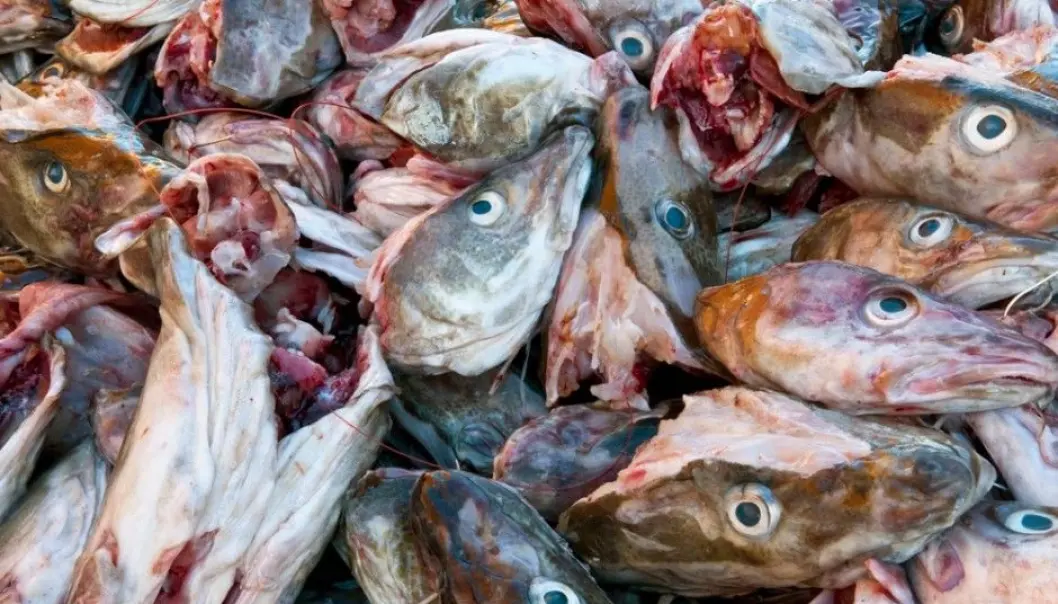 Sports drinks from fish heads
In a couple of years you might drink some fish parts after exercising at a gym.
When you buy a filleted fish at the supermarket about half the fish has been removed. Most shoppers give little or no thought to what happened to the rest.
"Most of it now is used to produce pig feeds, even when the cuttings are of high quality," says Tone Aspevik.
She is a doctoral research fellow at the food research institute Nofima who is exploring new ways of utilising fish cuttings to make food for you and me.
The world population needs proteins
Her motivation is to increase the sustainable use of the precious resource fish parts – ones which we currently are squandering.
"The global population is rising and we will need more protein sources in the years to come. So we have to find these sources now. The quantity of raw material in marine species harvested in Norway that was discarded totalled 900,000 tonnes in 2014. Fish heads and dorsal cuttings from salmon alone amounted to about 100,000 tonnes. There are all sorts of options for putting this to use," says Aspevik.
But the road from cuttings and discards in the seafood industry to delicious and nutritious human foodstuffs is long and winding.
Aspevik has spent hundreds of workdays trying to make use of the proteins that are found in the heads and dorsal cuttings from salmon. A lot of good protein remains in these body parts after fillets have been readied for markets, shops and restaurants round the world.
Aspevik uses these parts to make a protein powder.
Working on the bitter taste
The cuttings from the fish actually look pretty appetizing, but the end product is not tasty.
One of the main challenges in the process is the sharp bitterness of the resulting protein powder. This puzzler is the main focus of her doctoral study.
She works with a technique called protein hydrolysis. It involves the use of enzymes to break down the proteins in the cuttings, turning them into shorter peptides. These peptides are more water soluble than the intact proteins. Aspevik has a resulting protein powder once the water is evaporated away.
"I've managed to reduce the bitterness. It's no longer so bitter but it still tastes like fish. I think this can be a good point of departure for fish-based products such as fish soups and fish cakes, for instance."
Others on the job
Several firms in Norway are working at creating products of fish cuttings. One such outfit is Biomega on the island Sotra, west of Bergen. It is collaborating on a project with the University of Bergen. The Norwegian Broadcasting Corporation says they have a product but it also has a fishy taste.
Research is underway at the research firm Sintef to see how such cuttings from salmon can be used for various health food and nutritional products, as well as nutritional supplements.
Lots of uses
Aspevik has nearly completed her PhD. She now has a job at Nofima, where she will continue to work on using various scrap products as the basis for human foods.
Although the objective of her doctoral degree project is a sustainable use of cuttings from the salmon aquaculture industry, her techniques and methods might be used in numerous other products.
"Maybe this is also a way of using species of fish which we don't usually eat today? Or could it be used in utilising the cuttings from chickens?"
Sports drinks and insects
She thinks another possible application for her methods of using fish cuttings is to produce protein powder as an ingredient for sports drinks.
Aspevik thinks this can also be an inroad toward using insects as food in the future.
"Beetles and other insects are not that appetizing but they do contain some good proteins. Maybe they too can be used in the production of protein powder?"
-------------------------------------
Read the Norwegian version of this article at forskning.no
Translated by: Glenn Ostling
External links
Related content