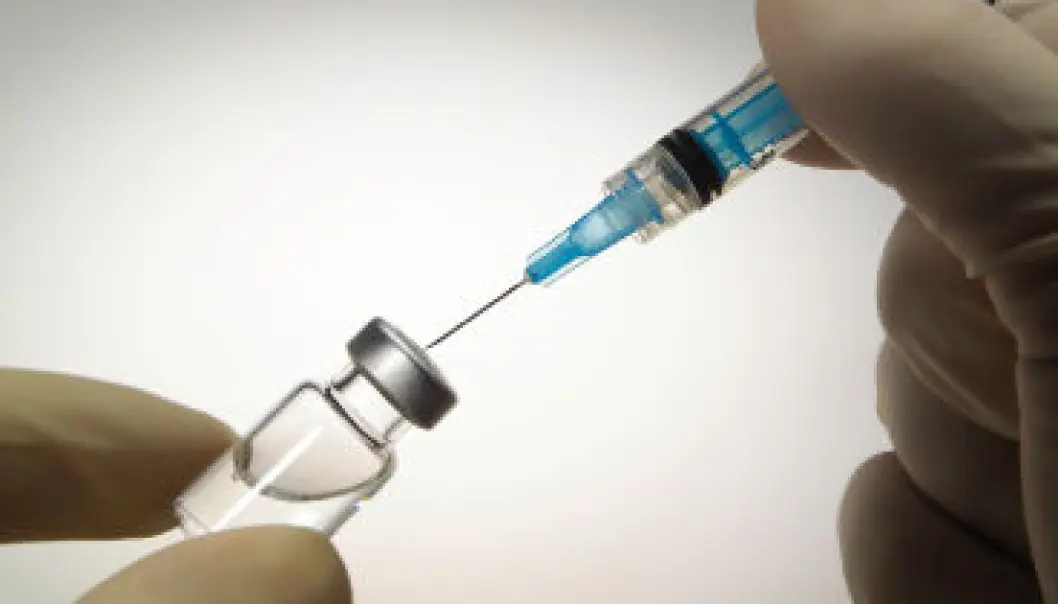 Too many taking flu vaccine?
Health personnel and other hardy souls risk lower resistance to future pandemics if they vaccinate themselves for seasonal influenza year after year.
Three Norwegian researchers wonder whether health officials should make a strategic change in the list of individuals who should be given annual flu vaccinations. They pose this question in the latest edition of the journal of the Norwegian Medical Association (Tidsskrift for Den norske legeforening).
"To avert serious disease outbreaks among health personnel in a future pandemic, we need to consider whether they should remain on the list of people we recommend should receive this year's vaccine," they write.
The scientists would like to see more priority given to vaccinating a greater number of people within specific risk groups. One of the authors is Senior Researcher Svenn-Erik Mamelund, from the Work Research Institute:
"Seasonal flu vaccination offers lots of advantages. But we think more focus should be on vaccinating the people who have the biggest risk of illness and death," says Mamelund.
"Far too few in risk groups vaccinate themselves and that's worrisome. We need to intensify our efforts to increase this share," he said.
Undermining themselves
Health officials recommend that Norwegians over the age of 65 take flu shots every autumn, before the winter flu season starts.
The list also includes residents in assisted living facilities and nursing homes, pregnant women in their second and third trimesters, as well as children and adults with chronic diseases.
The experts all agree on the wisdom of vaccinating people in these categories. But not everyone agrees with the Norwegian Institute of Public Health's (FHI) recommendation that flu shots be given to health personnel who are in frequent contact with patients.
"Health personnel and healthy employees who are routinely vaccinated, in part to protect vulnerable patients and the elderly, can become more prone to a more serious type of influenza," the researchers assert in their article.
Mamelund says the purpose of their paper was to trigger a debate about the disadvantages of vaccinating health personnel, and for that matter, all healthy employees.
"We know from studies of the 1918 virus in large cities in the West that mortality was less than one percent. We think this must be because people over the age of 30 had already been exposed to the flu earlier in life and it made them better prepared later."
"Nine out of ten died in Brevig in Alaska. They had much less previous exposure to the influenza virus," Mamelund points out.
Inner part of the virus
Catching a seasonal flu can create a form of resistance that a vaccine fails to give. In this situation, the body forms an immunity to the inner parts of the virus, which do not constantly evolv at a rapid pace.

"Cellular immunity is vital in preventing later acute illness as a result of the influenza virus," Mamelund says.
Bjørn Haneberg is a former research manager at FHI and the first author of the article. Senior Researcher Siri Mjaaland of FHI was the third contributor.
"Infection can protect against subsequent influenzas and can also guard against new strains of influenzas, such as those that might cause a pandemic," the researchers say.
"So we think that people who vaccinate themselves without needing the vaccine, then and there, may suffer because of it later, " Haneberg said in a podcast produced by Tidsskrift for Den norske legeforening.
No significant effect
FHI recommends that health workers take the annual vaccinations as a safeguard against transmitting the virus to vulnerable groups.
The Norwegian researchers stress that a larger analysis, the Cochrane systematic review from earlier this year, revealed no significant effect from vaccinating health personnel.
This analysis examined the impact of such vaccinations on the incidence of influenza and pneumonia and hospitalisations and deaths among 60-year-old patients in nursing wards and residents in assisted living facilities.
The researchers also referred to another study, published in the Journal of the American Medical Association, which concluded that vaccinating healthy adult employees as a strategy for reducing sick leaves is not cost-effective.
"All these factors suggest we need to re-evaluate the need for vaccinating health personnel against seasonal influenza," says Mamelund.
Protection from different cells
When asked why not all medical experts concur, Haneberg explained that protection from influenza comes from many different factors.
"Most people think in terms of antibodies when it comes to immunity. But the white blood cells also have their function," he said.
"Antibodies protect against infection. In contrast, the cellular parts represented by the blood cells don't block an infection but keep it from becoming more serious," Haneberg said in the podcast. "We cannot ensure that people who come down with influenza won't get infected a second time, but it probably won't be as serious."
-----------------------------
Read the Norwegian version of this article at forskning.no
Translated by: Glenn Ostling
External links
Related content