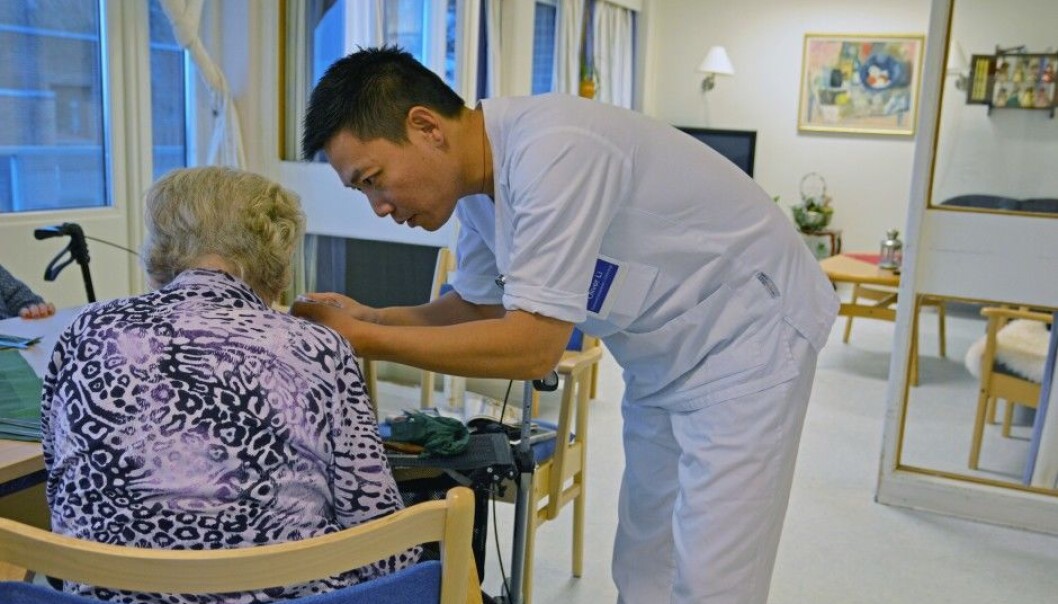 Why are older patients not getting the care they need?
Expertise varies among nurses, assistant nurses and assistants. In some cases, lack of competence may lead to seniors not receiving the treatment they need, according to a recent study of elderly care.
"Mrs. Olsen fell twice last week. How would you handle the situation?
"Would you: not do anything, observe her again the next day, consult with the nurse, take action as soon as possible, bring in a doctor to assess the patient or call for immediate help?"
Researcher and associate professor of nursing Pia Cecilie Bing-Jonsson and her colleagues at the University College of Southeast Norway posed this question in a survey to examine what more than 1,000 registered nurses (RN), assistant nurses (AN) and assistants do on the job in nine Norwegian counties.
In the survey, employees in elderly care evaluated themselves and were tested with questions like the above.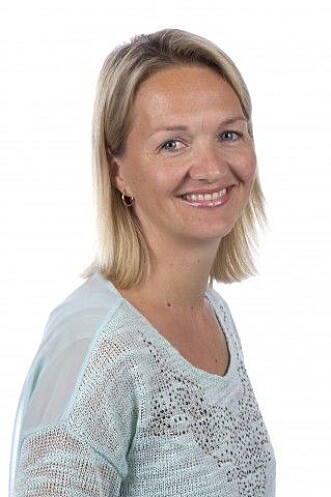 The right assessment at the right time could be critical to Mrs. Olsen's progress.
Care of elderly more complicated now
It's almost time for lunch at Silurveien nursing home in Oslo. But first, medications have to be administered, which a growing number of the residents now require. The seniors living in institutions are sicker than before.
Nurse Oliver Li wants the staff at Silurveien to know more about the complexities of care in the late stages of life. He is trained as an oncology nurse, and thinks it's good that his colleagues are offered courses in palliative care.
"Palliative care is very complicated. If the patient has pain, it may have a physical cause, but it could also be due to fear or anxiety. We have to observe carefully to take appropriate measures," said Li.
"The field is changing so fast that it can be hard to follow. There are a lot of new procedures, new tools and new drugs. But we need to keep up with correct and updated skills so that the elderly have a good end of life," he says.
Missing warning signs
Li is not the only one who wants more competence in geriatric care. Many employees fail to do a good enough job for the elderly in nursing homes and home care, according to Bing-Jonsson's survey in nine Norwegian municipalities.
Nursing staff have a hard time seeing when a patient's illness is worsening, or initiating appropriate measures and following up with patients by documenting what happens.
"These are serious shortcomings. At worst, they can lead to patients not receiving the treatment they need," Bing-Jonsson tells forskning.no.
The survey results show that the employees have some competence in all the areas tested, but it's often not good enough. And their expertise tends to fail precisely when Mrs. Olsen needs it the most.
"They lack the knowledge to make proper observations, like looking for changes in heart rate, blood pressure and skin. Documentation of their findings also needs improving," says Bing-Jonsson.
When employees don't realize that the patient's condition is worsening, they risk not taking appropriate action. They need to systematically measure and write down what they find so they can follow the patient's progress. How many centimetres has the circumference of the leg increased in recent days? Has a resident's body temperature risen? This is important information for the doctor.
Mandatory information not being logged
The staff at Silurveien nursing home have not been adequately documenting what they do, according to professional development nurse Marit Anne Vollene.
"We discovered that several employees were not logging what they were supposed to. This is very important in order to do a good job. Employees should be able to enter the system and read what to do without having to ask the person who had the last shift," she says.
So the nursing home ran its own survey and found out who was missing what information. Now, after customized training and frequent checks, more staff members are entering the mandatory information into the electronic system.
Assistant Nina Herfjord, who has worked at the nursing home for 26 years, is among the staff who have improved their documentation skills. She said, "I felt for a while that I was bit behind in a few things, like typing on a PC. The training resolved a lot of those issues."
Undetected fractures
Vollene believes that just recognizing one's limitations is important. All new hires take competency tests, but passing a test isn't a substitute for having the knowledge at your fingertips.
"I tell all employees that if you're unsure, ask for help. Assessing whether others should do the task instead is also a type of expertise," she says.
Researcher Bing-Jonsson's next study, in collaboration with the University of Oslo, will examine what consequences a lack of nursing competence has for patients.
She thinks greater expertise could spare seniors some problems. "They might need less treatment and be able to help themselves instead," she says.
Employees at Silurveien nursing home can't recall that anything has ever gone seriously wrong. But they admit that residents have broken bones without the staff discovering it.
If a patient already has pain, walks normally and doesn't complain about the leg, it can be difficult to catch.
Assistant Nina Herfjord finds that it's better to err on the side of one check-up too many and says she alerts a nurse if a resident falls, no matter what. Even if the person pops right up again after the fall.
Sicker at home
The survey conducted by Bing-Jonsson and her colleagues indicates that home care staff know less than those working in nursing homes.
More and more seniors prefer to stay at home rather than in a nursing home, according to a review by Statistics Norway for the last 20 years up to 2013. Home care is now focusing more on health care than practical help like washing and grooming.
Seniors who live at home are sicker than before, which is a serious consideration, says Bing-Jonsson, who is a trained nurse.
"Some people think it's a simple matter to take care of the elderly. But they are the sickest and most vulnerable people we have, and nursing staff need to be highly skilled," she says.
Medical conditions can be complicated. Many people are in and out of the hospital and taking multiple medications. This can make it "hard to figure out what's wrong with the old lady in bed who was already so frail before," Bing-Jonsson says.
No money for training
She thinks the understanding that seniors also need advanced care is growing, but that knowledge has not yet fully been put into practice, the survey shows.
Following the Norwegian Coordination Reform of 2012, the elderly spend more time at home or in a nursing home than in hospital, but the nursing and care staff have not seen training in line with the new challenges, claims Bing-Jonsson.
Guidance, professional networks and short courses on topics such as dementia and palliative care are available in Oslo. Different experiences designed to improve practical skills have been tried out in recent years. And the authorities have provided financial support for specialities such as advanced clinical nursing.
But the opportunities are not being fully utilized, according to Torunn Wibe, head of the Centre for Development of Institutional and Home Care Services in Oslo. Because staffing is low, money is not always available to hire substitute staff so that employees can participate. Often course registrants don't show up because their colleagues are sick and they need to be at work instead.
Competent assistants and younger staff
Many assistants work in elderly care. In some areas, for example moving a patient correctly from the bed to the bathroom, assistants and ANs actually tested better than the nurses.
At least if we are to believe their own assessments of themselves. Self-evaluation is a weakness in this type of study because some participants may be more critical of their own competence than others. The nine municipalities surveyed did not have clear guidelines on what was expected of the different types of employees, which can make employees uncertain about what is good enough.
But it may also be that experience is more important than education in some areas. "Assistant nurses and assistants may have more skills because they spend more time with the patients," says Bing-Jonsson.
In general, nurses still score higher than assistants on tasks requiring mastery. Education seems to help.
The nursing program has been updated, which may be some of the reason why the younger participants surveyed have more expertise than the older ones, despite the fact that they have less experience, Bing-Jonsson says.
But education, age and place of work only explain a third of the differences between the employees. A lot of other things affect who knows what.
"Not everyone needs to be a specialist. We also need to use the staff we have in better ways," says Bing-Jonsson.
She believes that the survey can give indications for how municipalities should set priorities.
Opinion is divided among the employees at Silurveien nursing home in Oslo.
"If the survey can make you aware of what you don't know or are unsure about, it has a lot of value for the workplace," says environmental therapist Even Solberg.
Vollene feels "it's okay if the employees themselves use it for self-improvement."
"But I wouldn't appreciate the boss testing the employees," she says.
——————————————————-
Read the Norwegian version of this article at forskning.no
Scientific links
Related content