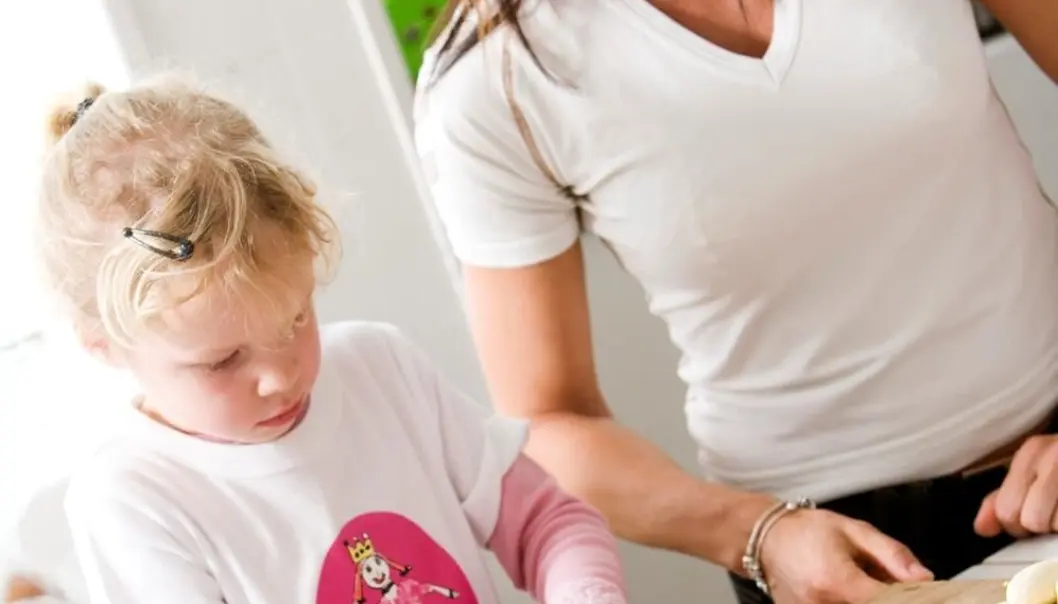 Mums are main key to healthy kids
Fresh figures show that mothers mean more for young Norwegians' health choices than fathers do, and that parents' level of education is a crucial factor regarding healthy consumption.
Denne artikkelen er over ti år gammel og kan inneholde utdatert informasjon.
We are getting fatter and fatter, as the statistics show year after year. One out of four Norwegians over the age of 16 was overweight in 2008, according to Statistics Norway.
The simplest advice to counter overweight is to eat healthily and to partake in regular exercise. A group of researchers wanted to get this across to adolescents through the schools to see if it has any effect on their health habits.
One of the findings in the project was that mothers have more influence than fathers do on children's choice of diet and a healthy lifestyle.
Healthy youth
The so-called HEIA Project selected 37 schools in seven of Norway's 19 counties.
HEIA is a Norwegian acronym for health, nutrition, inactivity and activity, and the goal was to get adolescents to spend less time in front of flat screens, to partake in more physical activities and to eat more healthy food.
"All children and youth can have a healthy weight development," says Mona Bjelland. She is one of the researchers in the project and is on a doctoral scholarship at the Department of Nutrition at the University of Oslo.
She says they involved 12 schools in the initiative and compared them to 25 control schools. The adolescents in the project were followed up for two years − from age 11 to age 13.
Less education, less veggies
Before the project started all the youth were given forms to fill out and they were measured and weighed. The results showed large variations and these linked to their parents' level of education.
"The share of overweight children was higher among those whose parents had the least education. Access at home to sugary beverages was highest in this group, and the children reported less access to fruit and vegetables in their homes," explains Bjelland.
The contrary applied to the group whose parents had high educations. These children had less sugary drinks in their home fridges and more fruit and vegetables were at hand.
"We found a clear link between overweight among mothers and overweight among their children," says the researcher.
Although there was a connection between mothers' and daughters' heights and weights, the scientists found no such link between fathers and daughters. However, the boys' body measurements were clearly linked to both their parents' weights and heights.
"A mum is thus very important in preventive efforts against overweight," she says.
Healthy advice
During the project parents were given fact sheets with advice about healthy diets and physical activities, and initiatives were started at the schools.
Researchers supplied equipment such as jump ropes and balls at the dozen schools singled out for improvements and children there were urged to get active during recesses.
The schools were also advised to initiate breaks for fruit and vegetables as well as for physical exercise.
The youngsters were also allowed to try out a computer program in which they typed in information about themselves and received concrete advice in return. If they wrote that they liked eating fruit and vegetables they were offered advice such as to bring a carrot with them to school, or to have a fruit salad for dessert at home.
"We hoped to influence the kids and their parents through the school," says Bjelland.
"The goal was to promote healthy weight development, with a focus on nutrition and physical activity, not on weighing themselves and dieting," she insists.
Improvement among the girls
After eight months the youth answered the same questionnaires they had been given at the start of the project.
"Here we found clear differences between the boys and girls," says Bjelland.
The girls in the selected schools spent less time watching TV and electronic gaming after eight months than the girls in the control group, but the intervention had no effect among the boys.
"This is something that has been observed before; you can change the behaviour of girls but it's harder to get through to boys. This needs to be researched more," she says.
The study shows that parents' education levels had no impact on their children's disposition to change or not.
As regards sugary beverages, there wasn't much change.
"We see that intake was reduced a little among the girls of the selected schools but not very much," says Bjelland.
The important parent role
Bjelland has a daughter of her own aged 11 and hopes this project will get schools to plan breaks where the pupils can eat free fruit and vegetables, plus devote more time and resources to physical activities.
She also would like to see conscious guidelines in schools above and beyond official standards, for instance urging the use fruit and vegetables as an alternative to cakes in some of the traditional school celebrations.
Bjelland also hopes to increase consciousness about how important it is for parents to get involved in these efforts.
"I was surprised by how important parents were as role models for these youth. We want to stress this along with making it clear that accessibility at home to sugary drinks and fruit and vegetables has an impact on diets," she concludes.
Reference:
Mona Bjelland, Obesity prevention targeting Norwegian adolescents: Prevalence rates, determinants and intervention effects by gender, parental education and parent-child associations, doctoral thesis, Institute of Basic Medical Sciences, University of Oslo 2011.
Related content