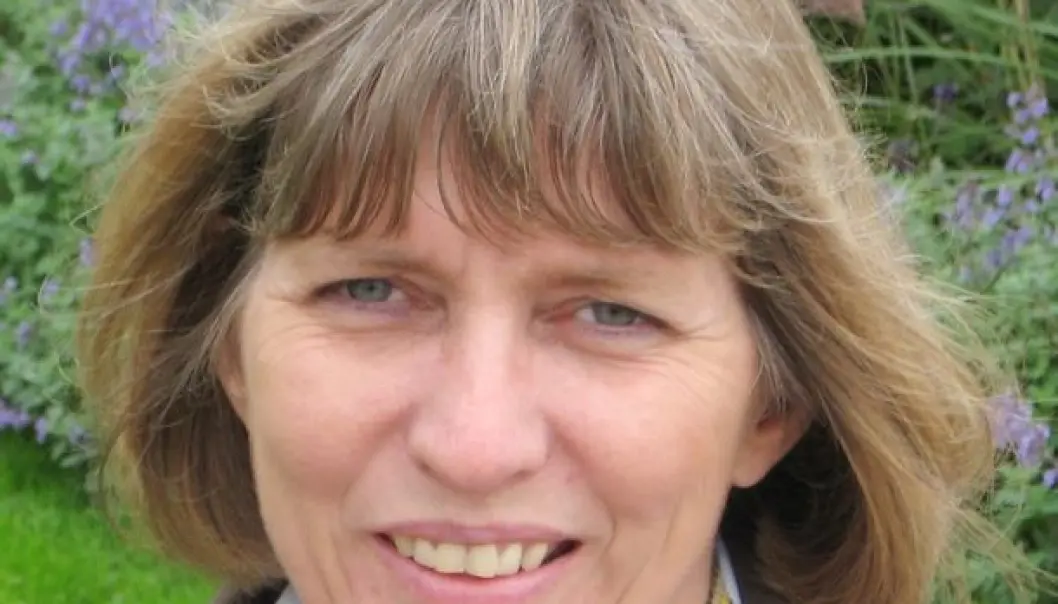 Smartphones in the battle against foot sores
Diabetics with foot sores can now be more efficiently monitored and checked from home. Nurses who visit patients at home can use smartphones to send pictures to specialists.
Researchers in Stavanger and Bergen are testing to see whether telemedical follow-ups from the homes of diabetic patients can provide equal or better treatment of foot sores than current approaches.
Mobile telephone technology could also help reduce the occurrence of these sores and improve the daily lives of diabetics.
"We have seen a rise in the need for outpatient treatment of foot sores in recent years," says Marjolein Iversen, an associate professor and researcher at Bergen University College (HiB). "Now we can offer some of these patients telemedical check-ups in their homes as an alternative."
First step to amputation
Foot sores may sound trivial, but for a diabetic, they can be the first step to amputation.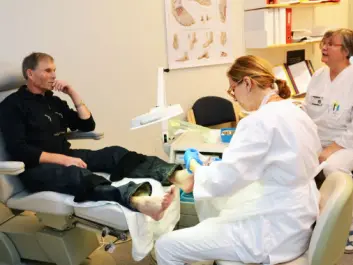 The problem is that "people with diabetes often have reduced foot sensitivity. Even though some foot sores can seem small and innocent, they can develop into major wounds," Iversen says.
"Normal functionality and work ability can be strongly limited," she adds.
An estimated 325,000 individuals in Norway, out of a population of 5 million, have either type 1 or 2 diabetes.
Among these, at least 10 percent risk contracting chronic foot sores. In 2011, 446 Norwegian diabetics had to undergo amputations as a result of foot sores.
Worldwide, the prevalence of diabetes among adults (aged 20-79 years) is estimated to be about 6.4%, or 285 million people. This number is expected to climb to 7.7%, or 439 million adults, by 2030.
That means any treatment that can prevent serious complications of the disease can have huge economic and societal implications.
Treating more patients
Iversen is head of a research project called DiaFoto, recently started at Stavanger University Hospital (SUS).
The idea is to improve the medical care of sores, speed up healing, reduce visits at outpatient clinics and cut down on costly time and patient transport.
"The consequences of following up patients this way could be that we are able to treat even more patients," says Iversen.
Foot team studies pictures
It works like this: Nurses in the municipal health care system send pictures of foot sores from their phones to medical specialists, a foot team at SUS, to get diagnoses and treatment advice.
Modern smartphones can send high-resolution photos and the project leader says the procedure has made a good impression since they started in October 2012.
"We don't want to pre-anticipate conclusions, but so far we can say that individual patients have been positive about the new check-up routine. I hope that similar methods can be used elsewhere in Norway, too," says Iversen.
In this three- to four-year project, treatment will be given whenever possible in the homes of patients rather than at day clinics, which are where patients with foot sores are normally sent after a referral from their MD.
Iversen points out that timely referrals are a key element of the programme, as well as frequent telemedical check-ups.
Twice a week
One of the patients who has already given a thumbs-up to the project is Ammund Vestbøstad.
He comments on the SUS web page that he used to have to travel to the hospital once a week to have his feet checked.
"It was okay in the summer but it's a hassle in the winter. It took a lot of time and involved long waits," Vestbøstad said.
Thanks to the new telemedicine project he only needs to visit the hospital once every six weeks. He still gets care, but now, a nurse can come to him at home twice a week.
Improved expertise
Project Coordinator and Section Nurse Marie Fjelde Hausken at SUS thinks the new system will hone the municipal health services' expertise in treating diabetes patients.
"They can also work more efficiently. The expertise of our multidisciplinary team of foot experts is being used in a much better way, and municipal health personnel have better access to us," Hausken said on the hospital's web pages.
The test participants for the study are being drawn from the Stavanger region.
Translated by: Glenn Ostling
External links
Related content