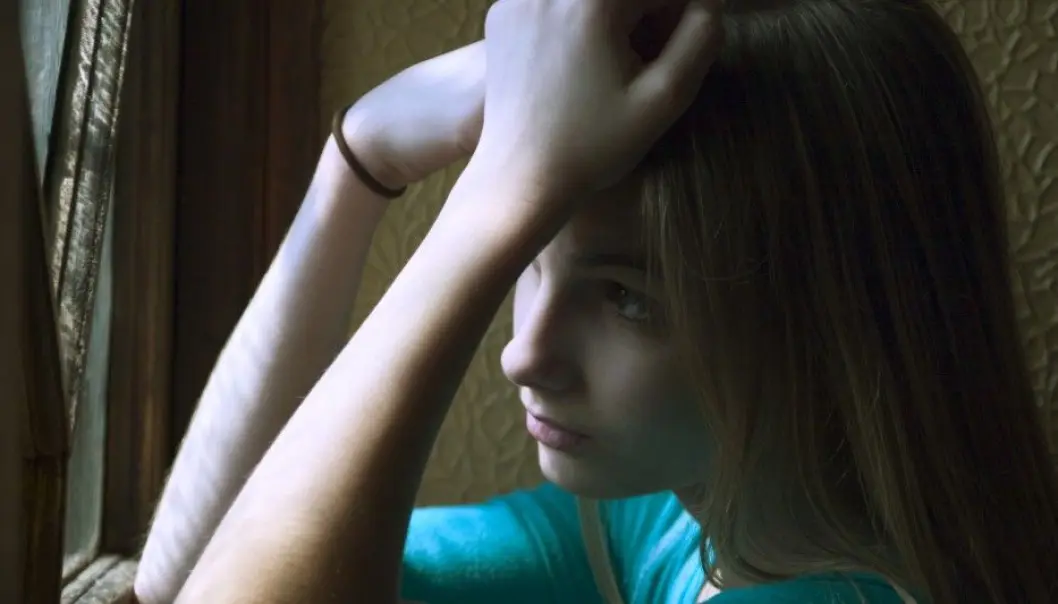 Depression meds almost doubled in last decade for teenage girls
Far more teenagers are now using medications for mental health disorders than ten years ago, a Norwegian study shows. ADHD medication is more prevalent among boys.
Researcher Ingeborg Hartz from the Norwegian Institute of Public Health and Hedmark University College says the overall use of psychotropic drugs — any drug capable of affecting the mind, emotions, or behaviour — has been increasing among children and adolescents.
In her recent study, she examined the prescription registry for how much mental health-related medication was prescribed to children under 18 between 2004 and 2014.
Hartz found that especially the use of sleeping pills increased among both boys and girls, and antidepressant use among 17-year-old girls has exploded. The results also show that the use of ADHD medications among boys has been stable since 2010.
Sleep deprivation, anxiety, depression and ADHD were the most common ailments in 2014, with 20,350 boys and 13,700 girls under 18 receiving prescriptions for them in Norway.
Highest antidepressant use among 17-year-old girls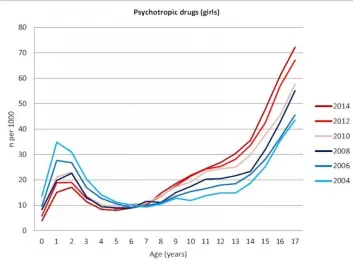 Fewer of the youngest children are using psychotropic drugs than before, but use has risen every year among children 7 years and older.
Among girls specifically, use since 2004 rose steadily for 9 year-olds and up, and accelerated starting with age 13. Girls are downing many more antidepressants and sleeping pills now than 10 years ago.
Prescriptions skyrocketed among 14 to 17 year-old girls, with 2014 antidepressant use by 17-year-old girls almost double the lowest level in 2006, according to Hartz.
The proportion of 17-year-old girls on medication for depression has increased to 2.8 per cent in 2014, up from 1.7 per cent in 2006. This compares with only one per cent of same-age boys who were prescribed antidepressants in 2013.
Suicide risk warnings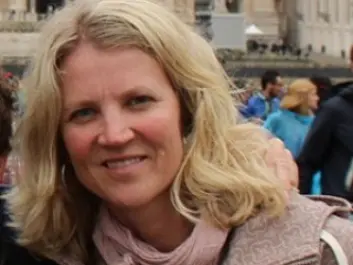 Use of antidepressants decreased from 2004 to 2006, before rising annually until today.
Hartz says that brief decrease might have triggered the warnings that went out in 2004-2005 about increased suicide risk among young people using these drugs.
"But untreated severe depression can also increase suicide risk," she says. In 2009, the first antidepressant for use by young people was approved in Norway. Treatment guidelines recommend careful use among youth eight years and older with moderate to severe depression, and always together with other forms of treatment.
Increasing treatment or increasing depression?
It's easy to think that the incidence of depression has increased among young people in the last decade. But this isn't necessarily so, says the researcher.
As she explains, "it's important to see this in light of how many people actually have a serious depression requiring treatment. A Norwegian study from 1998 showed that 2.6 per cent of all 13 to 18 year-olds had severe depression."
Hartz is now following up with a study in which researchers are connecting data on antidepressant use from the prescription registry with diagnostic data from the patient registry.
"Then we'll be able to say more about whether the rise in medication use may be due to treating individuals who have such serious depression that they utilize specialist health services," she said.
Gender differences
The use of sleeping pills among 13-18 year old girls has also risen sharply . As with antidepressants, steeply increasing usage begins around age 13. The percentage of 17-year-old girls on sleep medication has tripled, going from less than one per cent in 2004 to a high of 2.7 per cent now.
Boys, on the other hand, show a different developmental pattern than girls, both as relates to age groups and types of medication use over the last decade. The oldest boys use far fewer antidepressants and sleeping pills than girls. Less than half as many boys are on medication for depression as girls.
Boys are primarily prescribed stimulants for treating ADHD and similar disorders, with two to three times as many boys as girls among older youth prescribed an ADHD drug in 2014. ADHD drug use spikes around age 13, affecting nearly 4.5 per cent of boys in 2014. This figure dropped to 3 per cent for 17 year olds. By contrast, only 1.5 percent of same-age girls used ADHD medications.
Medication for ADHD has not shown the same increase in recent years, and use has remained relatively stable from 2010 onward. Before 2010, "usage was rising steadily compared to the year before," says Hartz.
Medication use among 13 to 17 year old boys was also more evenly distributed than among the same-age girls.
-------------------------------------

Read the Norwegian version of this article at forskning.no
Scientific links
Related content