Share your science: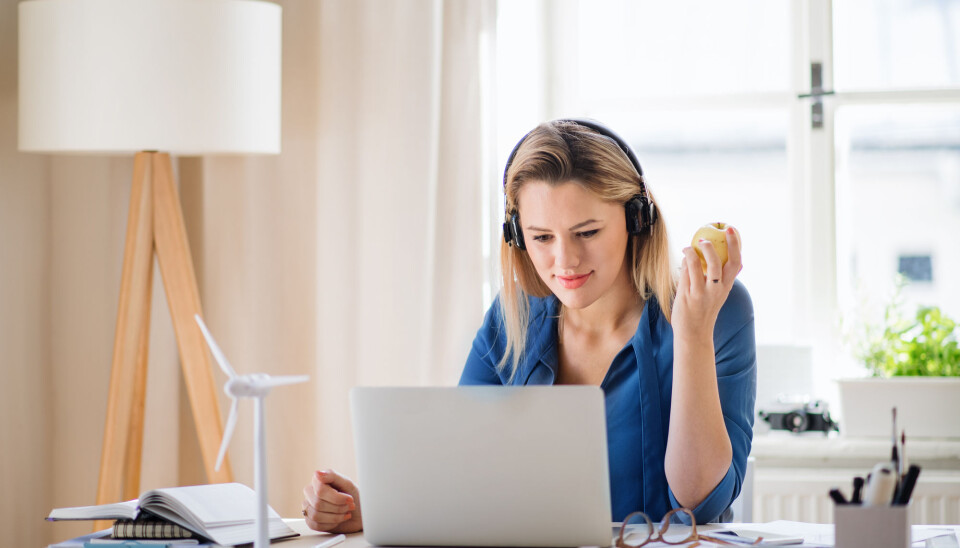 5 tips for how to keep your team connected while working from home during the coronavirus pandemic
SHARE YOUR SCIENCE: The idea of home office usually sounds tempting for most of us, but the corona virus puts working from home to an extreme test. Establishing a good communication norm and re-clarifying roles are keys to success.
Although the pandemic situation is out of the ordinary, research findings from remote work in more "normal times" can still be useful.
In a diary study we conducted, we found that daily communication with distributed colleagues helped enhance the feeling of being connected and reduce feelings of helplessness among employees about their work. This was particularly important for those who worked remotely from home. Not surprisingly, good communication lead to a better overview of the individual tasks as well as higher coordination among the members in the spread out teams.
What can go wrong?
In our research, we asked remote workers to write a work diary for two weeks. By getting insight into their daily routines, it became clear that they communicated substantially less when they were working from home.
Those who intended to stay focused by working from home ended up feeling helpless about their work. Without the office space as a stimulus, individuals working away from the company offices without being conscious about their digital presence often feel disconnected and isolated. Apathy can easily kick-in. Subsequently, they may feel less sure about their roles and what to do to coordinate with other team members. And so a sense of ambiguity sets in, leaving them feeling at a loss of drive and connectedness.
What does this mean in the time of the coronavirus?
While in a crisis, such as the corona outbreak, people can also struggle with the fear of getting sick, having to deal with the practicalities of a lock-down and worrying about the long-term consequences. Work may actually offer a sense of normality.
Moreover, this can also be an opportunity for organizations to revisit old assumptions and to take advantages of the flexibility that a digital team may give.
Nevertheless, there are immediate challenges for those who are less familiar with remote working.
Overall, across numerous studies we conducted, we observed that establishing a good communication norm is essential to being an effective digital team.
Yet, the communication practices of your team should be tailored to how your team works together. There is no 'one-size-fits-all' answer.
Establish a 'digital water cooler' for your team
Status quo is constantly changing during a pandemic, therefore teams are in need of continuous updates. We recommend creating the best home office environment by ensuring daily communication opportunities among team members and between teams and managers, via skype calls, messaging, company social media platforms or other digital communication tools.
Companies can even set up coffee social half-hours with teams 'digitally' via for instance skype. Others have snapchat groups to build team communities. Platforms like Slack can help with project management clarity, follow-up messaging and knowledge sharing for low ambiguity.
Such communication measures protect against feelings of isolation and loneliness and so team production can be optimal. That is, we need to create the 'digital water cooler' – a social interaction point for team members to hangout to compensate the lack of social interaction online.
5 tips for better communication when working remotely or in distributed teams
#1: Establish a good routine on how to share information on digital platforms so people don't get drowned in too much information - topic #strands work well
#2: Set up regular interaction points for every day, such as skype morning coffee meetings to connect with another team member for knowledge sharing, feedback or to show engagement
#3: Agree on what it means to be a good colleague digitally - clarity combined with mutual respect - agree to 'speak up' if colleagues aren't collegial in their communication
#4: Celebrate group achievements and company news by sharing a snap or message to everyone
#5: Encourage transparency and inclusion – it is easy to forget to include team members in the chats: encourage de-briefings and discussions even digitally
Reference:
Wong, S., Giessner, S., Berntzen, M. & Warner-Søderholm (2019). When feeling isolated working in distributed teams: its antecedents and consequences. Academy of Management Conference Paper https://doi.org/10.5465/AMBPP.2019.10201abstract
Share your science or have an opinion in the Researchers' zone
The ScienceNorway Researchers' zone consists of opinions, blogs and popular science pieces written by researchers and scientists from or based in Norway.
Want to contribute? Send us an email!