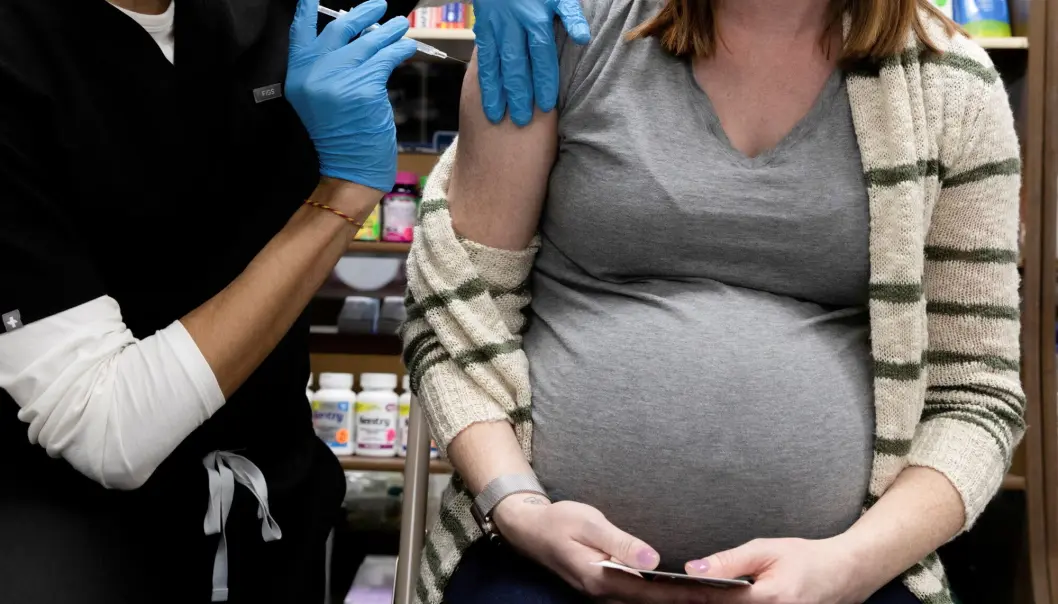 Pregnant women hesitated to get vaccinated, that may have led to them falling seriously ill with Covid
A lack of demands to include pregnant women in the early stages of drug development may have contributed to unclear advice and vaccine hesitancy.
Pregnant women who ended up in the ICUs when Delta was the most prevalent variant, were mostly unvaccinated. This is according to monitoring in several European countries, the Norwegian Institute of Public Health (NIPH) write in a press release.
In a recently published article in the Lancet, a group of researchers call for change when it comes to the inclusion of women in the development and clinical trials of new vaccines and medical drugs.
Basic research on vaccines and medical drugs during pregnancy is not prioritized, according to the group of researchers. They also write that pregnant women were excluded from important clinical studies on Covid vaccines and other medications during the early stages of development.
"This has happened despite clear recommendations before the pandemic on the importance of including pregnant women in such research," the NIPH write in their press release.
Must be included in early-stage research
"There seems to be little attention among regulating authorities and pharmaceutical companies when it comes to prioritizing research on use among pregnant women in the early development stages," says Hilde Engjom. Engjom is a researcher at the NIPH section for Health Registry Research and Development, and first author of the Lancet-article.
She is also senior researcher in the coordinating team for the International Obstetric Survey Systems (INOSS), which monitors pregnant women who are hospitalized due to Covid-19.
"A change in attitude and guidelines for pharmaceutical development and clinical studies can probably contribute to quicker results and thus clearer guidance – which again would lead to a higher vaccination rate and protection for pregnant women," says Engjom.
Pregnant women should get vaccinated
The study found that pregnant women and women who were trying to get pregnant were often given conflicting advice in the early stages of the pandemic. Many hesitated to get vaccinated, and some still do.
"There is still considerable vaccine hesitancy among pregnant women in many countries," Engjom says.
The researchers behind the study thus believe it is important to get the message out there that the vaccine protects the pregnant woman and the fetus against serious illness from Covid-19.
Health personnel need to know this, they write, and health authorities should make vaccination of pregnant women a priority.
Around 80 per cent of pregnant women in Norway were vaccinated as of January 2022. This is a higher number than several of the other countries in the study – but still lower than the share of women in the same age group in general.
The Norwegian vaccination programme recommends that pregnant women get vaccinated in the second or third trimester, or during the first trimester if they have known underlying risk factors.
Antibodies via the placenta to the baby
Vaccine hesitancy during pregnancy is not a new phenomenon, the NIPH writers in their press release.
"Pregnant women want to do what's best for them and the baby in their belly, and it is understandable that it is difficult to navigate all the information they receive. Conflicting messages and false information on social media, mainly related to the safety of vaccines, can make it difficult for pregnant women to know what to do. This leads some of them to not get vaccinated," says senior physician Margrethe Greve-Isdahl from the section for Vaccine Preventable Diseases at the NIPH.
She stresses that all available data that the NIPH have access to, show that the vaccine protects efficiently against serious Covid-19 disease among pregnant women, and that knowledge on vaccine safety based on the observations of more than 250 000 women is very reassuring.
"It has also been documented that vaccination of pregnant women enables the transfer of antibodies to the fetus via the placenta. This gives the newborn baby protection against Covid-19 for the the first few months of life," she says.
Asking about menstruation as a routine?
Women have been underrepresented in clinical trials for a long time. Despite changes and focus on the issue, work still remains to be done.
That menstrual irregularities could be a side effect from the vaccines seemingly took the world and the vaccine developers by surprise. A large population study done by the Norwegian Institute of Public Health recently found that there has been an increase in menstrual irregularities for young women after receiving their Covid vaccine.
"We don't know what mechanisms is behind this, but we do know that many things can affect menstruation, such as stress, weight loss and exercise. So that a powerful immune response can have an effect on menstruation is not unthinkable," said Sigurd Hortemo from the Norwegian Medicines Agency to the online newspaper Nettavisen.
He says to the newspaper that participants in the Covid vaccine trials were not asked specifically about changes in their period.
"I think this has been a wake-up call and I would think that in future clinical trials for vaccines menstrual irregularities will be on the list of things to routinely check for," he said.
There is nothing to suggest that the menstrual changes affect fertility, and all evidence point to the changes being transient.