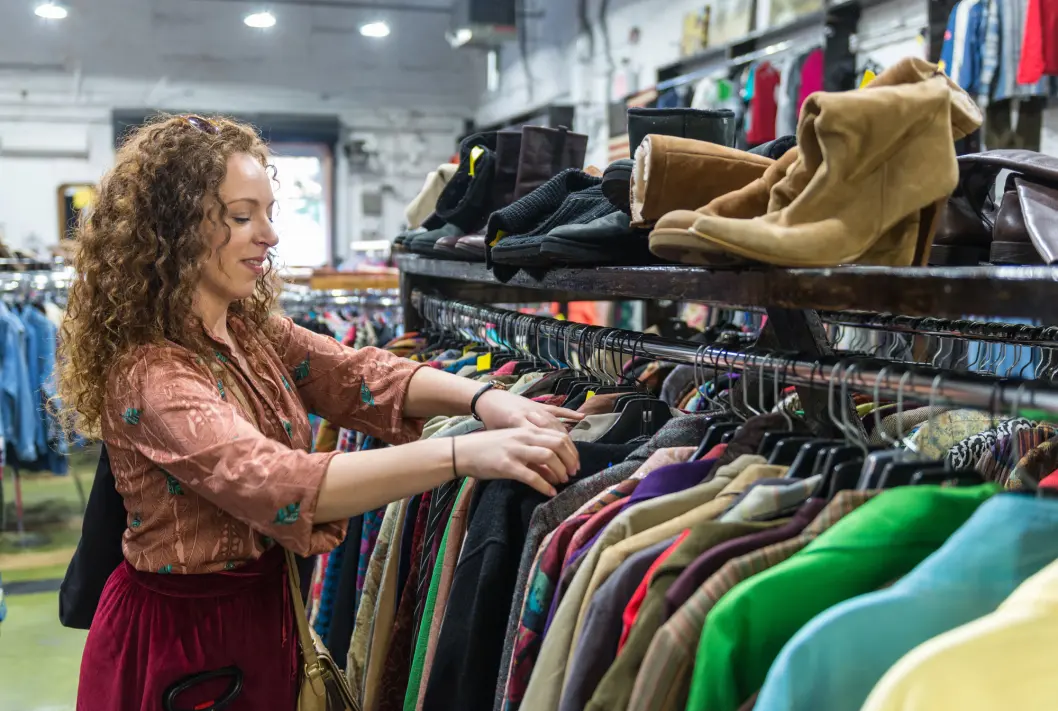 What's the best way to recycle clothes?
Wash your clothes less. Take care of your grandmother's coats. Don't feel too smug when giving away clothes. There are lots of recycling tips. So should you buy a used Christmas outfit or not?
Do you find all the advice on eco-friendly clothing consumption confusing?
Ingun Grimstad Klepp is one of the three clothing researchers who wrote an opinion piece called "The recycling bluff" for the Norwegian Broadcasting Corporation's (NRK) web pages earlier this year.
What did the researchers actually mean? Is reusing clothing good, or is it just a way to assuage our guilt so we can run straight to cheap clothing sales after giving a dress away to The Salvation Army?
"For me and you, recycling is a good way to buy clothes with little environmental impact. That's an absolutely positive thing," says Klepp.
UN report on the clothing industry
The clothing industry uses as much water every year as five million people need to survive.
Clothing production has doubled between 2000 and 2014.
The clothing industry accounts for 20 per cent of the world's wastewater.
Production of clothing and shoes accounts for 8 per cent of the world's greenhouse gas emissions .
Every second, as much as a truckload of textiles is burned or dumped in rubbish tips.
Klepp has been studying clothing habits, textiles and recycling for many years. And she has said on several occasions that she believes the world's mass production of cheap clothing must decrease.
"As long as clothes are cheap, many people will only reuse clothing in addition to buying new clothes. That's how reused clothing is used politically and commercially, which is what we criticized in our opinion piece — not reuse as a phenomenon," she said.
Are we really that bad?
So reusing clothes is good. But not if the clothing companies' return-for-reuse schemes entice us to buy more new clothes, says Klepp.
In their Reuse Bluff opinion piece, the researchers wrote:
"Reusing clothing is used as a concept to get clothes out of drawers and cupboards, so you can make room for new clothes with a clear conscience. It means you can buy even more new clothes and still feel good.
It is used to raise awareness of sales, as well as about new clothes, and for making companies seem like they are green."
But what do scientists really know about reusing and recycling in Norway?
They know, for example, that most people donate clothes for reuse, but people who donate don't necessarily reuse clothing themselves.
Do you buy both used and new?
There's more information on Norwegian reusers.
In a survey, researchers found that families with different financial means behaved differently when it came to reusing sports equipment. This was the trend: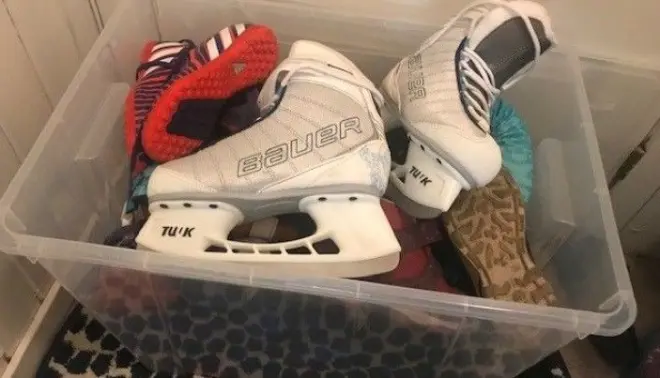 Those who had the least money bought used equipment, because that was the only way they could afford equipment at all.
"These individuals didn't choose used equipment as an alternative. They didn't have money for new equipment. Either they bought used or were given hand-me-downs, or they didn't get equipment at all," Klepp says.
But the wealthiest households often bought used equipment in addition to new.
"These purchases only replaced new purchases to a very limited extent. The used equipment often ended up at a holiday home or became a second set, for example, that would be used when set number one was wet," Klepp says.
Reuse is not always the best
Klepp would rather not tell people what to do.
"Recycling is just a good thing, and the better we do it, the better for us all. But there are many roads to Rome," she says.
"I think there are a lot of people out there who don't buy used clothes, but who still have a respectable clothing consumption. They only buy a few garments which they then have for a long time."
And the recycling advice that works for one person may not be suitable for another, she says.
"It's stupid to say that everyone has to wash their clothes less, because there are many people who do not wash their clothes often enough! All this advice depends on who you talk to. It's the same as saying that everyone should eat more carrots. But that's not good advice for someone who already eats carrots," she says.
Which clothes are best for reuse?
Klepp and her colleagues have also encouraged people to take care of clothes they already own. If you buy new, you should buy high-quality clothes you will enjoy for a long time.
If a pair of pants is worn 300 times, it will not affect the environment less if three people wear the pants 100 times each than if the first owner wears the pants out, Klepp, Haugrønning and Laitala write in their NRK opinion piece.
But not all garments can be worn forever by the same person. And those are precisely the garments that are smart to buy used, Klepp says.
"Children's clothes and clothes for special occasions, such as wedding dresses, high school celebrations and unusual occasions - these are clothes that are good to be given, or to buy used."
Is hand-me-down clothing eco-friendly?
The most common form of reuse in Norway is as hand-me-down clothing, especially for the youngest siblings, according to a study by the clothing researchers.
But the amount of clothing in Norway that is passed down to siblings is a real unknown for the researchers.
What amount of clothes are kept in bags and boxes in storage rooms and basements? Why aren't the clothes in closets? And how much clothing are we talking about?
"More clothes are probably being handed down now than ever before. And that's also because the amount of clothing in circulation has grown," Klepp says.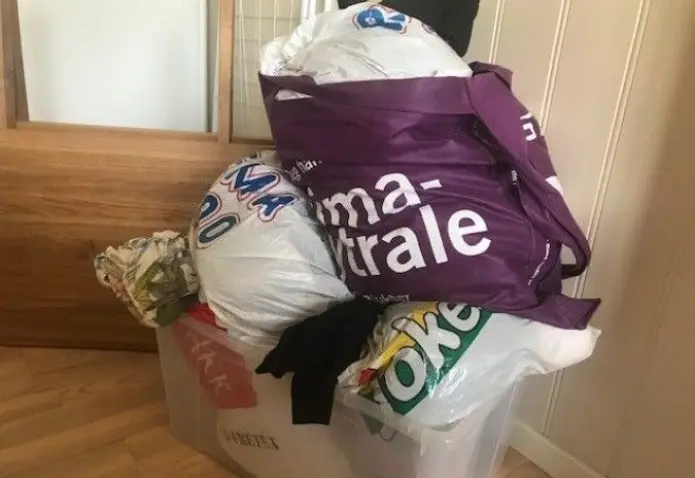 If you have more children, you might buy good quality because you want the clothes to last through all siblings, Klepp said.
But there are probably also lots of cheap clothes and clothes that are not used in those hand-me-down bags, she believes.
Do you have a bag of cotton onesies in your storage room?
Klepp describes several hand-me-down scenarios. And if you have children, you may recognize yourself.
"If you have one child and you get a bag of clothes from a friend and there are lots of cotton onesies in there, but you really like wool, you might buy some woollen onesies as well," she said. "And then the cotton onesies pile up."
And even if they are of poor quality, they don't wear out. Maybe a slightly tight neck prevented them from becoming someone's favourite.
"This unused clothing will begin to accumulate," she said.
It is however unknown how many bags of kids' clothing lurk in Norway's dark storage rooms and cellars.
"We would really like to somhow be able to study this," says Klepp.
Buying used versus donating
You can give away a jacket you don't use to someone you know, or sell or give it away online or donate to one of the charities that recycles clothing.
Maybe your tight jacket might be someone else's new favourite.
But we have to understand that recycling is not just one thing, Klepp says.
That buying used and giving clothing away are two different actions.
And the two actions are part of their own economic system, and they affect the environment differently.
"These are two completely different processes," Klepp says.
Much is sent out of the country
Most clothing donated to collection agencies in Norway is exported to other countries.
The finest clothes are sold in Norway, but the rest are sold elsewhere, such as in Africa.
"After all, clothes are not given away for free. When we give clothes to charities, they enter a market," says Morten Jerven, a professor of development studies at the Norwegian University of Life Sciences, to the national newspaper Aftenposten in 2018.
In recent years, a number of countries have wanted to stop importing used clothing from the West. The argument is that these countries want their own clothing industry.
"We have closely scrutinized the players we sell our clothes to and know that some of our clothes are sold to African countries. For us, it is important that we know where the clothes go," said Per Moberg in 2015 to the newspaper Vårt Land. At the time, Moberg was general manager of Fretex International, which is the Norwegian branch of the Salvation Army.
He also emphasizes that the money Fretex earns goes to social projects.
But there have been more players in Norway in recent years, Klepp says. And not all are on the approved list from the Norwegian Control Committee for Fundraising.
"Our used clothing becomes part of a global market for used clothing, a market that is collapsing due to the huge quantities. Even in the countries they end up in, there is much more clothing than people need," says Klepp.
So what should we do?
This is really a clear-cut first-world problem: What should we do with all the cotton onesies in the attic?
"It's a problem that we struggle with today," Klepp said. "There are huge amounts of clothes in drawers and cabinets, and we don't have any policies that ensure a decent life cycle for this clothing," says Klepp.
Even though Norwegians buy more and more used clothing, they still purchase much less used clothing than they give away.
Fewer than 40 per cent of people who were surveyed by researchers in 2017 had either been given hand-me-downs or bought used clothing in the past two years.
And a report issued in April by the Consumer Council of Norway showed that 24 per cent of Norwegians had bought used clothing in the past year.
Many roads to Rome
Many people still wrinkle their noses at the thought of buying used clothes. And young people are most sceptical, Klepp said last year in an article from Oslo Metropolitan University.
But Klepp and her colleagues are seeing a change. Can several small changes in consumer choices push the clothing market in a more environmentally friendly direction?
"Yes, perhaps especially the new repair services that some stores offer," Klepp said. "If companies take back their own clothes and repair them, they might see how they can improve their goods. Reuse can have these beneficial side effects."
Klepp also believes that the reuse market helps show consumers the variety in clothing quality.
"The recycling market offers a wide variety of home-made clothing, clothing, designers, other materials and other solutions. It gives consumers a chance to see a wider range of production methods," says Klepp.
"And the most important thing in my eyes is that it reveals the biggest lie of advertising and fast fashion — that clothes must be new to be nice. But they don't have to. The most important thing is that our clothes make us feel nice and happy," she said.
References:
K. Laitala & I. Klepp: «Clothing Reuse: The Potential in Informal Exchange», SVA - Consumption Research Norway (SIFO), 2017
K. Laitala & I. Klepp: «Shared use and owning of clothes: borrow, steal or inherit». Contemporary Collaborative Consumption, 2018. Summary.
K. Laitala & I. Klepp: «Motivations for and against second-hand clothing acquisition». Clothing Cultures, 2018. doi: 10.1386 / cc.5.2.247_1. Summary
C. Aall et.al.: «Leisure and sustainable development in Norway: part of the solution and the problem». Leisure Studies, 2011. Abstract.
K. Laitala & I. Klepp: «Klesforbruk I Norge» (Clothing consumption in Norway). SIFO Report, 2016.
———