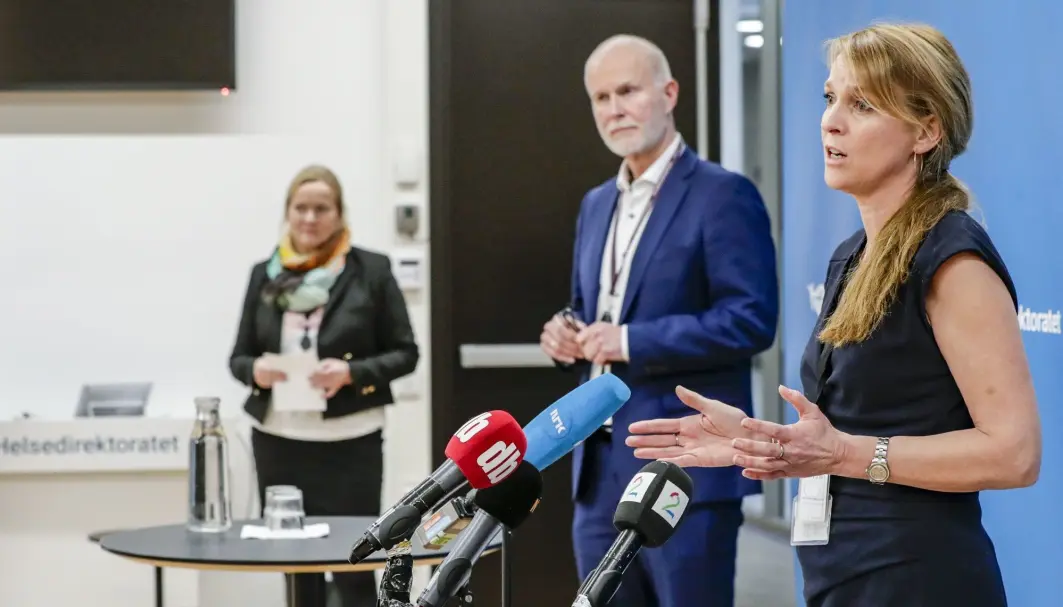 Emotions shape how we perceive health information
Many people have trouble understanding health information. It's not just differences in people's knowledge of health issues that are the cause of the problem, says Professor Pål Gulbrandsen, who studies communication between doctors and patients.
Many Norwegians say they have had problems understanding health-related information, according to a new survey reported on by NRK, the Norwegian Broadcasting Corporation.
"When the authorities provide information about the pandemic, there are definitely many people who don't understand what they are saying," Kjell Sverre Pettersen, a professor of health communication at Oslo Metropolitan University, said in an article on nrk.no (link in Norwegian).
Pettersen was in charge of the survey, in which there were 6,000 participants.
One of the reasons that many people struggle to understand health-related information may be due to the difficult language that experts use, Pettersen said.
Pål Gulbrandsen is a professor at the Division of Health Services Research and Psychiatry at the University of Oslo. He is also a medical doctor, and he studies how doctors communicate with patients and how patients absorb what is said.
"One thing we strongly underestimate is how our emotions affect how we absorb information," he said to sciencenorway.no.
Different from person to person
"For example, we've seen differences in how panic and anxiety have spread in the population during the pandemic," Gulbrandsen said.
He has also seen different reactions and attitudes toward health-related measures among his highly educated medical colleagues. So the differences in how people react and what they understand might not only be due to a person's ability to understand the technical aspects of health information, he says.
Our life and our situation affect how we interpret the information we hear, he said.
"We doctors see a lot of illness, and we're affected by it. But we're not always able to understand why one conversation can be so hard on Mrs Eriksen, when it doesn't weigh so heavily on Mr Hansen, and the consequences this has for Mrs Eriksen," he said.
Regardless of whether a professional provides information to one person or to lots people, it's important to remember that the message is being delivered to people and all of their personal baggage, he said.
"You have to understand that when you talk to people, you talk to a person with their whole life, and with a lot of ramifications: people, experiences and places they are connected to," he said.
"This is reflected in what the individual understands from the information that is being provided, and how they experience it," he said.
Some people block out the information
"If the information is frightening, some people may react by blocking it out," says Gulbrandsen.
In a doctor-patient situation, the patient often remembers less than half of the information the doctor gives them, on average, he says.
"Other people may react by looking for more information, when they get frightening news. Others don't allow themselves to be that influenced at all," he said.
"But it's almost impossible to take all these reactions into account when you're talking to a lot of people," he said.
Different levels of understanding
Health information can be undeniably difficult to understand.
Letters with examination information and test results can be so full of technical terms that they are incomprehensible to most people, despite the fact that the law in Norway guarantees patient rights and responsibilities, and that a patient's participation in his or her care presupposes that they understand what they are involved in.
Even when doctors or other health experts talk directly to a single person, the message may go straight over the recipient's head, if the professional uses technical terms and expressions, Gulbrandsen said.
"We learn a lot throughout our lives without thinking about it. If you haven't had much experience with scientific words and concepts, many of the words that are used in health-related information will be foreign," says Gulbrandsen.
And if we hear something we don't understand, we humans react differently, for many different reasons.
"If people start to hear unfamiliar words, many may shut down, and close themselves off from the information," he said.
Personal info vs. mass communication
He says it's important for doctors to speak in a way that engages people and shows that they care, and that the information isn't delivered all at once.
"The patient needs to be able to digest one idea at a time. It's equally important that you don't use any difficult words. And if you take your time, the patient gets the opportunity to say no or to indicate that the information was difficult to understand," he said.
But the opportunity for dialogue disappears when the health authorities are talking about the coronavirus at press conferences, he said.
Journalists are there to ask questions, of course, but they don't necessarily ask the same questions that people at home in their living rooms would have asked, Gulbrandsen said.
"Journalists often ask questions about uncertainties, or critical questions," he said.
"But many people could probably benefit from an explanation of what the expert or politician really meant," he said.
Difficult when advice changes often
Doctors and the authorities who provide health information to ordinary people have to think and communicate in simple ways, Gulbrandsen said.
But the task can be complicated because the pandemic is constantly changing, and there's a constant flow of new advice and information.
Gulbrandsen believes this can cause many people to turn off, which means they will have a problem following rules and advice.
"All change will cause problems. Whenever possible, you should make as few changes as possible to rules and advice," he said to sciencenorway.no.
Translated by: Nancy Bazilchuk.
Read the Norwegian version of this article on forskning.no.