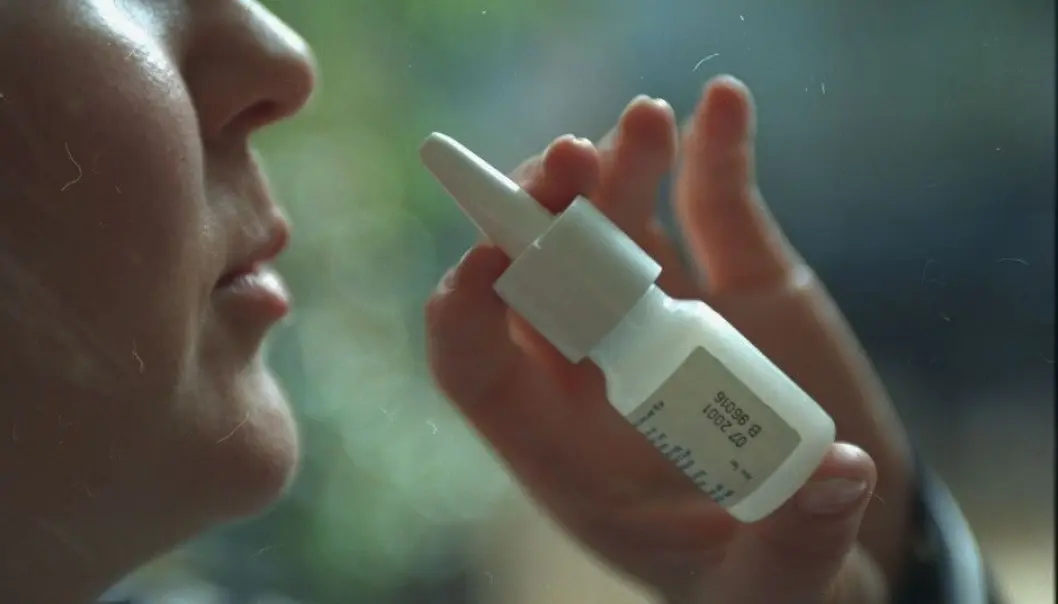 How to get rid of nasal spray dependency
And if you do manage to kick the habit, you should never use the products again, warns researcher.
If you've never been dependent on a nasal spray like Otrivin, Zymelin or Rhinox, you probably have no idea what it means to have a stuffy nose. Like really stuffy. So you sound like Goofy wearing a diving mask.
Until you shower your nostrils with a nasal spray elixir, that is. A temporary solution that has caused your mucous membrane to swell because you've been using the nasal spray for too long.
Sverre Karmhus Steinsvåg heads the Ear-Nose-Throat department at the Hospital of southern Norway and is an adjunct professor at the University of Bergen. In his role as a doctor he sees nasal spray dependency close up.
He has researched how the preservatives in nasal spray act on mucous membranes, and witnesses how people who are addicted get desperate if they can't spray themselves.
Patients "say that they can't breathe, can't concentrate at work and can't sleep," Steinsvåg says.
Without the nasal spray they "feel like a fish out of water," he says. "They've usually been using this kind of nasal spray for months or years."
Long-term inflammation
Steinsvåg estimates that several hundred thousand people in Norway today rely on nasal sprays. There are no exact figures on this because the products are sold over the counter all over- from pharmacies to grocery stores and gas stations.
However, according to the Norwegian Institute of Public Health, on average half of the Norwegian population purchased one bottle of nasal spray with the active substances xylometazoline or oxymetazoline in the first half of 2015. And total sales of nasal sprays, measured in doses, have increased by around 40 per cent since 2004.
The active substances xylometazoline and oxymetazoline cause blood vessels in the nasal mucosa to contract, which allows freer breathing.
Problems occur if you are tempted to spray a little more or a little longer, in spite of the instructions, which say ten days max. Then the active ingredients cause an infection that inflames the mucous membrane - even more than it was initially.
"Then the patient becomes blocked instead of opened up. The preservative benzalkoniomchloride increases the negative effect because it destroys the cilia in the nasal mucosa," says Steinsvåg.
Snowball effect
The result is that patients need the nasal spray to be able to breathe through their nose. And over time, as they reach for it in their pocket, their purse, the bathroom and on their nightstand - many people find that they need the dose more and more often.
Sometimes as often as every two hours.
"A tolerance situation arises. These nose sprays have a very good decongestant effect. If a person who hasn't been abusing the spray uses it when he has a blocked nose, the effect can last for seven to eight hours," according to Peter Graf.
Graf is a doctor and nose specialist who researched nasal sprays and addiction for 15 years until 2005. He is now executive director of the Swedish health trust TioHundra AB. Previously, he worked at several hospitals, including Karolinska University Hospital.
He no longer works with patients, but remembers well that he had a large influx of nasal spray addicts after the sprays with xylometazoline and oxymetazoline became over-the-counter drugs in Sweden in the late 1980s.
Graf said he was one of only a few doctors who worked on this, and people from all over Sweden came to him with nasal spray addiction issues.
--------------------------------------
Read the Norwegian version of this article at forskning.no
Scientific links
Related content