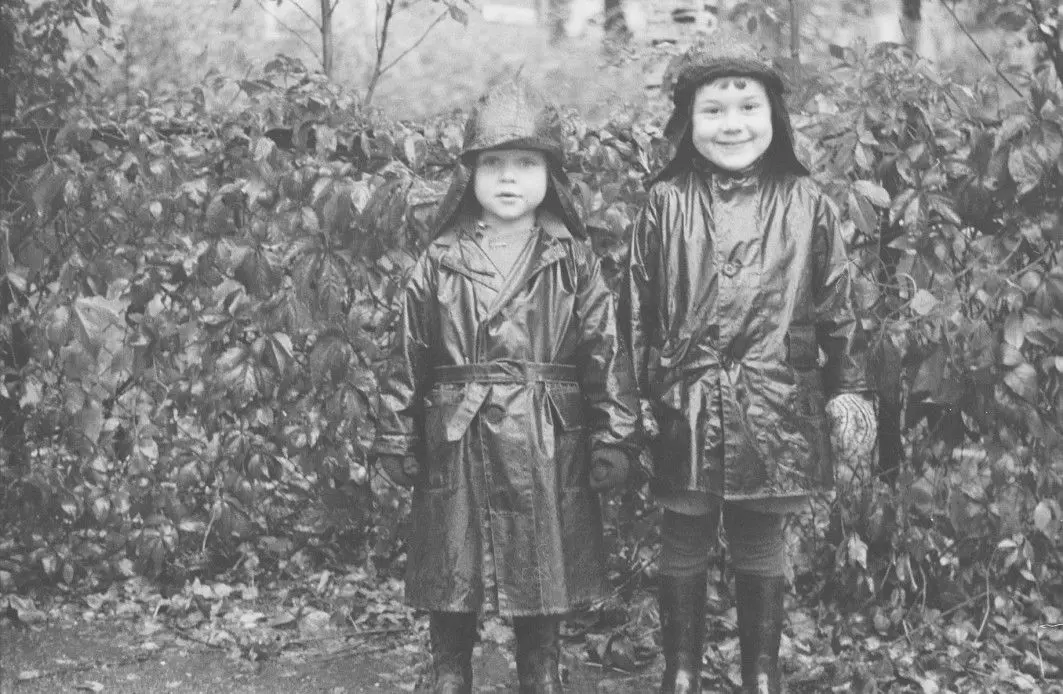 Kindergartens in the olden days
A lot has changed since childcare centres in the 19th century. But the reason children went to them was the same as today: parents needed to go to work.
The children in the picture above are on their way to kindergarten in 1938. They were among the very few who attended, since most children didn't go to kindergarten then.
Nevertheless, there were three types of children's institutions: childcare centres for poor children (Norw. barneasyl), crèches (Norw. barnekrybber) and kindergartens.
What kind of institutions were they? And who were the children who went there?
When were the first kindergartens in Norway established?
"To find answers, we have to go all the way back to the beginning of the 19th century," says Monika Röthle, a former associate professor at the University of Stavanger.
The predecessor to today's kindergartens started a full 200 years ago.
Norway's first childcare centres, called barneasyl, were established in Trondheim in 1837.
Who were the children who attended?
Before coming to Norway, factory workers and philanthropists in England and the United States had started childcare centres. The aim was to combat poverty and provide care for women who were forced to work.
Childcare was for children between two and seven years old.
"This was clearly a vulnerable group with at-risk children," says Röthle.
"At the time Norway had a strongly class-divided society, and it was primarily the children of working-class families in the cities who attended the childcare centres.
Children who lived in the country usually had extended family nearby who could look after the children, according to Röthle.
"A young peasant woman didn't look after her own children either. A strong young woman was needed for other work. The big siblings and older women looked after the children when their mothers were in the fields or doing barn chores," she says.
"In working class homes, the women had to earn a living themselves."
Getting kids off the streets
The alternatives to the childcare centres were either for the children to come to work, which could be very dangerous, or for them to be locked up alone at home.
A third alternative was that the children would simply loiter in the streets.
"The associations behind the childcare centres held a fairly moral attitude. The goal was to keep the children away from the streets and the negative social influences there," says Röthle.
According to Röthle, going to a childcare centre was regarded as a shameful thing.
Röthle has interviewed people who attended childcare centres at the beginning of the 20th century in Stavanger.
"They clearly said that they felt ashamed. It was difficult for them to admit that they went there at that time," she says.
Up to 200 children in some centres
The childcare centres had long opening hours. They were usually open from eight in the morning until six in the evening.
"The times had to fit with the working hours of the mothers, which generally was all day," says Röthle.
The number of children in each centre varied greatly.
At the beginning of the childcare centre period in the 1830s, there could be anywhere from 150 to 190 youngsters in a single location. Gradually the numbers declined, and 100 years later – in the 1930s – groups averaged 30 children each.
Small hands doing handwork
What did these children do for ten hours a day?
"What the researchers know is that their time was filled with a lot of practical work, often with textiles," says Röthle.
Among other skills, the children learned basic handwork techniques, such as knitting, weaving, sewing and making ribbons.
They also received instruction in how to work, and in arithmetic, reading and writing.
Hymns, prayers and Bible history were regular features of everyday childcare.
But play was also important, according to Korsvold.
"Eventually, play became the framework around the other activities and characterized how children and adults interacted," she says.
"I do think that the children played. But they rarely played with specially purchased toys."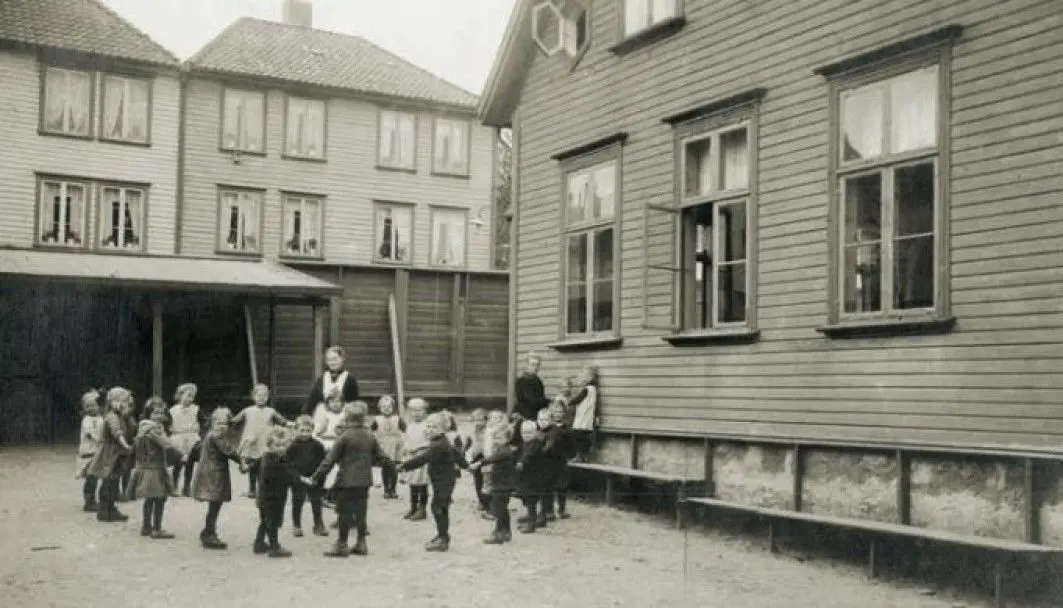 Transition to kindergartens they are now
Things gradually began to change throughout the 1920s.
Röthle tells of several crèches that were characterized by worn-out equipment and less emphasis on the exemplary care they had in the beginning.
"The institutions that were progressive to begin with gradually became purely supervisory and barely managed to keep operating," she says.
"The crèches were practical institutions for families who were dependent on the mothers' income. But people were happy if they could manage without them," says Röthler.
Both the childcare centres and crèches were slowly phased out during the first decades of the 20th century. In Stavanger, they stayed in use until the post-war period.
Many of them were transformed into kindergartens as we think of them today.
"The crèches in Norway were turned into nurseries for small children or included separate spaces for the younger children at childcare centres in the 1920s and 1930s. Crèches became obsolete by the 1950s," says Korsvold.
From their start as a place for poor children and working mothers, kindergartens gradually became attractive for wealthy families as well.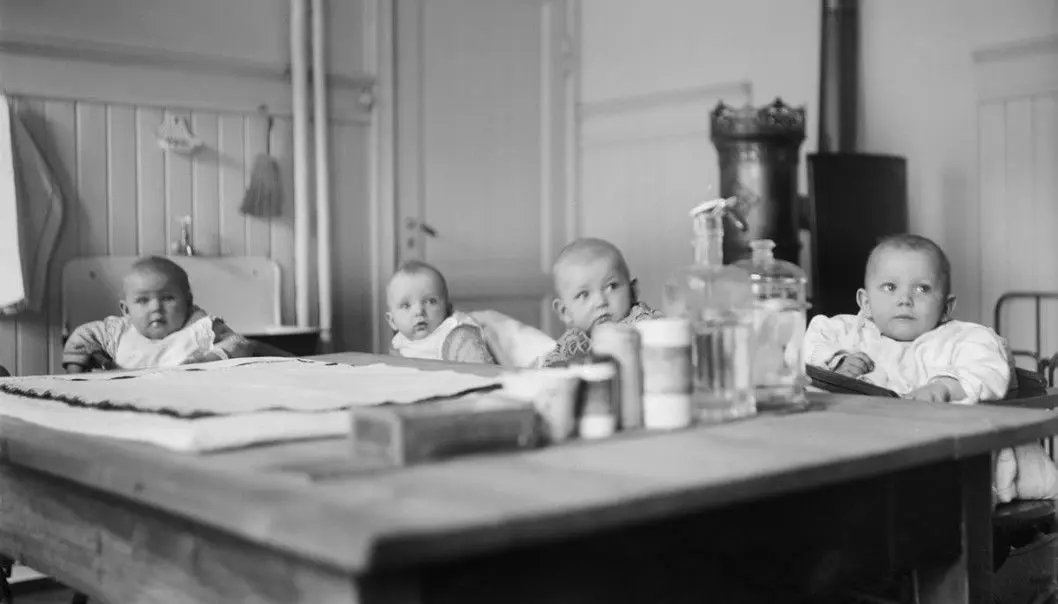 Ideas from Germany
Kindergartens throughout Europe had now become quite different.
The ideas of German educator Friedrich Fröbels helped shape their development in Norway as well.
His ideas revolved around providing children an opportunity for self-expression and learning through play.
Fröbel started his first kindergarten in Bad Blankenburg, Germany in 1840, and from there his ideas quickly spread, including to Denmark, Sweden and Finland.
The new ideas took a little longer to make it to Norway.
"The Fröbel kindergartens weren't intended to be social assistance measures, but rather educational institutions for all children, where learning would take place by nurturing children's play and not through teaching. Fröbel wanted to create a public kindergarten for children from all walks of life," says Röthler.
From mother's work to socialization
Kindergartens came to Norwegian cities at different times – in Trondheim and Oslo in the early 1900s and in Stavanger in the early 30s.
Kindergartens were open four hours a day, and they cost more because foundations were no longer covering their costs. Instead, parents' payments covered everything.
"Children were recruited from the bourgeoisie," says Röthler.
"The important thing here was no longer the mother's work, but upbringing, teaching and socialization.
"In a way, kindergartens became a continuation of the traditional nanny in wealthy families. Instead of the mother having to train the nanny, these families could now leave the responsibility for the children to educated kindergarten teachers," says Röthler.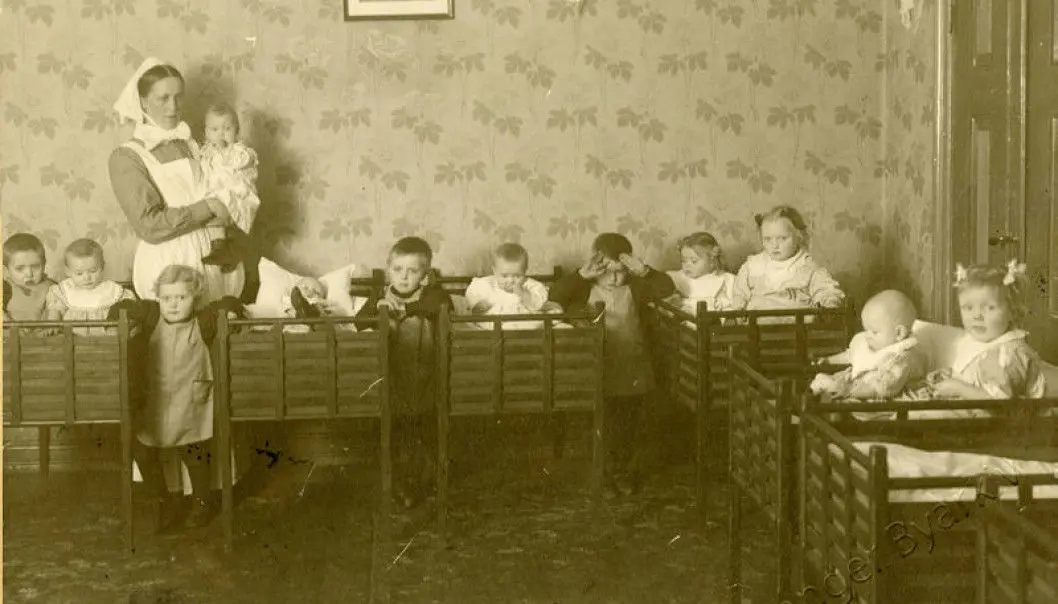 A revolution in kindergarten coverage
Although there were several modern kindergartens throughout the 1950s, they were still a rarity.
"The number of kindergartens in Norway declined in the 1950s, and fewer than five percent of the children secured a place. Although Norway passed its first Kindergarten Act in 1975, and an active women's movement demanded 'free childcare,' kindergartens remained a marginal phenomenon until the 2000s," says Röthle.
Not until the 1980s did all municipalities in Norway have a kindergarten.
Today, 275 804 children attend kindergarten, according to figures from Statistics Norway, comprising 92 percent of all children in Norway.
"Over the course of a generation, we've seen a revolution in early childhood," says Röthle.
"The Norwegian kindergarten's long tradition of childcare centres and crèches has contributed to creating a kindergarten model that is adapted to the modern two-income family," says Röthle.
In addition, the ideas of self-expression and development through play in the early kindergartens have contributed to the development of a distinctive kindergarten pedagogy, which is different from that for school-age children, she points out.
"Kindergarten's place has changed radically. It's shifted from being an offering for particular groups to a kindergarten that now is a welfare benefit for all children," she says.
Translated by: Ingrid P. Nuse.
Reference:
Monika Röthle: Barnehagene i Stavanger: fra veldedighet til velferdsgode. (Kindergartens in Stavanger: from charity to welfare benefit.) Museum Stavanger. 2015. ISBN 978-82-90054-91-0.
Tora Korsvold: Store norske leksikon (in Norwegian): articles on crèches, childcare centres and kindergartens (2020).