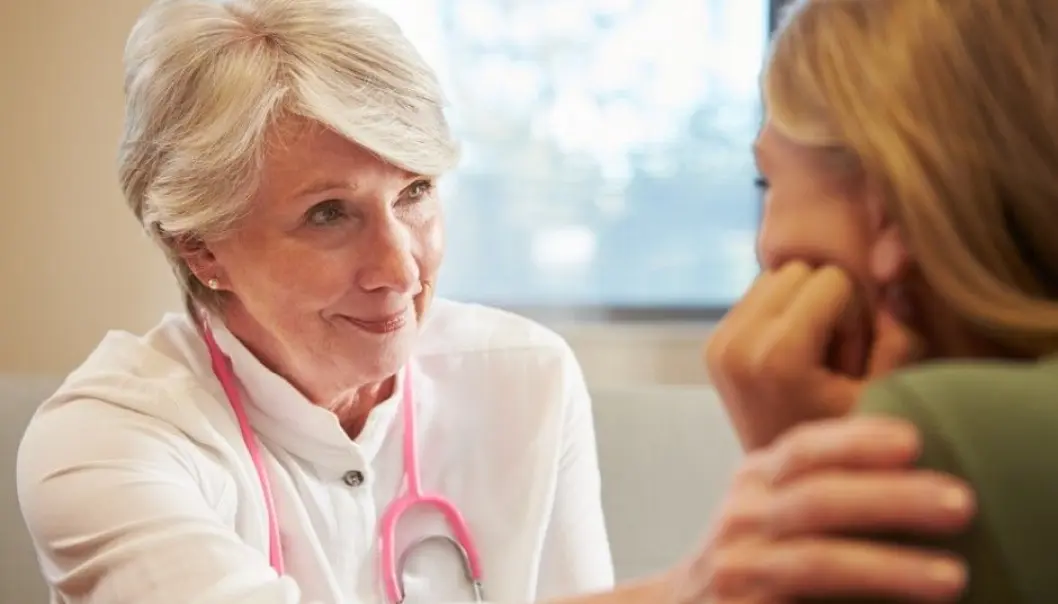 GPs could help teens by asking them more about their mental health, say researchers
A new study shows that surprisingly many young people with mental health problems do not complete secondary education by their 20th birthday. Researchers suggest how GPs can help.
Researchers and national statistics have told us before: mental health and high school dropout rates are clearly connected.
We also know that a large percentage of adolescents who don't complete their secondary education end up on welfare rolls as adults.
In a new study from the University of Bergen, researchers have gathered data from national registries and investigated the role of general practitioners (GPs) in addressing mental health problems among youth.
Conducted cohort study
The new Bergen study is special because researchers studied outcomes for a full-year cohort. The selection included everyone born in Norway in 1991, almost 64,000 individuals altogether.
"As far as we know, this is the biggest study of its kind. Previous studies on this topic have been smaller surveys, so I think our data is robust," says Øystein Hetlevik. He is the lead researcher of the recent study and an associate professor in the Department of Global Public Health and Primary Care at the University of Bergen.
Factors contributing to high dropout rate
Among everyone born in 1991, 31 per cent of girls and 46 per cent of boys had not completed high school by the age of 20.
Having parents who didn't complete their secondary education is still an important dropout factor, even when researchers adjust for other youth health problems.
They don't find it surprising that young people with mental health issues are more likely to drop out of school than others.
But the researchers are surprised that the dropout rate is so high in certain groups.
Behavioural problems, substance abuse and ADHD
The researchers distinguish between two different categories of psychological problems, which they refer to as internalizing and externalizing disorders.
The former manifest primarily as anxiety and depression. The latter include behavioural problems, substance abuse and ADHD.
Boys whose GP has diagnosed them with the latter have a greater than 75 per cent risk of dropping out of high school. More than half of the girls with these problems do not complete school.
Research has already clearly shown that behavioural problems, substance abuse and ADHD lead to students dropping out from high school.
Anxiety and depression are also important
The surprise for researchers was the percentage of young people diagnosed with anxiety or depression who do not complete their education.
About 60 per cent of the boys and nearly 43 per cent of the girls diagnosed by their GP with internalizing disorders over a six-year period between ages 15 and 20 didn't have their school diploma by their 20th birthday.
Researchers have found that the dropout rate for individuals who have both internalizing and externalizing problems is much higher.
More than 77 per cent of the boys had not completed secondary school. The same was true for about 63.5 per cent of the girls.
Mental health rarely comes up
A surprising number of young people had contact with their GP during this period, the researchers said. They find it paradoxical that psychological problems so rarely come up at those appointments. Only about 10 per cent of the consultation time touched on mental health issues.
Among pupils who don't finish high school, GPs diagnosed 40 per cent of the girls and 25 per cent of the boys with mental health issues.
"GPs could play an even more important role in preventing mental health problems among young people if conditions allowed," says Hetlevik.
"Health authorities need to look at this relationship as a potential opportunity to improve resources for youth," he adds.
The greatest uncertainty factor in the study is how good the diagnosis is, according to Hetlevik.
"But we believe that if errors are being made, they tend to be on the side of underreporting than overreporting mental health issues," he says.
Solving society's most important problems
Ole Rikard Haavet is a professor of general medicine at the University of Oslo. He believes that the study from Bergen points to solutions to some of society's most important problems.
In 2013, Haavet and other researchers examined the connection between the use of health services and health among secondary school students and the subsequent dropout rate from upper secondary school. They found that boys who saw their GPs regularly and girls who visited school health services had lower dropout rates.
GPs needed for more than talking about headaches
Haavet is a GP in addition to being a researcher. At his medical office, several doctors have specialized in cognitive therapy to treat children and adolescents with mental health problems. However, he believes that doctors don't necessarily need extensive specialized training to help young people better than they do today.
"When young people come to us, they almost always talk about headaches, neck pain, stomach aches and other bodily ailments. A large number of these teens use painkillers on a daily basis.
Haavet thinks a lot could be accomplished if doctors would simply ask, "But how are you doing otherwise?" This question often leads to conversation about meaning.
"Many young people experience disappointments, connected to their parents' breakup or failures in their lives, for example. They often have a low sense of worth and little hope for the future. If you intervene early with these conversations, two or three consultations may be enough to correct the image they have of themselves and prevent the onset of early depression," he says.
"It's well documented that early interventions yield better results than when health problems have time to develop. The fact that GPs are so central to youth with mental health issues should encourage the health authorities to strengthen early intervention strategies."
"General practitioners are in a unique position because we meet a lot of young people, and we need to be used more for this kind of work," Haavet says.
-------------------------------------
Read the Norwegian version of this article at forskning.no.
Scientific links
Related content