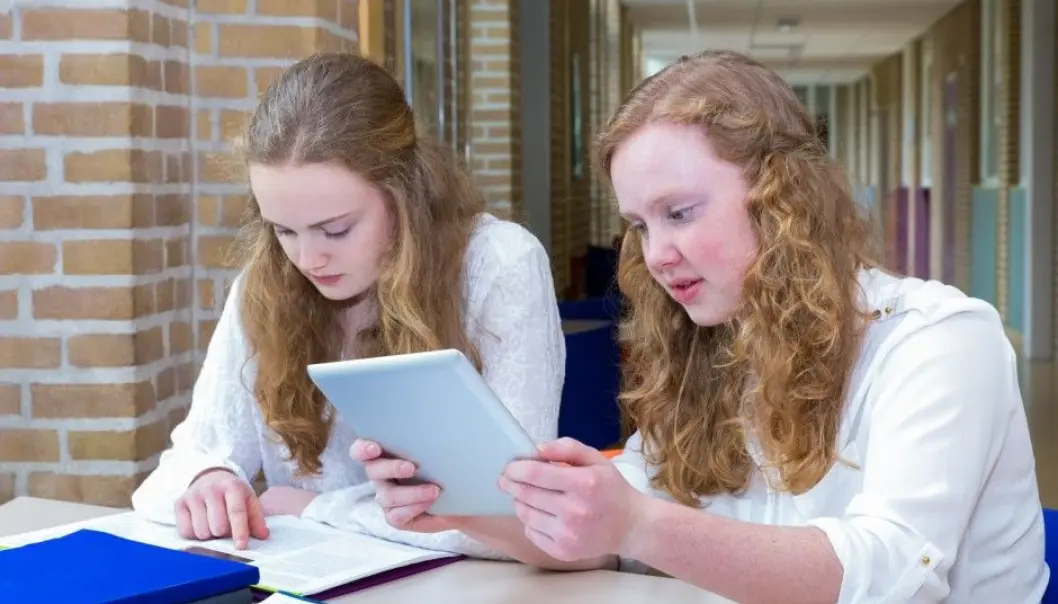 Why adolescent girls have more health complaints than boys their age
Stress from schoolwork and low self-esteem can be reasons why girls in their mid-teens experience more subjective health complaints than teenage boys. A Norwegian study indicates that body dissatisfaction is less of a factor than anticipated.
Girls in 8th and 10th grades report having more health problems than their male schoolmates.
What is it that plagues girls more than boys? Researchers at the University College of Southeast Norway and the University of Bergen teamed up to find out. They were surprised by the result.
They thought that social and peer pressure compelling them to meet certain body standards would be a key factor. They now think other factors are more important.
Their results have been published in the Scandinavian Journal of Public Health.
One in three with headaches
Subjective health complaints are physical or psychological symptoms, regardless of whether a person has a diagnosis or doesn't.
These complaints can undermine quality of life and lead to absences from school, to absenteeism.
One in three girls in this study reported having a headache at least once a week. Only half as many boys had that many. Other studies have shown that in general, girls have more pains here and there than boys do.
The study is based on information from 750 adolescents in Sogn og Fjordane County, Norway. It was provided first when they were 14 years old and then when they were 16.
Hardly just body dissatisfaction
The researchers anticipated that the differences in this context between girls and boys could be attributed to the slender bodies that are now the ideal for teens and women. As it can be hard or impossible to fit that template, many females are frustrated with their bodies. But this wasn't confirmed as the prime problem.
"Many of the girls experience more stress at school and have lower self-esteem, and these appear to be clearer causes," says one of the authors of the study, Professor Steffen Torp at the University College of Southeast Norway.
The first author of the study, Fiona Aanesen, says that self-esteem is about being okay with oneself as a person and having a sense of one's intrinsic value or worth. This goes beyond self-confidence, which merely entails confidence in skills. It was Aanesen who initiated the study.
"Self-esteem is clearly linked to one's image of body and appearance in our teens. So it could explain some of the findings in the study," she says.
"Many of those with low self-esteem also have more negative feelings about their bodies," points out Steffen Torp.
Stressed by schoolwork
Many of the teens with health complaints also reported low self-esteem or they were stressed by the demands of school than the others.
The teens who were troubled by stress from schoolwork at age 14 also tended to have more health complaints than others when they were 16.
This applied to the girls in particular.
"It's paradoxical, given that girls generally do better in school than boys. But girls could have higher expectations of achieving good grades and taking their education more seriously than the boys," says Torp.
Girls and boys all find school more stressful in tenth grade than in eighth, but girls feel the added pressure the most.
"It is thought-provoking that the demands of school can be detrimental to the health of girls," says Steffen Torp,
Self-esteem explains half
The researchers think that low self-esteem explains about half of the gender difference in health complaints among the 16-year-olds. The stress related to schoolwork and grades has less of an impact in this gender context.
"Schools might be contributing to these health complaints among the girls," he says.
Fiona Aanesen thinks the onus could be on the girls for demanding too much of themselves. Or much of the problem could be parents who have high expectations of their daughters.
"Other research has indicated that girls take school more seriously than boys do. Also, they are more mature at this age than the boys are," says Aanesen.
Torp thinks parents should give thought to whether they are raising daughters to more responsibility than sons are raised, as boys seem to be more casual about demands from school. They are also more laid-back regarding living up to ideal body standards.
Nine in ten girls
Girls are generally more dissatisfied than boys are with their own bodies at this age.
In fact, nine out of ten girls at the age of 16 would like to do something about their bodies and appearances. Half of them would like to lose weight.
By comparison, six out of ten boys wanted to change their bodies in one way or another.
Could it be that the pressure to have the right body has an indirect role? The girls are unhappy with their appearance and that is what lowers their self-esteem?
"It could be that girls' body dissatisfaction leads to insufficient self-esteem, or it could be the other way around. It is hard to say what comes first, or which leads to which," say the researchers.
Double pressure on girls
The researcher points out that girls experience a double whammy: They are under additional pressure to have the right bodies and more coercion to excel at school.
"They have to do well at school and live up to beauty norms," says Torp.
There are also other status factors at play.
"Several studies have shown that adolescents with high socio-economic status have higher senses of self-esteem and fewer subjective health issues than others," says Torp.
-------------------------------------
Read the Norwegian version of this article at forskning.no
Translated by: Glenn Ostling
Scientific links
External links
Related content