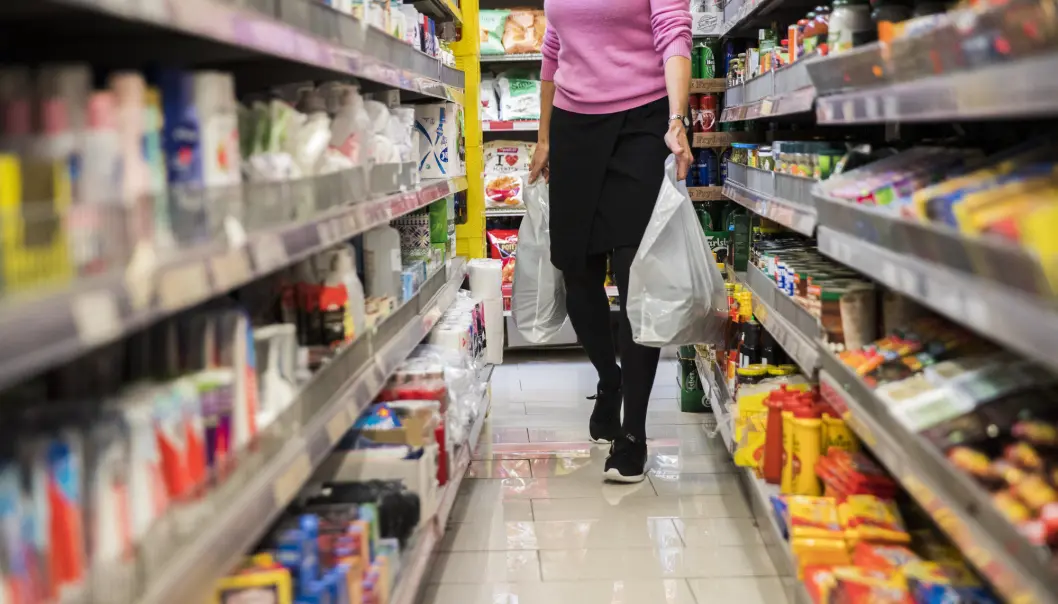 Nine out of ten had eight different plasticizers in their urine, study finds
A number of different chemicals from food, cosmetics, shampoo and skin care products pass through our bodies daily, the Norwegian Institute of Public Health finds. Further analysis is needed to determine the potential health risk.
A number of different chemicals from food, cosmetics, shampoo and skin care products pass through our bodies daily, the Norwegian Institute of Public Health finds. Further analysis is needed to determine the potential health risk.
The Norwegian Institute of Public Health have in their EuroMix-study analysed urine from 44 men and 100 women aged 18 to 70 years old in Norway over a period from 2016-2017. The group of researchers behind the study have now revealed the first results.
The researchers say that an assessment of the quantities is needed before they can say anything about how serious this is. Almost all of the people involved in the study had a rich list of foreign substances in their samples.
"Finding so many different chemicals in people's urine is worrying", says Trine Husøy to NTB, the Norwegian News Agency.
Unclear health risk
Husøy is head of the research project EuroMix. The researchers have not yet assessed to what extent the chemicals pose a risk to peoples' health, she emphasizes.
"It depends on the amounts of the various chemicals, as well as how these work together. Our data also have to be compared to previously published research. We're currently working on doing these analyses, Husøy says.
The study included three groups of chemicals, plasticizers (phthalates and DINCH), bishenols and finally parabens.
Many new analyses are planned in the EuroMix study in the future, also of less readily degradable chemicals in the blood.
"In contrast to natural substances, some synthetic substances can accumulate in the food chain, and many of these are particularly dangerous to our health. We will investigate this further," Husøy said.
From food and cosmetics
The results showed that more than nine out of ten participants had eight different plasticizers, i.e., phthalates and DINCH in their bodies.
These are plasticizers in plastic products, which can "leak" into food from the packaging.
They are also found in body care products such as shower gel, hand cream, toothpaste, anti-wrinkle cream, and shaving products.
Also, more than nine out of ten participants had bisphenol A and triclosan in their urine.
Bisphenols are a component of hard plastic products and are more strongly bound to the plastic than phthalates.
Therefore, bisphenols do not leak as easily from the packaging, but smaller amounts are found in food and body care products and can come from there.
The amount of bisphenols in the urine was related to the intake of various drinks, bread, and edible fats. Triclosan is used in body care products as an antibacterial agent.
Half of those surveyed had parabens in their urine – women more than men. Parabens are a group of chemicals used as preservatives in both food and cosmetics, but which can have endocrine-disrupting effects.
The people in the survey had higher education, ate healthily, and no one smoked on a daily basis.
As they were not representative of the general Norwegian population, the researchers believe that there are probably many who ingest both more chemicals and larger amounts than the study participants.
Among other things, smoking contributes to a chemical load that was not captured in this study.
Impossible to avoid completely
EuroMix is called a biomonitoring study and is part of the EU project "European Test and Risk Assessment Strategies for Mixtures." Several EU projects are looking at the effect of chemicals on health.
"Similar surveys have been done in some previous Norwegian studies and in other countries with similar results," Husøy said.
Husøy also gave some advice on how people can limit the amount of chemicals they ingest.
"It is about quantities and what type of food you eat and how much products, such as cosmetics, you use.
"Products that remain on the skin often contribute more than products that are washed off. Foods packed in plastic packaging will contain more plasticizers.
"But it is also not possible to avoid these substances completely. Some of these substances are approved for use in various foods and products. We are still unsure of what health effects the chemical mixture may have," the researcher emphasized.
Husøy added that all three mentioned chemical groups have a relatively short half-life in the body and are excreted quickly.
"But if you have a steady, continuous intake, then this is not so relevant. And it is not a given that that mixture cannot do harm while the body is exposed," Husøy concluded.