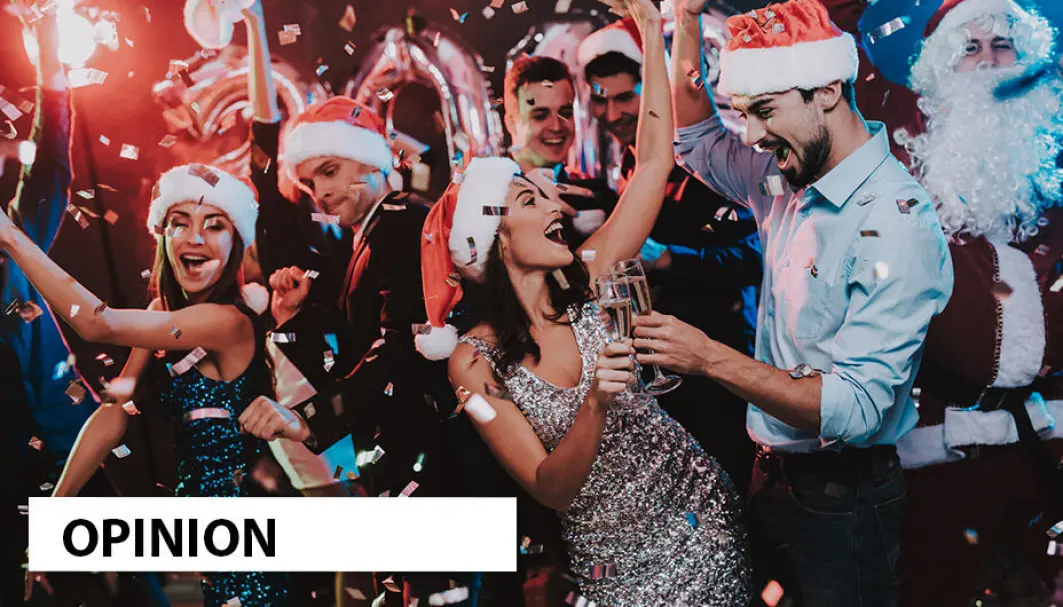 How drunk are you planning to get at this year's Christmas party?
OPINION: Another round? Find your Christmas party alcohol level before it's too late.
Every year some employees have unpleasant experiences connected with alcohol consumption at Christmas parties. How can you avoid getting drunk at Christmas parties and having blood alcohol levels that you and your colleagues can live with, even after your Christmas party?
In a study on alcohol consumption in the grey zones between work and leisure periods, we have found 6 dimensions that affect how employees drink. These circumstances also apply to Christmas parties:
1) Who has invited you?
In line with good Norwegian Christmas party traditions, it is often the managers who act as the host/hostess at a Christmas party.
Managers fall into the group that most often issues invitations to events where alcohol is served in a work context. Obviously such invitations are intended to be inclusive initiatives and a reward for the work undertaken during the year.
There are many reasons for not drinking alcohol and employees should not have to justify why they don't drink.
At the same time one study shows that when managers invite employees to a Christmas party, many employees feel that they are expected to attend the party. If you were invited to a Christmas party by a colleague you would feel less obliged to attend.
2) Do I have to attend?
Many employees feel that Christmas parties are a challenging practice, but even so a festivity which they feel they should attend and be grateful for. At Christmas parties you have the opportunity to show a less informal side of yourself.
One study shows that building relationships with colleagues and managers over a glass of wine or beer is very important for career opportunities. At Christmas parties new work projects could be discussed and provide opportunity to position oneself vis-à-vis the manager. But there are also other pitfalls associated with Christmas parties:
3) To drink or not to drink?
The Norwegian Institute of Public Health found that one in ten Norwegian employees choose not to attend work events because alcohol is served, and one in ten employees feel excluded because alcohol is consumed by their colleagues.
There are many reasons for not drinking alcohol and employees should not have to justify why they don't drink. The question is how can you make Christmas parties as inclusive as possible? Many employees experience expectations about drinking and 11-12 per cent have experienced pressure to drink. It is likely that pressure to drink also applies to your Christmas party. How do you react to that?
4) Work talk or small talk?
Work talk with your colleagues is inevitable, even at Christmas parties. However, conversations can descend into careless work talk and company secrets can be revealed. But other comments can also cause disgust.
Like the 4 middle-aged, slightly tired, male teachers in the Danish film «Another Round» by Thomas Vinterberg, many employees have experienced that «a little» alcohol in your blood boosts your self-esteem and relaxes you more.
We often find that our own and others' appearance becomes more enjoyable under the influence of alcohol. And merry employees are an excellent starting point for a great Christmas party. However, the transition from a merry employee to an embarrassingly intoxicated one happens quickly.
One drink too many can cause one's impulses to take over and result in unpleasant incidents. A survey of working people from non-western immigrant backgrounds showed that as many as 17 per cent have experienced unwanted sexual advances or comments from intoxicated colleagues.
We have recently heard about two Norwegian male celebrities who have made racist statements while intoxicated. Without placing all the blame on alcohol, losing one's inhibitions at a Christmas party and saying or doing things that we think are funny, could have major consequences beyond the shame we feel the next day.
5) Away from our daily routines?
Christmas parties are often held outside the workplace. Like business trips, Christmas parties are an arena that offers distance from the workplace and work regulations.
Studies have shown that the physical distance from the workplace leads to less restrained consumption of alcohol. However, Christmas parties are part of the job and when attending such parties you are still an employee/manager.
6) Are there any rules to follow?
Most people do not want to drink alcohol in a way that would create discomfort for their colleagues. Furthermore, drunk employees can have an impact on the reputation of the company and be expensive to society.
In order to create a great Christmas party for all employees, it might be a good idea to discuss drinking rules with one's colleagues before the party. Remember that the more expensive and less available alcohol is, the less drinking there will be.
What constitutes an acceptable blood alcohol level at a Christmas party and what type of behaviour puts a damper on it? The rules for Christmas parties are far easier to draw up «during peacetime» before the Christmas party season, than after an unpleasant incident at a Christmas party.
Feel free to have a drink, but...
We know that 9 out of 10 employees want guidelines on alcohol consumption during ordinary working hours and that 7 out of 10 want guidelines on work-related situations outside ordinary working hours.
The four characters in «Another Round» discovered that although their blood alcohol levels initially made them less inhibited, the consumption of alcohol resulted in negative consequences in both their working and private lives.
Feel free to have another drink at your Christmas party, but do think about whether or not it should contain alcohol.
(This opinion was first published in Stavanger Aftenblad)
FURTHER READING:
The ScienceNorway Researchers' zone consists of opinions, blogs and popular science pieces written by researchers and scientists from or based in Norway. Want to contribute? Send us an email!