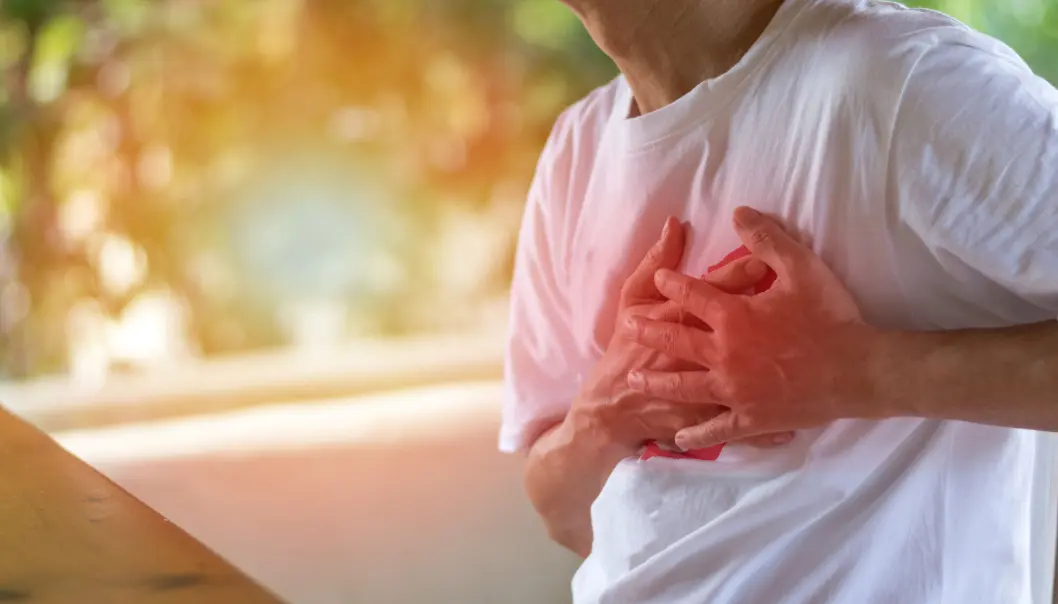 Nordic study confirms rare side effect from Covid vaccination in young men
Young men have a higher risk of myocarditis – inflammation of the heart muscle – after a second dose of an mRNA vaccine, according to a recently published study.
The Nordic study includes more than 23 million citizens in the countries Norway, Denmark, Finland and Sweden.
Early results led to the Norwegian Institute of Public Health (NIPH) issuing a recommendation in October last year that young people under the age of 18 be given the Pfizer/Biontech vaccine rather than Moderna, and that also men under the age of 30 should consider choosing this vaccine.
The final conclusion from the large Nordic study was recently published in the journal JAMA Cardiology.
A total of 1,077 cases of myocarditis were registered among vaccinated and unvaccinated people in the period 27 December 2020 – 5 October 2021.
"Nordic research collaborations are vital in order to obtain solid knowledge on rare side effects", Geir Bukholm says in a press release from the NIPH (link in Norwegian). Bukholm is Assistant Director at the NIPH.
Increased risk in young men
Myocarditis is an inflammation of the heart muscle. It is usually caused by a virus, and can reduce the heart's ability to pump and cause rapid or irregular heart rhytms, according to the mayoclinic.
The CDC lists the following symptoms for myocarditis: chest pain, shortness of breath and feelings of having a fast-beating, fluttering of pounding heart.
Among men aged 16-24 years, the researchers found 6 extra cases of myocarditis per 100 000 vaccinated with a second dose from BioNTech/Pfizer, and 18 extra cases per 100 000 vaccinateed with a second dose from Moderna.
The numbers were considerably lower among older age groups.
Among men of all ages there were 0,7 extra cases per 100 000 vaccinated with a second dose from BioNTech/Pfizer, and 5 extra cases per 100 000 among those who received their second dose from Moderna.
Among women in total the numbers were 0,1 extra cases with BioNTech/Pfizer, and 0,5 for Moderna.
Corresponding numbers after the first dose were lower.
The patients studied were hospitalised with myocarditis. Half of them were discharged during the first three days of their stay. No deaths were registered among people under the age of 40, within 28 days.
Risk is higher from Covid infection
"Heart complications occur also when you get Covid-19," said Bukholm in the press release.
"Both these Covid vaccines have been shown to protect very well against serious Covid-19. With all vaccination it is therefore important to always weigh the advantages of vaccination against the risks of serious side effects", he said.
According to a British study, the risk of getting myocarditis is 4-10 times higher after being infected with Covid, compared to after getting a vaccine – the risk being higher if vaccinated with Moderna.
"Even if this occurs slightly more often after Moderna, this is still an extremely rare side effect. When you also consider how good the prognosis for the few who get it are, then this is very reassuring", said Henrik Horowitz, Clinical Associate Professor at the Department of Clinical Medicine, University of Copenhagen, to videnskap.dk (link in Norwegian).
These kinds of rare side effects would normally not be detected, Horwitz said.
"It demands enormous datasets. This can only be done because so many have been vaccinated, and because we have relay good registries", he said.
Long term effects are being studied
Nordic data on the health of the countries' populations are uniquely comprehensive. The data on vaccination status for the inhabitants in the four Nordic countries in the study are nearly complete, as well as the possibility to monitor hospitalisations due to myocarditis.
"The study has provided new and important knowledge which has directly impacted the Norwegian vaccination programme," Bukholm says in the press release.
New studies already on the way will answer questions on long term consequences from hospitalisation due to myocarditis, as well as prevalence after a third dose.