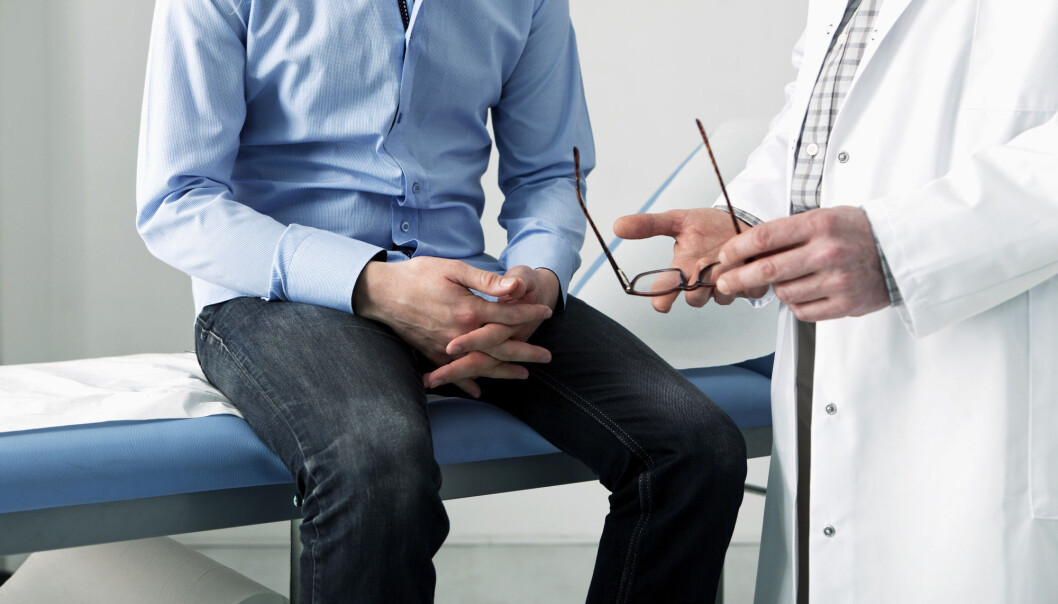 Men's sex lives much worse after surgery for prostate cancer
Men who have their prostate removed as a part of cancer treatment lose half of their sexual function, according to a new study.
It has long been known that many men who have surgery for prostate cancer can suffer from erectile dysfunction and urinary leakage. But the extent of the problem has not been clearly documented.
Now a new report based on patients' own experiences confirms that the side effects are extensive.
"One year after diagnosis, the score for sexual function was more than halved for those who had had surgery," wrote Giske Ursin, director of the Cancer Registry of Norway, on the registry's website.
Self-reports from 1100 men
Ursin's assessment is based on figures from the annual report from the Norwegian National Quality Register for Prostate Cancer.
The report shows differences between various treatments, such as surgery, radiation and active monitoring.
The differences were particularly significant for sexual function. But urinary leakage also affected patients who had surgery to a greater extent than men who were being actively monitored.
This is the first time that the professional community has surveyed patients regarding their own perceived sexual function.
A total of 1100 men have self-reported their experiences, of whom 400 had undergone surgery.
More than half the potency
Among those who had surgery, the average sexual function score before their operation was around 70 on a scale of 0 to 100. One year after surgery, their average score had dropped to 30.
For patients on active monitoring, however, sexual function changed minimally.
"These are early results, so the number of patients we have numbers for is still low," says Ursin. Nevertheless, she says, it's important for hospitals to be aware of these clear trends as they work on quality.
She also believes the information can be important for patients as they assess their options.
Ursin encourages more patients to report their experiences.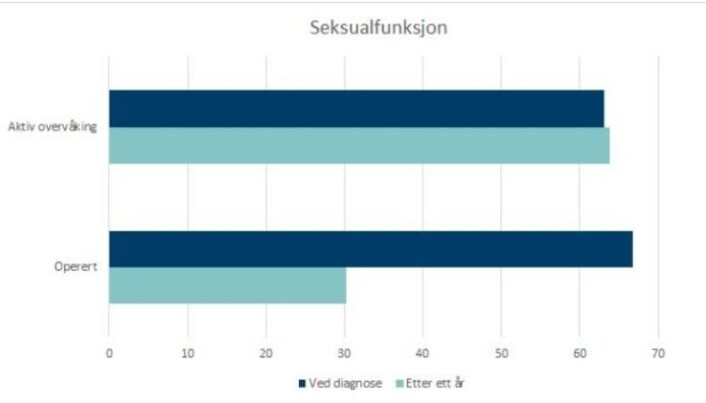 Fewer have surgery
In 2018, 4850 men in Norway were diagnosed with prostate cancer. The median age at diagnosis was 70 years. The mortality rate of prostate cancer is low and decreasing.
It is now recommended that men whose prostate cancer is not aggressive avoid surgery.
Far fewer men in Norway have had surgery for their prostate cancer in recent years — about 51 per cent — and more are under active surveillance instead. Men whose cancer is under active surveillance do not receive radiation or surgery, but are closely monitored by their doctor, who intervenes if the cancer becomes more severe.
"In academic terms, this is a safe alternative that increases the number of people who avoid the burdensome side effects of surgery," says Erik Skaaheim Haug, a urologist at the Hospital in Vestfold and leader of the reference group for the Prostate Cancer Registry.
Surgery is more accurate than in the past
Norwegian guidelines now suggest that only 20 per cent of prostate patients who are in the low-risk zone undergo surgery. This has reduced the number of operations in recent years, according to the Cancer Registry press release.
"It is more correct to say that we operate on fewer patients in the low-risk zone, but more in the high-risk group,"says Haug.
He explains that prostate cancer is extremely different from patient to patient, where those whose cancer is not that aggressive can live for years without surgery.
"Prostate cancer is more of a disease you die with rather than from. And 50 per cent of those who do die from the disease are over the age of 83," he said.
The Prostate Cancer Registry reference group is constantly working to improve indicators that govern the treatment patients should receive.
"For some patients whose prostate cancer is not that aggressive, going into active monitoring is also a burden, and many patients consequently prefer surgery," Haug said.
It is ultimately the patient's decision, he says, but patients make decisions based on the information they receive.
Reference:
The Cancer Registry: Annual Report on Prostate Cancer 2018, September 30, 2019 (in Norwegian only).
———