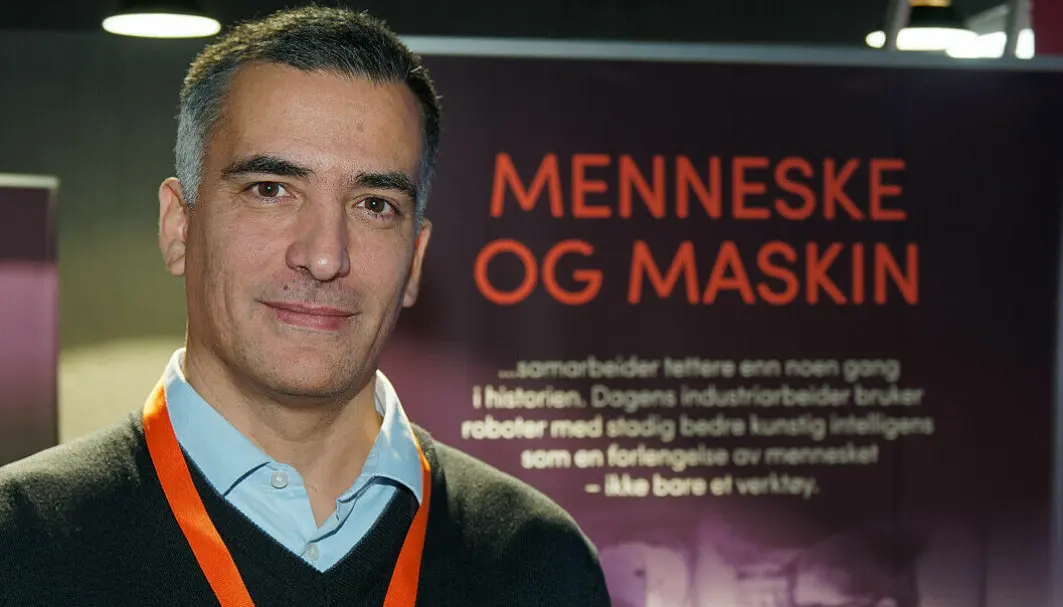 Merging robots and humans makes for better workers
Robots can't replace people in industrial settings. But by giving people a digital boost, workers can see better, analyse situations faster and lift more.
Manuel Oliveira and Elon Musk agree. Oliveira is a researcher who has become an entrepreneur. Musk is the Tesla founder who is known for both speaking bluntly and admitting when he is wrong.
Yes, excessive automation at Tesla was a mistake. To be precise, my mistake. Humans are underrated.

— Elon Musk (@elonmusk) April 13, 2018
"100 per cent automation is not possible," says Oliveira.
"Elon Musk says that humans are underestimated. He calls Tesla's excessive automation a mistake. Boeing has also moved away from robots when building their 777s", he says.
Oliveira studies how industrial workers can be given digital help so their work becomes more efficient and easier, while also improving the work environment and workers' health.
AR glasses and exoskeleton
"Technology can support operators cognitively and physically. Artificially strengthening a worker's body reduces physical stress — and sensory strengthening enables them to detect dangerous situations," says Emrah Arica, a researcher at SINTEF, Scandinavia's largest independent research institute.
An 'operator' in this context is the person who works in production in an industrial company. An operator can get help from AR glasses, for example, where the glasses add an extra layer of information on top of what the user can see with their own eyes. AR stands for augmented reality, a system that merges virtual and real world realities. Along with data analysis, digital assistants and social solutions, this is what Arica calls 'cognitive support.'
An operator can also be given physical help, by means of an exoskeleton, a kind of shell that is fitted to the body to strengthen the arms or back. Other kinds of physical support could be a sensor that monitors the health of the operator, or even a cobot – a cooperating robot.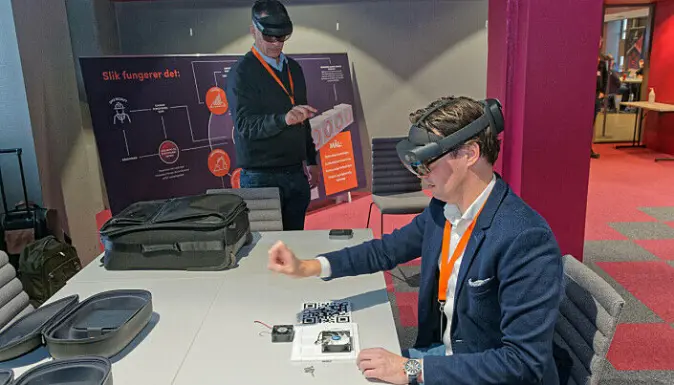 Airbus workers and shoulder strain
This is research that is translated into products and new ways of working, not into published articles. For that reason, Oliveira is careful not to explain too many of the details. But when SINTEF invited him to a seminar on augmented operators in production, he brought with him some gadgets he could share without revealing trade secrets.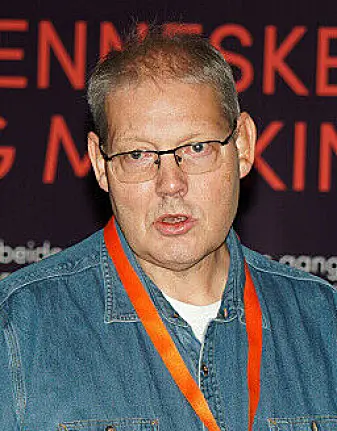 He uses the aircraft manufacturer Airbus as an example. Airbus is part of the SINTEF-led research project Human, which will improve the interaction between automated production machines and the people who control them.
"The operators at Airbus spend a lot of time with their arms raised over their shoulders," Oliveira said.
When workers assemble the parts that will become a finished aircraft, the fuselage often hangs over their heads. Long days with their arms above shoulder height can lead to many stress injuries.
"Other workers use their lower body to lift things. They need an exoskeleton to help them," Oliveira said.
Avoiding information overload
In other companies, the Human project has equipped operators with AR glasses that, for example, show what is to be mounted where. Oliveira reports a 20 per cent increase in productivity as a result. The challenge is actually to make sure that people are not given too much information.
"When people gain more experience, they no longer need as much information. The information only creates clutter in their field of vision, and productivity deteriorates," he said to sciencenorway.no.
And artificial intelligence can keep track of how much information each individual needs to do the job best.
"The artificial intelligence measures whether the operator feels stress, by measuring the breathing and the temperature of the air the person exhales," Oliveira said.
Hans Torvatn, research manager at SINTEF Digital, also emphasizes that human beings are always essential. He talks about Industry 4.0 — the buzzword used to describe the recent industrial revolution, in which industry has been digitized.
But Torvatn goes a step and a number further:
"This is Industry 5.0. Now we make it clear how important humans are. People always decide, and we have to consider human needs and potential in digitalization," he says.
RELATED: Norwegian researchers are using AI for a variety of things. Just a few examples here in articles written by some of the sciencenorway.no partners:
Socio-technique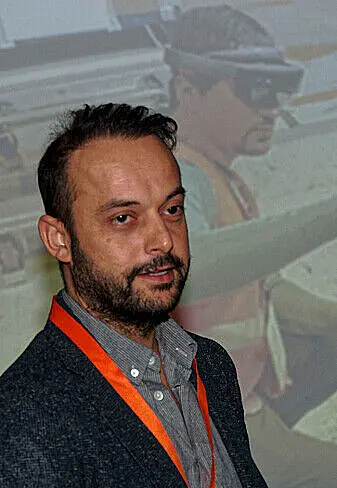 Torvatn believes it is natural that Norwegian researchers coordinate researchers and businesses from six countries in this project:
"This has always been an aspect of Norwegian work life. In the 1970s, we called it socio-technique," he said.
He believes that Norwegian industry has a positive attitude towards digitization. But the production lines are behind the administration and management.
"Augmented work is Industry 5.0 in practice. This is where people try to make whatever is being done at a company more efficient and safer, with higher quality at a lower price — using digital technologies and data," says Torvatn.
Several thousand fatalities
Emrah Arica points out how EU countries have more then three million accidents at work and over three thousand fatalities in the workplace over the course of a year. Injuries and illness cost about 505 billion euros a year.
In the US, more than two million industry jobs will be unfilled by 2030 because it is impossible to find people with the right skills, he says.
Translated by Nancy Bazilchuk
———