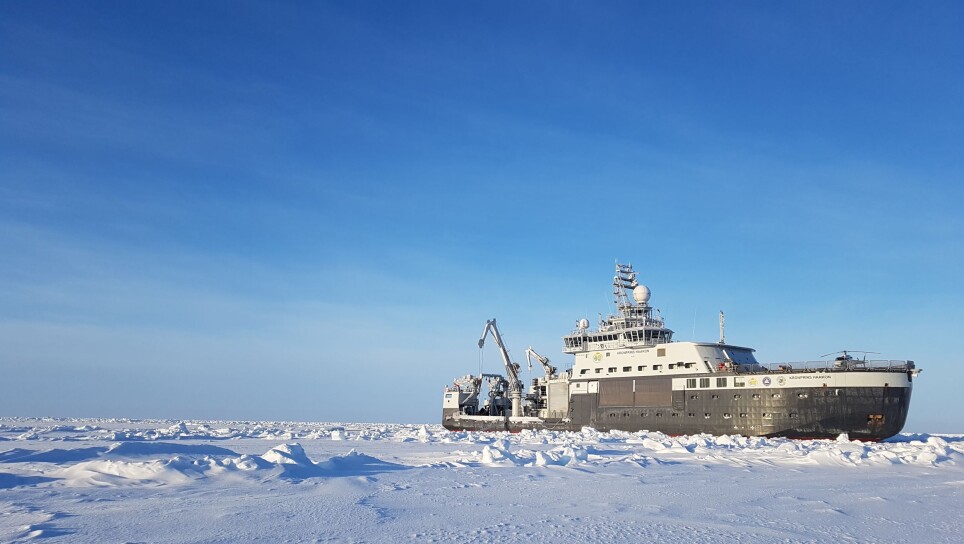 The lonely Algae
From the last time we collected water, I took a drop to check under a microscope, to get an insight into what is hiding. But no, no universe here. Nothing that swam, floated or hovered. No signs of spring bloom. But then, suddenly, in one corner of this drop I found something. A solitary microalgae, alone in this vast drop universe.
SIt is a new day at 82 degrees north. The sun rises slowly above the horizon. The ice crystals glow as they play in the air and with each movement in the water mass below, the ice around the boat reacts, up and down, in a breathing rhythm.
We are in the Arctic, a kingdom of cold and extreme conditions. The light defines life up here, with the darkness in winter and the midnight sun in summer. Although the sun is high in the sky today and both polar bears and seals have been curious about our presence, most of the life here is still dormant, with winter holding its grip firmly on the Arctic.
To enjoy a beer outside in the sun and spring flowering
A clear and beloved sign of spring in the Arctic is the spring bloom of algae that occurs in the sea. In that way, the sea up here is a bit like a Norwegian city.
As spring brings longer days and the cold of winter becomes more and more a memory, there is a significant and noticeable change among the inhabitants. You see more people in the streets and everyday life begins to be defined by people having a beer outside the pub and standing still with your face facing the sun to be able to feel the heat. The city and the people wake up a little more.
But unlike the cities in Norway, the inhabitants of the sea at 82 degrees north still have a while to go until they crawl out into the embrace of spring of spring in this year's spring bloom.
A single drop contains a universe
For almost two weeks, I have been on a research trip as part of the Legacy of Nansen, a groundbreaking research project that, among other things, tries to find out how the Arctic will change in the face of climate change. My goal while I am on board the Research Vessel "Kronprins Haakon" is to track down and search for microscopic life in the water masses and sea ice. This means that the team I am part of filters large amounts of water, close to 1000 liters. In just a single drop of water, an incredible mount of life can be hidden, a whole universe unto itself. And it is an impossible task to imagine how many billions of drops of water we filter to try to create an image of life present across the universes in these drops
We work with several different methods that together can form a complete picture of what and who are hidden in the microscopic. The most important method is to collect water samples, which we can do with instruments on board the boat down to more than 5000 meters. These water samples are filtered through a small filter, which captures most of the living and dead material. The filters are placed in a freezer at -80C and you can later analyze the DNA present on the filter, traces of everything that lives and has lived.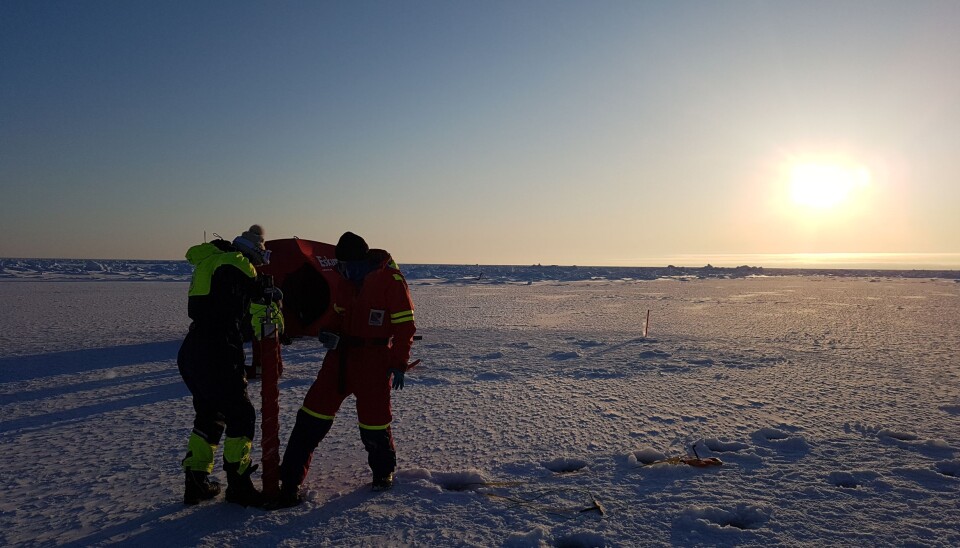 A lonely Algae
From the last time we collected water, I took a drop to check under a microscope, to get an insight into what is hiding. But no, no universe here. Nothing that swam, floated or hovered. No signs of spring bloom. But then, suddenly, in one corner of this drop I found something. A solitary microalgae, alone in this vast drop universe. With long spines tretching like antennae in each direction and two large golden-brown spores staring back at me under the microscope, I could exclaim: I see a Chaetoceros decipiens!
A small and incredibly fascinating algae which, together with the other species in the group of diatoms, does something as unique as forming glass in its cell wall. The diatoms form a very important part of the spring bloom, the time when the conditions between winter and summer become just perfect for resting spores to germinate and the microscopic algae to wake up completely. The spring bloom leads to a dramatic change in the number of microalgae present in the water masses, all of which are fighting to capture sunlight. By having photosynthesis that gives them the ability to convert the sun's energy into substances that can be used by other organisms, the microalgae form the foundation of the entire food chain in the Arctic.
As summer approaches autumn and autumn approaches winter, lighting conditions begin to change again. With less light, it becomes more difficult to carry out photosynthesis and it is therefore a great advantage for algae to form spores and other resting stages that allow them to survive the eternal dark winter.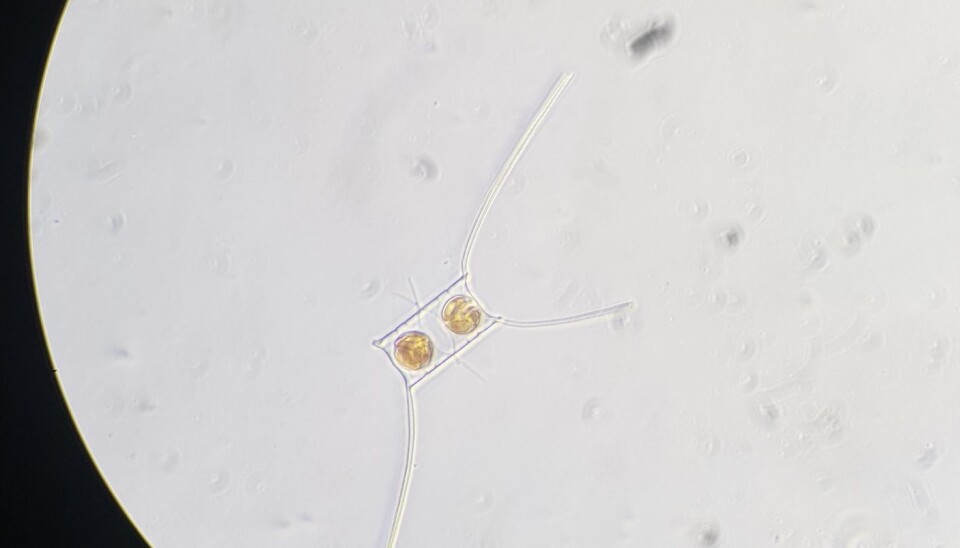 Everything you need to bloom in the Arctic
I wonder how the journey to this Chaetoceros algae has been. I'm trying to imagine what it's like to be this lonely soul in the microscope (if you've never tried to imagine being a microalgae in the ocean, I highly recommend it!) How did it end up here? Has it been hijacked by the current and brought here? Or was it tricked out of its slumber a little early? Many people will be able to tell about deep and magical moments with animals. Moments that remind us of how everything and everyone is connected, like taken out of Jane Goodall's life or a David Attenborough documentary. It may be difficult to get the same feeling with a microalgae, but in this moment with me and the Chaetoceros algae, I felt a respect for what it takes to survive in these harsh environments defined by darkness, cold, violent forces in the sea and extreme relationship. We find microalgae in all oceans and fresh water, in ice and everything that is moist.
Cumulatively, they secure us about 50% of all the oxygen that is produced. So while most people understandably have not imagined what it is like to be a microalgae in the ocean, it is impossible to imagine what it would have been like for us without them.
Even though the sun is high in the sky today, it is not enough to pull most algae out of their resting stages yet. Until then, life in the water has been put on hold for a while, but with each passing day, spring is approaching. And it's probably not just life on land that is looking forward to bloom.
Welcome to a journey through the Arctic!
This blog is written by researchers and participants linked to The Nansen Legacy Project.
They will share their experiences and knowledge from research cruises in the Barents Sea.
The research vessel F/F «Kronprins Haakon» gives unique opportunities to explore the rapidly changing climate and ecosystems in the Arctic.
To ensure a sustainable management of the Northern Barents Sea and the adjacent Arctic Basin throughout the 21st century a new knowledge base is required.
(Top picture: Christian Morel / www.christianmorel.net / The Nansen Legacy)
Read more blog posts from the Nansen Legacy Project Blog.