Blog: Natural Histories
blog: natural histories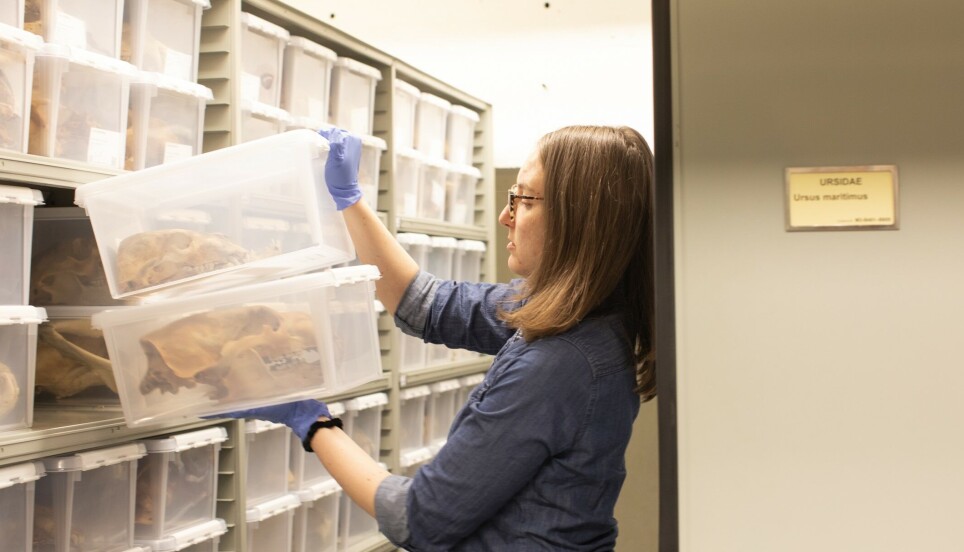 Is the Natural History Museum digitizing its collections to save space?
To most people, the Natural History Museum (NHM) at the University of Oslo, immediately conjures up an image of countless displays with biodiversity exhibited in more or less natural poses – from tiny insects to T. rexes.
The newly refurbished exhibits in the Geological building are an impressive example of how objects can create an immersive experience and tell a story about natural history.
However, digitization of museum collections has much less to do with the exhibited object, and much more with the 6.2 million objects that are studied behind the scenes in the various storage spaces that NHM uses.
Digitization of museum collections has a number of practical benefits.
For one, it is very hard to get an overview of our collections if objects are stored in boxes with information about the objects diligently noted down in ledgers by fountain-pen wielding curators.
Just imagine that you are trying to find a genus species, carefully stuck on a pin, together with hundreds of its relatives in a drawer in a cabinet on the third floor of the Zoological museum, but you don't know in what ledger you should look to find who it was collected by and when.
Digitized collections – in which both the object is digitized as well as the associated information such as name, family, collector, year and collection location – facilitate effective curation and research as information can be looked up easily in databases and objects studied.
Another practical reason – yet more catastrophic – is that digitized collections are not easily destroyed by fires, floods, or wars. The recent fire that gutted the natural history museum of Rio de Janeiro and the massive damage sustained by collections in Ukraine are bleak reminders that things do not last forever.
However, beyond these direct practical benefits, we should not forget that natural history collections are not merely a repository of past research, but an essential resource in understanding diversity in time and space.
For example, from studying museum collections we can trace when pathogens mutated and spread from one species to another, such as late potato blight and black death.
We can also reconstruct the arrival and often devastating spread of invasive species, as well as the precipitous decline of species that have gone extinct as a result of anthropogenic influence.
Museum collections can help us address questions of societal relevance such as pollinator decline, ecosystem attrition, species and ecosystems of priority for conservation, as well as climate change threats and adaptations.
Each individual museum has a significant role to play, but no one museum in isolation holds all the necessary material to answer major significant questions.
Here, digitization is the key to transforming individual museums to a single distributed meta collection. The two million specimens that NHM has digitized have made it possible to share data for researchers nationally and globally.
All natural history collections sharing digital data contribute to mobilization of collections and their metadata for research.
This enables a taxonomist to study a larger variation of material for systematic revisions, an ecologist to study longer and more complete time series, and an evolutionary biologist to study phenotypic variation and its underlying genomics in greater detail.
Digitization is a shared responsibility that can help to harness collections for their big data potential in addressing urgent questions for society today.
Why digitize collections?
Preserve more than the physical object alone
Insurance against catastrophes
Create a shared digital collections infrastructure
Open science and Findable, Accessible, Interoperable and Reproducible data (FAIR)
Scale-up resolution for big data
Artificial intelligence-based analyses of specimens and their morphology and metadata
About this blog
The Natural History Museum in Oslo, Norway, holds not only a huge collection of natural history objects, but also hosts a diverse team of researchers from all corners of the world.
These researchers possess a shared curiosity into understanding the origins of our planet and the life it harbors.
In this blog we share findings, results, stories, and anecdotes from this curiosity-driven research.
Read more blog posts from the Natural Histories blog