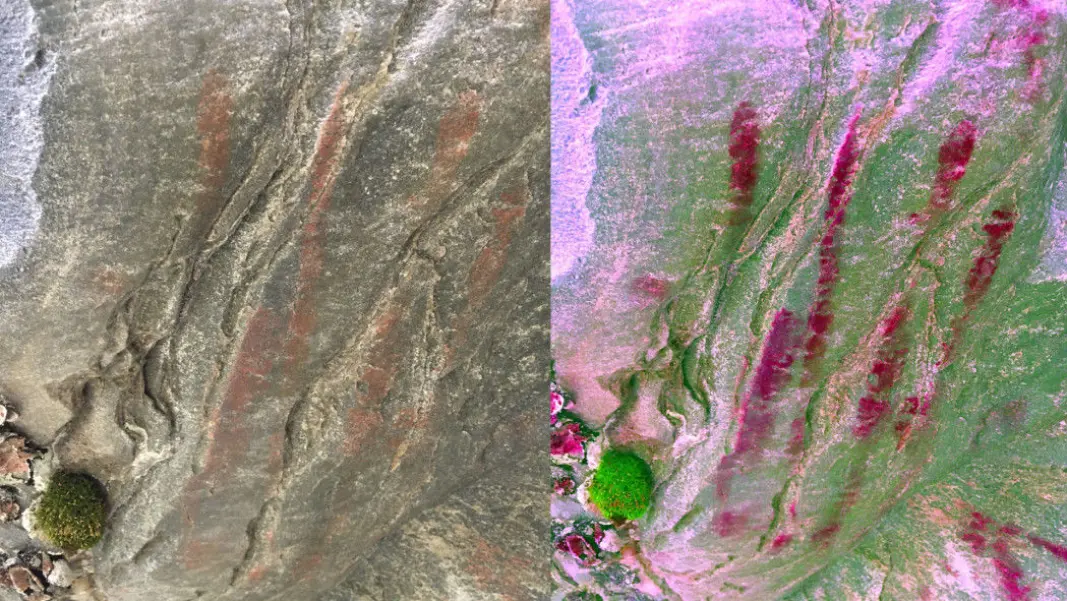 Stone age handprint found in Norway's northernmost county
Several pieces of rock art of human figures have also been discovered on outcrops in Kvænangsbotn, Troms og Finnmark County.
«The Stone Age suddenly becomes so evident and immediate. You can see how someone has slid their hands down the slope of rock,» says Ingrid Sommerseth to Forskning.no.
Sommerseth is a researcher PhD at UiT – The Arctic University of Norway – whose field includes documentation of petroglyphs, or rock art.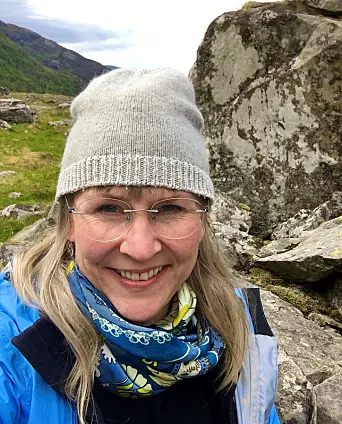 A retired couple on a hike came across the art and notified the archaeologists, posting their siting on the Arctic University Museum's Facebook pages.
«When we saw the photos there was no doubt about what they'd found,» says the researcher.
This is a location with rock paintings, lines and figures painted directly on the rock. «Our initial estimate is that these drawings were made 3,000 to 5,000 years ago, but this is uncertain. Charcoal datings at similar sites in Troms og Finnmark County are from the Nordic Stone Age.»
«But they can also be much older.»
Ingrid Sommerseth and colleagues recently went to the site to document the finds, which are at Kvænangen in Troms og Finnmark County.
They found 22 different figures, including men, women and a handprint.
«We think the pictures are smeared with fingers directly on the rock face,» says Sommerseth.
Newly discovered phenomenon
While petroglyphs scraped into the rock are found in numerous Nordic sites, Sommerseth explains that such painted outcroppings are relatively novel discoveries. The pictures are thousands of years old and they are pretty easily overlooked.
No large findings of this kind have been made in North Norway until the last 20 years, and now archaeologists are aware of 22 spots in Troms og Finnmark containing such rock paintings.
«They have been painted on smooth surfaces of rocks, beneath overhangs on ledges and walls,» says Sommerseth.
The researchers have used a photo app called iDStretch to exaggerate the colour.
Most of the former finds have been made either north or south of the newly discovered location, and Sommerseth says it thus fills out a blank space on the map.
«It links together the sites in Troms og Finnmark.»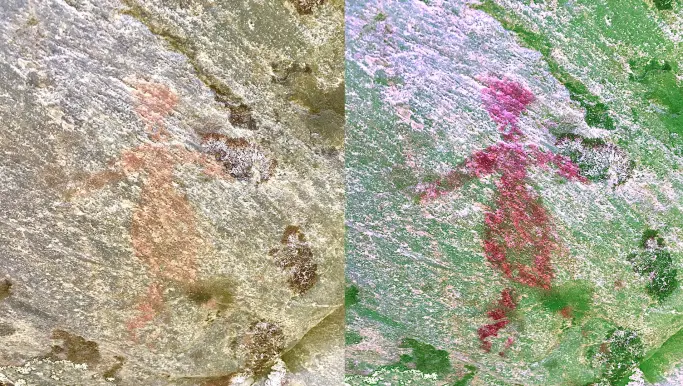 Puzzling paint
Although the colour filter on the photos boosts the images, these works of art can still be detected with the naked eye, despite exposure to the harsh elements for millennia.
The original red tint was probably made from the iron oxide magnetite, combined with some ingredient before application.
«We think it was mixed with fat or blood to make paint, and perhaps some other unknown ingredients.»
The paint has yet to be chemically analysed, and Sommerseth says a search is underway for methods to reveal how such an extremely durable paint was made.
She stresses that anyone can use the colour filter app to download and investigate potential rock paintings from their own photos.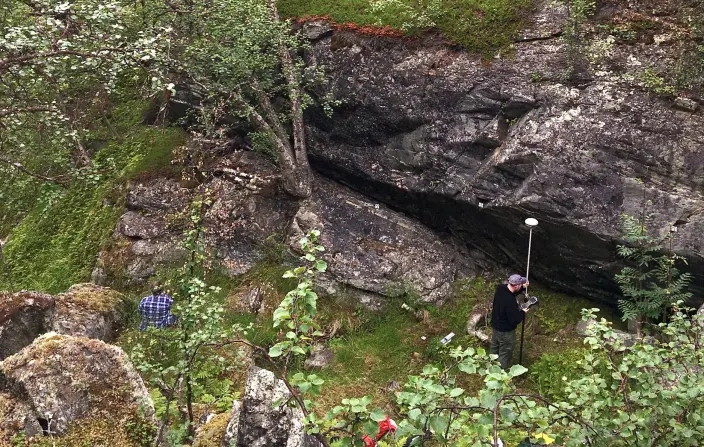 Translated by Glenn Ostling
———
Read the Norwegian version of this article at forskning.no