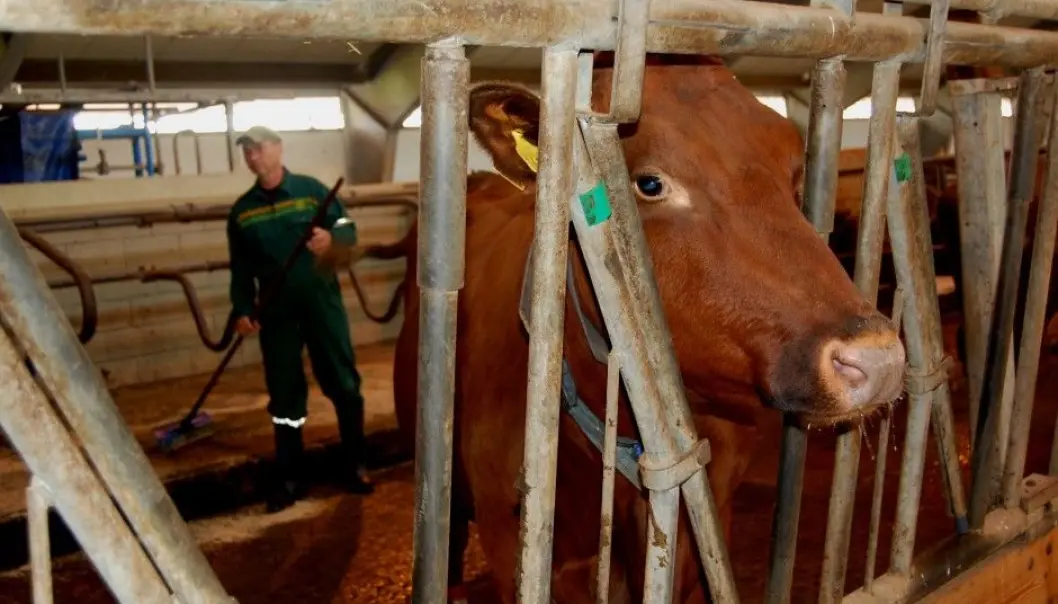 Happy farmer, happy cow
To succeed with farm animals, you should enjoy yourself and be kind and calm. The result will be happy cows and more milk.
Researchers at the Norwegian Veterinary Institute have identified a clear link between the behaviour of farmers and their cows.
"When farmers pet and touch the animals, when they are calm and patient, the result is positive behaviour," says researcher Kristian Ellingsen.
Anxiety and stress in farmers leads to anxiety and stress in cows. This in turn may lead to more use of force.
"It can all end up in a vicious circle. This shows just how important it is to look at the behaviour of and interaction between the farmer and his or her cows," says Ellingsen.
Body language
In the past, researchers have only focused on the behaviour of the animals.
But Ellingsen and his colleagues included farmers, and used a separate method to study the behaviour of calves and that of the person caring for them.
Equipped with pad and pen, an observer visited 110 dairy farms in southern Norway between 2006 and 2008.
Based on the body language of the calves, he looked for behaviour that was happy, calm, anxious, aggressive, apathetic, social, or that fit one of 25 other types of moods.
The observer asked the same kinds of questions about the farmers: Were they dominant or insecure? Did they talk to their calves? Were they inclusive or quiet? A total of 17 behaviours were possible.
The farmers were not told that they were included in the research, since this could affect their behaviour. Instead, they were asked to measure the breast volume of five of the calves, which is a common method for calculating weight.
When farmers were told that their behaviours had been observed, they all agreed to let the researchers use the data.
Four styles
The scientists believe that farmers can be divided into four types:
• Those who pet and touch the animals.
• Those who are patient and calm.
• Those who are dominant, abrupt, aggressive and noisy, who often use coercion.
• Those who are uncertain and nervous, who are uncomfortable in dealing with the animals.
The style of the farmer affects the behaviour of the calves.
For example, animals belonging to farmers in the first group were friendly, happy and social.
Farmers who treated the animals quietly and patiently got similar but weaker results.
Dominant and aggressive farmers had calves that were nervous, frustrated and anxious. Farmers who were nervous and uncertain had calves that were apathetic, indifferent or showed signs of boredom.
Ellingsen affirms that most farmers are good at handling animals.
"However, the study showed some negative trends," he points out.
Better meat and more milk
Ellingsen believes we should be more aware of behaviour and of the daily interactions between farmer and animals, and would like to see this become a larger part of agronomy education.
The increasing interest in animal welfare is encouraging, according to the researcher.
"A good relationship between animals and people is essential for animal welfare. It also leads to animals that feel safe and are easy to handle. It can also affect productivity," he says.
"Stressed cows secrete certain hormones that lead to less milk and poorer fertility," he says.
------------
Read the Norwegian version of this article at forskning.no
Translated by: Lars Nygaard
Scientific links
Related content