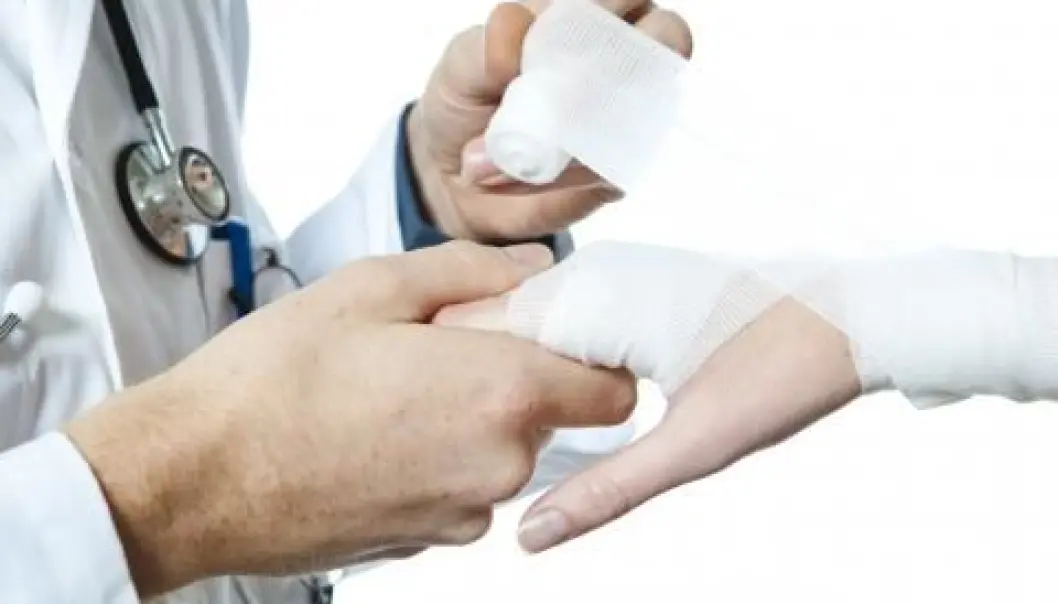 Women at higher risk of wrist fractures
Once they've reached middle age, women are increasingly more likely to break their wrists than men.
Adult and elderly women are far more likely than men in the same age group to break a wrist seriously enough to require an operation. And the rate of fractures climbs dramatically as women age, new research has shown.
"The increase starts early among women. We see that in their 40s, the rate really rockets," says orthopaedist and researcher Terje Meling of the Stavanger University Hospital.
Once they reach their 50s, Meling reports, three times as many women as men suffer serious, complex wrist bone fractures.
In their 60s, women are five times as likely to suffer these kinds of fractures as men. And in their 70s the broken wrist statistics are ten-to-one, in women's disfavour.
"It's significant that the rate of serious fractures is so much higher in women than in men, and starting at such a young age," he says.
Teens and twenties
The hospital chief physician showed in his doctoral dissertation how the incidence of long bone fractures that require in-hospital treatment differs over the course of women's and men's lives.
"Broken wrists are the most common fractures from childhood up among both sexes, including fractures that can simply be healed with a cast and ones that require operations," he says.
In their teens and twenties, males top the list in wrist fractures.
"This could be because more men are involved in higher-risk activities, both at work and in their spare time. But this is speculation, because we haven't studied the causes yet," says Meling.
Different skeletal parts
As they age, women are more prone to developing osteoporosis than men. Meling thinks it's hard to find any other explanation for why women's wrist fracture rates escalate so steeply beginning in middle age.
"A likely explanation is that women develop osteoporosis in different bones at different ages, and that it develops first in the wrist," he says.
"Men also get osteoporosis, but usually it appears in older age groups than women. We see this in our statistics for hip fractures," says Meling.
While a clear gender disparity is seen in incidences of wrist fractures per 100,000 capita, when it comes to hip fractures, including upper femur fractures, men and women suffer equally - but with a time lag.
Five years ahead of men
"Many women start breaking their hips in their 70s and 80s. They tend to start five years before men, who begin breaking hips in their 80s and 90s," says Meling.
Twice as many women as men will break a hip in their 60s.
However, because women generally live longer, it's not surprising that more women than men in the oldest age groups need operations for broken bones.
Hip fracture rise among men
The chief physician adds that as women age, they are increasingly likely to require surgical operations for bone fractures - regardless of the bone's location.
In contrast, the increase in operation frequency for men applies almost solely to hip fractures.
Statistics on bone fractures that need surgical treatment have only been kept since 2004. Meling thinks they are representative for all of Norway, even though the data come only from one county on the west coast.
After-effects
About a third of all bone fractures require an operation. This means they are too serious to be handled in an out-patient clinic, and require time on the operating table.
Hip fractures always merit a session in the OR, but only about 25 percent of broken wrists require in-patient surgery.
"In general, if you've suffered a broken bone that requires an operation, you've weakened it to some extent and are more likely to suffer stiffness or discomfort when subjecting it to too big of a load."
"These kind of problems are quite common. But we get the impression that most people think any broken bone − requiring and operation or not − will usually be 100 percent good as new," says Meling.
---------------------------
Read the Norwegian version of this article at forskning.no
Translated by: Glenn Ostling
External links
Related content