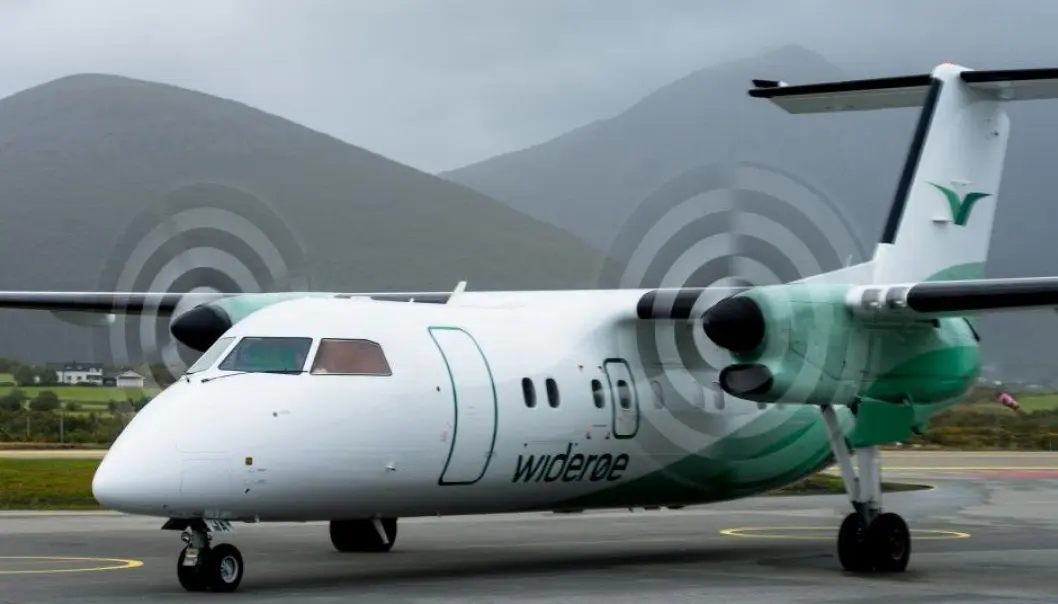 Zebra stripes keep birds from colliding with aircraft
Colliding with birds can cause an airplane to crash. Researchers are working on ways to scare birds away from planes, and zebra stripes have so far proven effective.
Many airplanes have crashed after bird strikes, sometimes with fatal outcomes. It's easy to think that it's worse for the bird, since the plane is so much more massive. But it can actually be dangerous for both the pilot and passengers.
Above you can see an animation of the accident.
Bird expert Christian Kierulf Aas can be found at the University of Oslo's Natural History Museum. Ever since he took a master's degree in the behaviour of the European pied flycatcher, he has been studying birds.
Now he has turned his focus to helping airlines keep the birds away from planes.
Miraculous rescue
Bird strikes may well bring to mind Captain Sullenberger's emergency landing in the Hudson River in January 2009. The accident occurred because both engines were struck by a flock of geese. The pilots, with the help of boats and helicopters, miraculously rescued all 155 people on board.
"This accident shows how dangerous bird and engine encounters can be," Aas tells forskning.no.
In Norway, no serious accidents have occurred with birds flying into civilian aircraft.
Four Norwegian aircraft crashes
But four military fighter aircraft have crashed due to birds. In three of the instances the pilots ejected and survived, but one pilot did not and plunged to his death. All four planes were lost.
"Part of the reason for these fighter accidents may be that the jets fly low on their training missions, although they're not supposed to fly below a thousand feet if they don't need to," says Aas.
And besides that, F16s have only one engine, and so they are very vulnerable if birds fly into it.
Birds fly low
Birds generally fly below 500 feet, so they aren't where the planes are flying. That is why take-offs and landings pose the greatest risk for bird strikes," says Aas.
"Gulls account for the most bird strikes. The birds that come too close to planes probably don't see them," he says. So what can help birds spot planes better?
Black and white in combination is the most visible, according to American research done on humans almost forty years ago.
"There's no reason to believe that birds are any different," Aas says.
He started a collaborative research project with Widerøe airlines in 2012 to test whether painting propellers with zebra stripes would help.
Collisions halved
Widerøe has prop planes with propellers that face forward. If a bird flew toward the aircraft, the striped propellers might have a deterrent effect, the researchers hoped.
And although the project will only finish later this year, the results so far are promising. "This is the first large scale project on this issue, and so far it seems successful," says Aas.
Widerøe had the propellers on some of its Dash 8 aircraft painted with white and black stripes. The propellers on the other planes were kept black. The project includes a total of 45 aircraft.
"We've been comparing which aircraft have reported the most bird collisions year by year," says Aas.
The incidence of collisions between birds and Widerøe prop planes is about 1 per 1000 flights. On planes where the propeller is painted in zebra stripes, bird strikes happen in only 0.4 per 1000 flights.
Thus the results to date suggest that the zebra-striped propellers reduce bird collisions by more than 50 per cent.
"This is significantly lower," says Aas.
All airlines are required to report all bird collisions to the Norwegian Civil Air Authority.
Pulsating effect
As their starting point, Aas and Widerøe used previous US research that found that zebra stripes have the most conspicuous visual effect.
Aas says they made the stripes asymmetrical, because it creates a pulsating effect on the stripes as the propeller spins, which scares the birds away.
Widerøe will decide whether to paint all their planes in this way once the project ends in November 2017.
External links
Related content